We want to take this opportunity to thank you for your readership and support. To have you as a member of our virtual family means the world to us.
We hope that you take some time during the holiday festivities to let those you care about know that you love them. It's not how big your presents are but rather using your words and your actions to express your true feelings.
Having come close to losing my mother during the past year, I know that you can never show how much you care in the present because you don't know how far the future will extend for you and those you love.
We wish you and those close to you the best for the holidays, whichever one(s) you celebrate.
Happy Marketing,
Heidi Cohen
BTW–If you need some help getting into the holiday spirit, here are 3 of our Christmas favs from years gone by:
---
Join Heidi Cohen and fellow marketers at the mega-conference designed to inspire and empower you—Social Media Marketing World 2017, brought to you by Social Media Examiner.
Discover the best and newest ways to market your business on Facebook, Instagram, LinkedIn, YouTube, Twitter, Pinterest and Snapchat.
The event takes place March 22-24, 2017, in San Diego. Actionable Marketing readers get an early registration discount.
Act by Friday – Save $400!
---
Free Guide
If you fail to make a change in your behavior, you are taking the long path to success.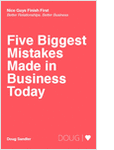 Why is it that some people in business succeed while others have challenges on a daily basis that they can't seem to figure out? Maybe, the success stories have done enough things wrong, enough times, to figure out what it is that they are doing right.
Learning the 5 biggest mistakes and putting a stop to them will help you:
Build better relationships
Avoid costly errors
Increase productivity and efficiency
Expand your sales
To put yourself on the short track to success in business and in life, make these changes quickly, without hesitation and continue to review your progress daily.
Photo Credit: http://www.flickr.com/photos/artchild/11363658764/