We want to take this opportunity to thank you for your readership and support. To have you as a member of our virtual family means the world to us.
We hope that you take some time during the holiday festivities to let those you care about know that you love them. It's not how big your presents are but rather using your words and your actions to express your true feelings.
Having come close to losing my mother during the past year, I know that you can never show how much you care in the present because you don't know how far the future will extend for you and those you love.
We wish you and those close to you the best for the holidays, whichever one(s) you celebrate.
Happy Marketing,
Heidi Cohen
BTW–If you need some help getting into the holiday spirit, here are 3 of our Christmas favs from years gone by:
---
---
Register Now for the Intelligent Content Conference.
An annual gathering of the best and brightest content professionals on the planet.
Content Marketing World 2015 is open for Registration!
 I'll be there. Come and join me!
---
Free Download!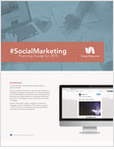 Kick off 2015 with a fresh social marketing strategy.
2015 is going to be a great year for social marketers, but to make the most of it you'll need a fine-tuned social strategy. This guide is your countdown to the New Year with ten fresh tactics based on the 2014 trends expected to shape the coming year, and ways you can refine your brand's social strategy for success.
Download this guide to learn:
What changed in social marketing in 2014
How you can expect social media to change in 2015
Ways for you to take advantage of the latest social media trends.
---
Photo Credit: http://www.flickr.com/photos/artchild/11363658764/