3 Key Reasons to Guest Blog
Guest blogging for the purpose of improving your search ranking, particularly through the use of links, is dead!
In words of Matt Cutts, Google's Webspam team lead, "Guest blogging is done; it's just gotten too spammy. In general I wouldn't recommend accepting a guest blog post unless you are willing to vouch for someone personally or know them well." 
As a blogger, I'm inclined to agree with Cutts. While the Actionable Marketing Guide doesn't accept guest posts, we regularly get lots of guest blogging requests.
Often composed by a PR hack or assistant, these communications have expended neither time nor expense in the process. Many of these thinly veiled requests for links to irrelevant information are rife with spelling and grammatical errors.
Obviously no one's taught them that making a good first impression will help you achieve your goals. Because, if a potential guest blogger doesn't know my name or what my blog is about, how can they supply me with quality content that will meet my readers' needs and expectations?
While the idea of getting guest bloggers to help fill your editorial calendar with quality content sounds like many bloggers' dream come true, the reality is that guest blogging:
Requires time to cull through unqualified inquiries and potential posts.
Needs additional editorial and related post-writing work. Don't underestimate the amount of time required to craft guest posts into content that meets your site's standards.
Lacks appropriate level of quality. Just because you request it, doesn't mean that it's delivered.
Want to see real proof?
Look at Kristi Hines' experience on her personal blog, Kikolani. Hines found that investing the time in her own content and interactions yielded better results across a number of indicators. This makes sense since Hines was invested in her own blog and its audience.
Long live guest blogging.
This doesn't mean that you should stop doing guest blogging. Rather reassess your strategy to ensure you're providing quality content to your readers regardless of where you're published.
Even Cutts agrees, "There are still many good reasons to do some guest blogging …"
3 Key reasons to guest blog (beyond search and backlinks)
Remember you can't just ask a blogger to hand over their platform that they've built lovingly with their hard work like it was something they owed you. When you borrow another blogger's audience to expand your exposure, it has to be a win-win for both of you or it won't work. You must provide value for the other blogger's audience to achieve the following marketing goals for yourself:
Build brand. Leverage the power of a well-known bloggers' audience to let people know who you and your firm are. While meeting the blog's guidelines, integrate your brand into the piece so that it's recognizable. Do your homework so that you provide quality content that their readers want.
Extend your reach. Give away your best information so that you impress the blog's audience and encourage them to take action. While you may not earn backlinks, you can still offer these readers a valuable piece of information, such as an ebook or white paper.
Establish thought leadership. You can acquire a lot of recognition just by association with a strong blog. If you're good enough for them, then you're good enough for us.
Even without the backlinks and search optimization benefits, guest blogging still remains a critical element of a well-planned content marketing strategy. The bottom line is that content quality counts.
Do you believe in guest blogging? Why or why not?
Happy Marketing,
Heidi Cohen
---
---
For those of you in Raleigh, NC, please join me for Internet Summit November 11th through 13th.
Use the code HEIDI50 to save $50 OFF any pass level.
---
Even though Content Marketing World is finished until next September, you can still get all the content from 2014's exciting conference. The CMWorld On Demand package includes: Audio and video from the 2014 keynote sessions, audio and PowerPoint presentations of all the breakout sessions, over 40 audio sessions from the leading B2B and B2C brands, as well as keynote video performances.
---
Free Webcast!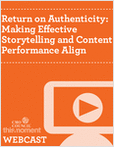 Join the discussion on Wednesday, October 29, 2014 at 10:00 AM PT/ 1:00 PM ET with Nancy Slavin, SVP of Marketing, Macy's Merchandising Group, and Dan Kimball, CMO, Thismoment.
According to research by Nielsen, 70 percent of global consumers trust online consumer reviews and rate reviews as the second most trusted form of advertising. And according to BazaarVoice, when it comes to trust, marketers may as well eliminate their own brand websites as a fountain of customer trust as only 16 percent of US consumers said they trust the content on a brand's website compared to the 51 percent who trust content generated by other users.
Today's digital currency is arguably authenticity, and what attracts customers - especially the digitally dependent, savvy millennial - is not just content. It is the delivery of authentic, unvarnished content from their peers.
Join the CMO Council on Wednesday, October 29, at 10am PST/ 1pm EST for a one-hour webcast that will invite industry experts in content marketing and user-generated content who are effectively leveraging authentic storytelling as part of their content marketing strategies. We will also feature an interactive Q&A session at the conclusion of the speaker presentations.
---
Related Articles
Photo Credit: …