10 Global Social Media Research Findings
Social media usage varies by region.
Social media usage also varies by device.
Social media usage continues to expand across the globe and different platforms based on the Global Web Index's Social Media Report.
Global social media trends 4Q 2013
1. Facebook continues to reign as the top social network globally as its 4Q 2014 financials showed. This is similar to Pew Internet's US findings.
83% of those interviewed have a Facebook account.
49% of Facebook users are active.
56% of Facebook users log in more than once a day.
Facebook active usage declined 3%.
2. YouTube and Google+ rank second globally behind Facebook.
Google+ usage increased 6% in the 4Q 2013.
YouTube usage decreased 3% in the 4Q 2013.
3. Instagram experienced 23% increase in active usage globally. Here are some tips on Instagram's popularity.
This makes sense in light since 60% of images were taken and shared outside of the US. Don't forget that Instagram is part of Facebook. Here are the  top Instagrammed cities in 2013; they represent a global mix.
New York City, NY, USA
Bangkok, Thailand
Los Angeles, CA, USA
London, UK
São Paulo, Brazil
Moscow, Russia
Rio de Janeiro, Brazil
San Diego, CA, USA
Las Vegas, NV, USA
San Francisco, CA, USA
Global social media trends by region
Emerging Internet markets outpace established markets in terms of global social media use. Across most social media platforms, users from the Middle East and Africa tend to be high level participants.
4. Facebook has the highest usage across global regions and ranks highest for North American users with 55% usage.
5. Google+ usage is highest in the Middle East and Africa (31%) followed by Asia (26%) compaared with a mere 17% in North America.
6. Pinterest is effectively only in North America with 16% usage there. Given the focus on scrapbooking, interior design, clothes and food, these may be more consumer-oriented than in other cultures.
Social media: Mobile trumps
Mobile is where the social media action is. Social media is made for on-the-go snacking behavior. It also underscores the mobile first or mobile only activity.
Once they attract their main mobile base, most mobile social media usage doesn't change markedly. In 4Q2013, WhatsApp increased 7 percentagae points and WeChat increased 9 percentage points from 2Q2013.
7. Facebook is the global winner for mobile social media with 69% mobile app usage. Additionally, it's important to look at Facebook's extended reach via associated apps.
37% of those surveyed used Facebook Messenger.
36% of those surveyed used WhatsApp.
21% of those surveyed used Instagram.
8. Don't underestimate mobile owners' appetite for video. 59% of those surveyed used YouTube, 10 percentage points lower than Facebook.
Age has an impact on global social media trends
Social media usage remains strong among the group that first started using these networks while in college.
9. Facebook's biggest demographic age segment is 25 to 34 year olds. This shift is consistent with other data from early 2013 that showed a falloff in teen Facebook usage. Facebook was silent on this point when they discussed their 4Q 2013 results. Don't look for the cool kids on Facebook.  39% of Instagram users are teens. This demographic loves to share photos. This purchase was and is strategically important to Facebook.
10. Tumblr continues to be popular with teens who account for 45% of its base. Since being purchased by Yahoo, little has been heard from this platform.
Globally social media continues to be attractive to audiences. While Facebook still dominates, it's lost the strength of the teen demographic except through its mobile purchases, namely WhatsApp and Instagram.
Bear in mind that the heart of social media activity has migrated to mobile. Therefore your social media marketing must render well on smartphones and tablets.
What's your experience been? Have you seen similar shifts in your audience's social media usage?
Happy Marketing,
Heidi Cohen
---
---
For those of you in Raleigh, NC, please join me for Internet Summit November 11th through 13th.
Use the code HEIDI50 to save $50 OFF any pass level.
---
Even though Content Marketing World is finished until next September, you can still get all the content from 2014's exciting conference. The CMWorld On Demand package includes: Audio and video from the 2014 keynote sessions, audio and PowerPoint presentations of all the breakout sessions, over 40 audio sessions from the leading B2B and B2C brands, as well as keynote video performances.
---
Free Webcast!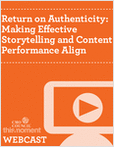 Join the discussion on Wednesday, October 29, 2014 at 10:00 AM PT/ 1:00 PM ET with Nancy Slavin, SVP of Marketing, Macy's Merchandising Group, and Dan Kimball, CMO, Thismoment.
According to research by Nielsen, 70 percent of global consumers trust online consumer reviews and rate reviews as the second most trusted form of advertising. And according to BazaarVoice, when it comes to trust, marketers may as well eliminate their own brand websites as a fountain of customer trust as only 16 percent of US consumers said they trust the content on a brand's website compared to the 51 percent who trust content generated by other users.
Today's digital currency is arguably authenticity, and what attracts customers - especially the digitally dependent, savvy millennial - is not just content. It is the delivery of authentic, unvarnished content from their peers.
Join the CMO Council on Wednesday, October 29, at 10am PST/ 1pm EST for a one-hour webcast that will invite industry experts in content marketing and user-generated content who are effectively leveraging authentic storytelling as part of their content marketing strategies. We will also feature an interactive Q&A session at the conclusion of the speaker presentations.
---
Related Articles
Photo Credit:http://www.flickr.com/photos/esthervargasc/9657863733/