Content Marketing Sales: Why Great Content Is Not Enough
93% of B2B marketers are investing in content marketing to build their brands and produce leads according to Content Marketing Institute and MarketingProfs research.
Unfortunately only 42% of these marketers believe their content is effective. This is a problem because businesses invest money to generate sales.  (Note: Although 90% of B2C marketers use content marketing, only 34% find it effective.)
Marketers are so focused on producing sufficient, great, high-quality content that they overlook the need to drive revenues. Your content must move a portion of your audience to close the deal and purchase your product or service.
If their content is so great, why isn't it effective?
The content is of poor quality containing me-too information or wrong ideas.
The content is poorly targeted to meet customer needs.
The content is poorly distributed and/or not optimized for consumption and findability.
But the biggest issue keeping you from succeeding is that you need a (better) process to convert prospects into customers.
5 Ways to generate content marketing revenues
Here are 5 ways to make great content into content marketing revenues.
1.

Always incorporate at least one call-to-action.

Remember your audience lives in a content rich world. Once they're finished with your information they're onto the next piece unless you prompt them to act.
Make your call-to-action stand out from the rest of your content. You don't want readers to assume that it's more text.
Target appropriate next step(s). Don't assume prospects are ready to purchase. Rather balance the subsequent action based on their needs, not yours. Also, bear in mind that prospects may not be ready to share what they deem to be personal information.
Make every piece of content an entryway to your offering. Since prospects can be over 70% through the purchase decision before marketers realize that they're in-market, you must ensure that your content supplies access to the information they seek. Allow for different purchase paths.
2.

Use relevant landing pages.

One size doesn't fit all when it comes to landing pages. When prospects click on a link or call-to-action, the next piece of content they view must be related and similarly branded or you risk loosing them.
Continue the information scent. This is based on the Eisenberg brother's book, Call To Action. Keep the look and feel of your content consistent so that readers don't think that they've wound up on the wrong page.
Create targeted landing pages where possible. Within your budget limits, tailor your landing pages and microsites.
3.

Streamline the buying process.

All of your great content effort is for naught if your purchase page(s) aren't optimized to convert.
Eliminate extra steps. Be ruthless in getting rid of extraneous processes and irrelevant data collection that isn't required to close the sale.
Don't force prospects to register and sign in. This only works for Amazon which has built customer trust over time. Doing this hurts your conversion rate.
Offer multiple sales channels. Let customers purchase when and where they want. This is particularly true for millennials who expect a consistent cross-platform experience. Allow customers to buy via your website, mobile device, phone or in-person.
4.

Test your content marketing for optimal outcomes.

Continually test each element of your content marketing. Don't assume that what worked last year is still the most effective way to present your information. There are new trends and platforms.
Start by testing the elements that yield the biggest impact. This means your calls-to-action and your purchase process. If these don't get leads into your sales pipeline, then you're significantly limiting your revenue potential.
Plan your testing. While assessing content marketing results when there's an issue is necessary, to ensure that you're optimizing your content marketing budget, have a strategy associated with your marketing and editorial calendars.
Allocate appropriate budget for testing. This includes different creative and distribution as well as metrics.
5.

Measure your content marketing results.

Don't forget to keep score of your content marketing's effectiveness in driving sales.
Set goals for each piece of content. Don't just create information and pray that it will achieve your objectives.
Track content marketing metrics. Skip the vanity metrics like shares. Find out what is driving leads and prospects and what actually converts them into customers based on your business goals?
Want your great content marketing to drive sales? Then ensure that you incorporate the appropriate elements to convert readers into prospects and ultimately customers.
How do you drive content marketing revenues?
Happy Marketing,
Heidi Cohen
---
---
For those of you in Raleigh, NC, please join me for Internet Summit November 11th through 13th.
Use the code HEIDI50 to save $50 OFF any pass level.
---
Even though Content Marketing World is finished until next September, you can still get all the content from 2014's exciting conference. The CMWorld On Demand package includes: Audio and video from the 2014 keynote sessions, audio and PowerPoint presentations of all the breakout sessions, over 40 audio sessions from the leading B2B and B2C brands, as well as keynote video performances.
---
Free Webcast!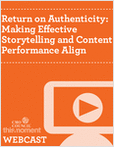 Join the discussion on Wednesday, October 29, 2014 at 10:00 AM PT/ 1:00 PM ET with Nancy Slavin, SVP of Marketing, Macy's Merchandising Group, and Dan Kimball, CMO, Thismoment.
According to research by Nielsen, 70 percent of global consumers trust online consumer reviews and rate reviews as the second most trusted form of advertising. And according to BazaarVoice, when it comes to trust, marketers may as well eliminate their own brand websites as a fountain of customer trust as only 16 percent of US consumers said they trust the content on a brand's website compared to the 51 percent who trust content generated by other users.
Today's digital currency is arguably authenticity, and what attracts customers - especially the digitally dependent, savvy millennial - is not just content. It is the delivery of authentic, unvarnished content from their peers.
Join the CMO Council on Wednesday, October 29, at 10am PST/ 1pm EST for a one-hour webcast that will invite industry experts in content marketing and user-generated content who are effectively leveraging authentic storytelling as part of their content marketing strategies. We will also feature an interactive Q&A session at the conclusion of the speaker presentations.
---
Related Articles
Photo Credit: https://www.flickr.com/photos/moonlightbulb/6587952603