Are You Ready For Facebook's Downfall?
Facebook is falling! Facebook is falling!
Facebook will loose 80% of
its peak user base by 2017. 
This is no glib Chicken Little forecast. Rather it's real research conducted by real rocket scientists, John Cannarella and Joshua A. Spechler, from Princeton's Department of Mechanical and Aerospace Engineering in their article, "Epidemiological modeling of online social network dynamics".
Facebook's future, the research
Cannarella and Spechler used epidemiological models to explain social media user behavior where adoption was analogous to infection and abandonment was analogous to recovery. Using MySpace search query data the researchers created an initial model and then applied it to Facebook query data. 
Their model suggests Facebook has already reached the peak of its popularity. They conclude that Facebook has entered a decline phase, as shown by a downward trend in search frequency since 2012. Extrapolating the best fit model into the future, they predict Facebook activity will rapidly decline over the next few years. 
4 Reasons that support Facebook's decline
While you may not be ready to accept that users join and leave Facebook the same way they catch and recover from the flu, here are 4 other indicators that support Cannarella and Spechler's Facebook forecast. (Editor's note: We considered 2013 the year Facebook reached its pinnacle.)
Teens. Once the standard bearer for this social media platform, teens are leaving in droves. While they may check Facebook to keep their finger on the pulse of what's happening, it's not a cool place to spend their time. Facebook has lost an eye-popping 60% of teen members - or over 11 million high school and college-age members over the past three years according to iStrategyLabs, a market research firm.
Mobile. Half of Facebook's user base is already on mobile where advertising space is limited. This means users are snacking on information from the social network when they have free moments on a WIIFM (What's In It For Me) basis. Therefore if your content isn't of value or entertaining to them or their colleagues, it's gone.
Me-too products. For a population that craves the new-new thing, Facebook is now the home of me-too products offered via their wildly popular app, Instagram.
Legal troubles. In a December 11, 2013 ruling by US District Judge Robert Sweet reported by Reuters, investors can pursue claims that Facebook should have disclosed prior to its May, 2012 IPO, internal projections on how increased mobile usage would reduce future revenue. Among the defendants is Facebook COO Sheryl Sandberg.
Facebook's downfall and your marketing
Here are 3 actionable marketing tips to help you prepare for Facebook's diminish strength as a media platform for building your brand and delivering leads.
Know where your target audience spends their time on social media. Track customer and fan activity on your Facebook page as well as other platforms. The critical factor is the trend; are the numbers going up or down. Where appropriate, get customer input.
Diversify your presence on social media. Not to beat the chicken analogy to death, but don't put all of your eggs in one basket. Don't wait for the results from your Facebook efforts to decline. Proactively establish your business on a variety of social media platforms.
Build your owned home base. Develop your own media entity. I'm not the only one saying this. So is Brian Clark of Copyblogger, who says the new key to business success is media, not marketing. (Update January 27: Chris Brogan said you need a home base in social media back in 2010. Further Facebook expert Jon Loomer made the case that building your business solely on Facebook was like building on rented land. ) Combined with the power of content marketing, this is a major reason that blogs will regain prominence over the next few years.
While this data needs further verification, there's other supporting research that shows Facebook usage is declining, especially among teens. As a marketer, take heed and start to establish your presence on other platforms.
What's your opinion about the future of Facebook?
Happy Marketing,
Heidi Cohen
P.S. Please note while this research has yet to be peer reviewed; it's received thousands of social media shares and hundreds of comments on different media sites.
---
---
For those of you in Raleigh, NC, please join me for Internet Summit November 11th through 13th.
Use the code HEIDI50 to save $50 OFF any pass level.
---
Even though Content Marketing World is finished until next September, you can still get all the content from 2014's exciting conference. The CMWorld On Demand package includes: Audio and video from the 2014 keynote sessions, audio and PowerPoint presentations of all the breakout sessions, over 40 audio sessions from the leading B2B and B2C brands, as well as keynote video performances.
---
Free Webcast!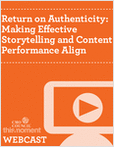 Join the discussion on Wednesday, October 29, 2014 at 10:00 AM PT/ 1:00 PM ET with Nancy Slavin, SVP of Marketing, Macy's Merchandising Group, and Dan Kimball, CMO, Thismoment.
According to research by Nielsen, 70 percent of global consumers trust online consumer reviews and rate reviews as the second most trusted form of advertising. And according to BazaarVoice, when it comes to trust, marketers may as well eliminate their own brand websites as a fountain of customer trust as only 16 percent of US consumers said they trust the content on a brand's website compared to the 51 percent who trust content generated by other users.
Today's digital currency is arguably authenticity, and what attracts customers - especially the digitally dependent, savvy millennial - is not just content. It is the delivery of authentic, unvarnished content from their peers.
Join the CMO Council on Wednesday, October 29, at 10am PST/ 1pm EST for a one-hour webcast that will invite industry experts in content marketing and user-generated content who are effectively leveraging authentic storytelling as part of their content marketing strategies. We will also feature an interactive Q&A session at the conclusion of the speaker presentations.
---
Related Articles
Photo Credit: Facebook