Social Media's Biggest Impact Is Post-Purchase
Facebook with its 1.056 billion monthly active users is the largest social network on the planet.
What does this mean for your brand? Recent research from Syncapse shows that nurturing your Facebook fans contributes value to your brand in the form of improved sales, future brand loyalty and brand affiliation.
Facebook fans have value for your brand
The value of a Facebook fan, someone who has "liked" your brand on Facebook, in key consumer categories is $174.17, up 28% from $136.38 in 2010, while fan counts have doubled and tripled in this same period, according to Syncapse research's The Value of a Facebook Fan. By contrast, the average Facebook user generated about $5.32 in revenues for the platform itself in 2012. (Here's other recent Facebook research.)
This fan value calculation is based on six factors: product spend, brand loyalty into the future, propensity to recommend the brand, expanded reach and frequency due to earned media, increased acquisition cost efficiencies, and brand affinity.
The value of your Facebook fans is directly associated with the retail amount your customers spend on your product and their frequency of purchase. As a result, brands with lower retail prices have comparatively smaller fan values. Relatively larger fan bases often compensate for this. For example, Starbucks is $179.29 versus Coca Cola's $70.16. 
Social media is where you'll find your brand fans
Brand fans spend an average of eleven hours per week on Facebook, five hours more than non-fans. Further, they rate social media as three times more important than non-fans. Brand fans are 39% more likely to research products, 66% more likely to share information with others and 51% more likely to connect with brands on Facebook than their non-fan peers. Relative to non-fans, Facebook brand fans are 80% more likely to be brand users, 18% more satisfied with the brand and 11% more likely to continue using the brand in the future.
Show me the money from social media marketing!
On average, fans on Facebook spend almost double the amount that non-fans do on the brands they like. Specifically, the average Facebook fan spends $255 compared with the non-fan who spends $139, based on Syncapse's research. Of course, your mileage may differ based on your retail price and frequency of purchase. For example, Zara averages $610 per Facebook fan and $256 per non-Facebook fan.
These metrics underscore the fact that engagement on social media and Facebook in particular contributes to sales. But don't jump to the conclusion that these numbers can be applied to your brand. These averages are based on top performing Facebook pages.
Facebook fans provide more than sales
Facebook fans support your brand. Over 90% of your fans are likely to continue buying from you. Further, 85% of them are likely to recommend your brand, giving it more credibility than your advertising or promotion. 
Social media's biggest impact is post-purchase
While this research shows that Facebook contributes real value to brands as a platform for locating and connecting with brand evangelists to support their brand enthusiasm in terms of word of mouth and purchase, it turns the assumption that social media acts at the top of the purchase funnel on its head. Read deeper into the research and you'll find that Facebook fans have purchased from the brand and become fans (in most cases) before they seek to connect on the social media platform. According to Syncapse, 80% of fans currently use the brand! This research makes a strong case for supporting your raving fans who in turn help your brand throughout the buying cycle. For example, ratings and reviews tend to be written by people who feel strongly about your product.
5 Actionable Marketing Tips
Based on this research, here are five actionable marketing tips.
Integrate social media into your overall marketing strategy. Understand that social media builds on your existing strategy across your organization. (Here's how to increase your Facebook effectiveness.)
Use social media to reinforce your brand. While your brand exists outside of Facebook, the platform helps to enhance and build it.
Focus on existing fans. Get to know them better and show them that you appreciate them. Also, you can leverage the power of your fans to create earned media and word of mouth.
Interact with your fans directly. Social media engagement is strategic insofar as you're dealing with your prospects and customers directly. This gives you an opportunity to learn more about them. Further your employees know your brand better than outsiders.
Balance promotional offers with emotional expression. While becoming a fan is based on these two reasons, often fans are looking for emotional expression with brands that they'd buy in any case. (Subtext: Discounts can persuade non-fans.)
While this research focuses on consumer brands, what every business can learn from these findings is that you can leverage the value of your Facebook community to better understand and engage with your brand's most loyal fans. 
What have you learned about your Facebook fans? Do you find the greatest impact early in the purchase process or post purchase?
Happy Marketing,
Heidi Cohen
---
---
For those of you in Raleigh, NC, please join me for Internet Summit November 11th through 13th.
Use the code HEIDI50 to save $50 OFF any pass level.
---
Even though Content Marketing World is finished until next September, you can still get all the content from 2014's exciting conference. The CMWorld On Demand package includes: Audio and video from the 2014 keynote sessions, audio and PowerPoint presentations of all the breakout sessions, over 40 audio sessions from the leading B2B and B2C brands, as well as keynote video performances.
---
Free Webcast!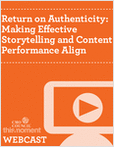 Join the discussion on Wednesday, October 29, 2014 at 10:00 AM PT/ 1:00 PM ET with Nancy Slavin, SVP of Marketing, Macy's Merchandising Group, and Dan Kimball, CMO, Thismoment.
According to research by Nielsen, 70 percent of global consumers trust online consumer reviews and rate reviews as the second most trusted form of advertising. And according to BazaarVoice, when it comes to trust, marketers may as well eliminate their own brand websites as a fountain of customer trust as only 16 percent of US consumers said they trust the content on a brand's website compared to the 51 percent who trust content generated by other users.
Today's digital currency is arguably authenticity, and what attracts customers - especially the digitally dependent, savvy millennial - is not just content. It is the delivery of authentic, unvarnished content from their peers.
Join the CMO Council on Wednesday, October 29, at 10am PST/ 1pm EST for a one-hour webcast that will invite industry experts in content marketing and user-generated content who are effectively leveraging authentic storytelling as part of their content marketing strategies. We will also feature an interactive Q&A session at the conclusion of the speaker presentations.
---
Related Articles
Photo Credit: http://www.freevector.com/site_media/preview_images/FreeVector-Facebook-Like-Icon.jpg