Content Marketing: The Essentials (aka Where to Start)
Content marketing is white hot!
As a core element of inbound marketing, content marketing fuels social media, supports search optimization, and drives lead generation and sales.
2012 was content marketing's breakout year and it continues to be at the top of marketers' plans this year.

It's no surprise since content provides jargon-free information that answers prospects, influencers, buyers, fans and the public's questions related to your business, products and brands. As such, it's trustworthy.
Even more critical from a marketing perspective, it starts working during the zero moment of truth (aka ZMOT) when potential customers are seeking information without giving any hint of being in the market.
As part of our 1,000th post celebration, we're gathered all of our content marketing related information to help you get your strategy on track. These resources are also useful as a checklist to ensure that your plans continue to evolve with your experience.
Underlying content marketing research
Content marketing explodes. Driven by an expanded array of devices, content is projected to increase at an exponential rate. 
Content consumption habits. Through their use of new connected devices, consumers are changing how they read, view and listen to content. Here are the four major habits and here's the research behind it.
4 Moments of marketing truth. Marketers must provide useful information at each step of the purchase process. With the plethora of content marketing, the zero moment of truth, often happens before marketers know that prospects are in market. 
Multi-screen content consumption. With the exponential growth of devices, especially smartphones and tablets, consumers are connected most of the time. Here are a few snapshots to show how this use is evolving. 
Content marketing research. Content marketing remains high on marketers' list. The biggest challenges continue to be creating sufficient content and resources/budget.
Content marketing definitions
Content marketing is based on four cornerstones. They are: context, channel, community and commerce.
Content marketing strategy
Here is an organized list of elements to get your content marketing on track. It provides step-by-step tips. If you prefer, check out our concise, thirteen step content marketing strategy. Further, here's how to make the case for content marketing.
Determine content marketing goals. These are the big overarching objectives that you're trying to achieve with your content marketing. They must be specific, measurable and associated with your business objectives.
Know your audience. Take time to fully develop your target segments. Think beyond the actual buyer or end user. You need to think in terms of influencers and social media connections. Depending on your business, you may have a broad list of people who participate in the purchase process. Develop a marketing persona and a social media persona for each segment.
Choose your organization's stories. You need to set your content apart but it can't exist in a vacuum. Therefore it's critical to select the stories that will resonate with your audience. Here are twenty-nine ideas to get you started. The Heath brothers make the point  in their book Made to Stick that people remember stories not numbers.
Establish your audience's content needs. Content marketing is a pull strategy. Your target readers determine what they want to find out and gather information on during the zero moment of truth. Therefore, you must find out based on past performance and talking to your prospects what they want to know and where you need more information.
Assess your organization's existing content. Before you dive into creating new content, take a time out to perform a content audit. This will enable you to evaluate your existing content assets to determine what's still useful, what needs to be updated, rebranded or reimagined and what content is no longer relevant. This should be done at least once a year. Doing it around budget season helps you calculate how much content you'll need and what type.
Create an editorial calendar. Based on your audience's needs and the holes in your content marketing offering, determine what type of content you need to create on a regular basis and what you need to plan throughout the year. Here's how to create a full editorial calendar and here's the shorter version. Include content curation. Plan to reuse your content. Here are 56 ways to recycle your content.
Format your content for success. To get people to read, watch or listen to your content, you must make easy for them to consume your information. This includes making your content findable. Start with a great headline. This is often code for search-friendly. Include social sharing. BTW, you might want to check out this 20 Point content marketing project checklist to ensure that your content marketing is ready for prime time.
Distribute your content marketing. Great content needs to reach its largest possible audience. This means leveraging your owned and social media.
Promote your content marketing. Beyond just publishing your content, you must get the word out.
Measure the results of your content marketing. Track your content marketing back to your original goals. Here are 53 content marketing metrics from which to choose and here's what 20 content marketing experts say are the best metrics.
Recognize that it takes time for your content marketing strategy to yield results. You must continue to test what works and improve your related marketing processes.
Here are four books by content marketing experts to give you more insights into the process.
What's your favorite content marketing tip? Please include it in the comments below.
Happy Marketing,
Heidi Cohen
---
---
For those of you in Raleigh, NC, please join me for Internet Summit November 11th through 13th.
Use the code HEIDI50 to save $50 OFF any pass level.
---
Even though Content Marketing World is finished until next September, you can still get all the content from 2014's exciting conference. The CMWorld On Demand package includes: Audio and video from the 2014 keynote sessions, audio and PowerPoint presentations of all the breakout sessions, over 40 audio sessions from the leading B2B and B2C brands, as well as keynote video performances.
---
Free Webcast!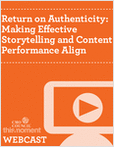 Join the discussion on Wednesday, October 29, 2014 at 10:00 AM PT/ 1:00 PM ET with Nancy Slavin, SVP of Marketing, Macy's Merchandising Group, and Dan Kimball, CMO, Thismoment.
According to research by Nielsen, 70 percent of global consumers trust online consumer reviews and rate reviews as the second most trusted form of advertising. And according to BazaarVoice, when it comes to trust, marketers may as well eliminate their own brand websites as a fountain of customer trust as only 16 percent of US consumers said they trust the content on a brand's website compared to the 51 percent who trust content generated by other users.
Today's digital currency is arguably authenticity, and what attracts customers - especially the digitally dependent, savvy millennial - is not just content. It is the delivery of authentic, unvarnished content from their peers.
Join the CMO Council on Wednesday, October 29, at 10am PST/ 1pm EST for a one-hour webcast that will invite industry experts in content marketing and user-generated content who are effectively leveraging authentic storytelling as part of their content marketing strategies. We will also feature an interactive Q&A session at the conclusion of the speaker presentations.
---
To celebrate, our 1,000th blog post, we're running a contest where participants must leave a comment on today's blog post with a suggestion for future content. The winner will be selected at random by our webmaster from the list of comments left on this post until Sunday, July 14, 2013, at midnight EST. The winner must have a postal address in the continental U.S. The winner will receive an autographed copy of Social Media Engagement for Dummies by Aliza Sherman and Danielle Elliott Smith.
BTW-we're offering a similar drawing for people who sign up for the Actionable Marketing Newsletter from now until Sunday, July 14, 2013, at midnight EST. (Don't forget they still get our FREE e-book when they subscribe!
You may also be interested in our 7 Step Marketing Framework.
Photo Credit: (c) 2013 Heidi Cohen – All rights reserved