Storytellers: The People Who Make Your Business Real
Stories are powerful tools that shape how your audience views you. Your business needs storytellers as part of your content marketing strategy because stories enable you to connect with prospects, customers and fans and enhance the value of your offering.
At Ignition 2013, Henry Blodget started his interviews by asking his guests about a recent event, thereby getting them to tell a story. For example, Blodget asked the head of Samsung's Open Innovation Centre, David Eun, what it was like to be on Asian Airlines flight 214 that crashed in San Francisco last July.
Eun had been seated in the front of the plane near the fire and exited the plane via a inflated chute. While he could have called his wife, Eun explained that he thought social media was the quickest way to inform his family, friends and colleagues who knew he was on the flight that he was okay. 
Since this near death experience, Eun's been living differently. His 3-prong approach includes: taking the time to understand what's really important, savoring his time with family and friends by being present in the moment, and appreciating the gift and fragility of life.
By encouraging Eun to tell his story, Blodget pulled his audience in and enabled them to experience his guests as people. Even more important, he got the audience's attention priming them for the rest of the interview.
How do you pull your target audience in? Gather the stories from the people related to your company and product. Telling people's stories gets your audience to care about your company, brand and products by adding an emotional component to otherwise lifeless information.
5 Storytellers every business has
Who can contribute stories about your company, brand and product? Ask these 5 categories of people involved with your organization.
Your employees. These are the people who work for your company. Think beyond your senior management. Everyone has something to contribute.
Your suppliers. These are the people involved in sourcing your raw materials and creating your products.
Your distributors. These are the people who actually get your products to your end customer. This includes more than just retailers.
Your customers. These are the people who know your product from real life experience. Their stories, both good and bad, sell other customers. Remember these stories can appear in your ratings and reviews section as well as in your customer service center.
Of A Kind, a Tumblr based e-commerce site, knows the power stories have to connect customers with products. Of A Kind features limited edition products from on-the-rise designers and presents the story behind the product. In essence, Of A Kind makes its shoppers feel like they've just discovered the next big thing before everyone else. At its core, Of A Kind uses its stories to create an experience for its audience that pulls them in and makes them want the product.
Look at how Of A Kind describes its product, designer and other insights to lure readers in. 
Stories are everywhere. They are the best vehicle we have for making our content memorable and sharable.
Happy Marketing,
Heidi Cohen
PS: Please join me today, Thursday, November 14th, at 4:00pm ET for #MarketingChat where we'll discuss how to incorporate stories into your content marketing.
---
---
Even though Content Marketing World is finished until next September, you can still get all the content from 2014's exciting conference. The CMWorld On Demand package includes: Audio and video from the 2014 keynote sessions, audio and PowerPoint presentations of all the breakout sessions, over 40 audio sessions from the leading B2B and B2C brands, as well as keynote video performances.
Social Media Marketing World — San Diego — March 25-27, 2015.

Register Now and Save $480!   Limited time offer.
Register Now for the Intelligent Content Conference.
An annual gathering of the best and brightest content professionals on the planet. People who know the secrets (and are willing to share them). People who value content as a business asset. People who have made it their life's work to develop repeatable, systematic approaches to producing amazingly effective content.
---
Free Webinar!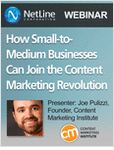 Join the discussion on Tuesday, December 2 - Time: 2 PM (EST) / 11 AM (PST) to learn how small and medium sized businesses don't have to have an entire content marketing organization (or budget) to be successful in content marketing.
Joe Pulizzi, Author and Founder of Content Marketing Institute and Werner Mansfeld, President of NetLine Corp, discuss realistic and actionable methods for your company to get awareness, consideration and sales leads using marketing content – without the budget or resources of an enterprise-level organization.
Date: December 2nd, 2:00 pm EST/12:00pm CST/11:00 am PST
Here are just some of the questions you'll get answered:
What is content marketing and why is it important?
What do I need to have in place to compete effectively using content marketing?
How do I drive sales leads and get a positive ROI using content marketing?
How can my small business (or budget) compete with my larger competitors using content marketing?
What can I start doing today to start seeing results?
Joe Pulizzi and Werner Mansfeld are experts in Content Marketing and Content Syndication. Learn from their combined experience how to take advantage of content marketing for your business, no matter the size.
---
Related Articles
Photo Credit: http://www.flickr.com/photos/omaromar/88491230/