Get Your Content To Reach The Maximum Audience Possible
Creating amazing content is critical but not sufficient to yield results.
Without your content appearing where and when people need your specific information, it's useless.
While some content is talkworthy and can spread virally, the rest needs to be distributed to reach the widest audience possible. As part of the process, examine the different content distribution platforms.
Content marketing distribution checklist
Want to maximize your content marketing audience? Then use this 37 step content marketing distribution checklist.
Owned media
Website. Create a section where you promote the latest news and content on your site.
Product pages. Add a link to product relevant content on the specific product page. Understand that for many retailers this can be a manual process. The benefit is that you're providing rich information when the prospect is in buying mode. Further, not many firms do it.
Email newsletters. Curate content that you've published elsewhere in your on-going newsletters. Where appropriate, re-imagine the information as a short newsletter article.
Blog. Link to product when it's mentioned in your blog posts. Additionally use your blog to feature other related content such as your YouTube or Slideshare page. Also offer readers the ability to receive your posts via email or RSS.
Customer service emails. Link to your latest content in your customer service emails. Create an easy-to-control P.S. so that you can tailor the callout.
Purchase email. Get extra mileage from these communications that are expected and tend to go to people's primary email address. Use a central, easy-to-control text so that you can update this information easily.
Employee email signature files. Leverage the power of your employees' correspondence. Create a unified email signature file that employees tailor to their name and title.
Internal communications. Create a human sounding emailing (realize that this is an area where communications tend to sound like a robot wrote them) highlighting your current content offering. It not only keeps your employees in the loop; it can help them with their jobs.
Business cards. Add a line referencing the URL to most of your content. It can be your blog, Slideshare or YouTube.
In-store handouts. Create handouts incorporating your relevant content.
Receipts.

Reference your primary content URL with a call to action if you have the programming capabilities.

In-store signage. Put up signs promoting your content. Create an easy-to-remember URL. Incorporate some of the information into the sign. Consider using a QR code for getting the rest of the information.
Annual report. For firms that create annual reports, use this opportunity to spotlight your major content efforts the goal is to position you as a thought leader in your field.
Other offline marketing. Include a message regarding your content offering.
Social media
Facebook. In addition to sharing links to your content, distribute photographs and data graphics at different times to maximize your reach.
YouTube. Post your videos with related text to YouTube.
Twitter. Add hashtags and mention people who are cited in your content. Create additional tweets from the information in your blog. For example, create one tweet for each point in your list posts. Be a guest on a Twitter chat to discuss a large piece of content.
LinkedIn. Promote your content on LinkedIn as well as in groups.
Google+. Share your content on Google+. Consider hosting a hangout to discuss your information.
Pinterest. Include at least one pinnable image in each post or article you publish. Don't forget to add your URL in the picture.
Slideshare.  Establish your content presence with presentations, video, audio and ebooks. This platform is particularly useful for B2B content.
Tumblr. This is a great place to share visual content, especially if you're trying to reach a 13-29 year old segment.
Social sharing buttons. Include relevant social sharing buttons to maximize earned impressions.
Social media advertising. Test using ads such as Facebook to highlight your significant pieces of content.
Third party platforms
Amazon. While not truly a social media platform, Amazon is repository for ratings and reviews of eBooks and books. This provides another channel to reach potential readers.
iTunes. Promote your podcast through iTunes to build a broader audience.
Play Store or Play Books. Promote your podcasts and ebooks through Android's store to build a broader audience.
Guest blog posts. Borrow a blogger's audience in return for providing great, unique content. Understand that if it's duplicate content, it's not going to perform very well. Re-imagine your articles or part of a larger piece of content.
Articles on third party sites. Distribute your articles on other media sites. At a minimum, ask sites where you currently advertise.
Influencer outreach. Either through your PR firm or directly, build a relationship with bloggers and other influencers you admire to help get your content wider dissemination.
Conference presentations. Spotlight your content offering at the end of your conference presentations. Where appropriate make a special offer to attendees.
Tradeshows. Incorporate your content offering into the handouts you have at your trade book.
Live events. Be creative in how you hand out your information. It can be a preloaded flash drive or a paper handout.
Press release. Issue a press release to highlight your major content pieces. It's useful to have a related reason for the release.
Associations. Use associations as a conduit for sharing your content, both online and offline.
Local business organizations. Think Rotary and Lions Clubs. Offer relevant information for members.
Intermediaries. Provide your content to middlemen who engage you're your prospects. Think doctors and drugstores for drug companies.
While every one of these 37 options may not work for each piece of content, it's important to ensure that your medium and large size content are well distributed. Also, realize that you may need to re-imagine some of your content to fit different platforms.
What other platforms would you add to this list and why would you include them?
Happy Marketing,
Heidi Cohen
---
---
For those of you in Raleigh, NC, please join me for Internet Summit November 11th through 13th.
Use the code HEIDI50 to save $50 OFF any pass level.
---
Even though Content Marketing World is finished until next September, you can still get all the content from 2014's exciting conference. The CMWorld On Demand package includes: Audio and video from the 2014 keynote sessions, audio and PowerPoint presentations of all the breakout sessions, over 40 audio sessions from the leading B2B and B2C brands, as well as keynote video performances.
---
Free Webcast!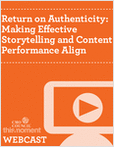 Join the discussion on Wednesday, October 29, 2014 at 10:00 AM PT/ 1:00 PM ET with Nancy Slavin, SVP of Marketing, Macy's Merchandising Group, and Dan Kimball, CMO, Thismoment.
According to research by Nielsen, 70 percent of global consumers trust online consumer reviews and rate reviews as the second most trusted form of advertising. And according to BazaarVoice, when it comes to trust, marketers may as well eliminate their own brand websites as a fountain of customer trust as only 16 percent of US consumers said they trust the content on a brand's website compared to the 51 percent who trust content generated by other users.
Today's digital currency is arguably authenticity, and what attracts customers - especially the digitally dependent, savvy millennial - is not just content. It is the delivery of authentic, unvarnished content from their peers.
Join the CMO Council on Wednesday, October 29, at 10am PST/ 1pm EST for a one-hour webcast that will invite industry experts in content marketing and user-generated content who are effectively leveraging authentic storytelling as part of their content marketing strategies. We will also feature an interactive Q&A session at the conclusion of the speaker presentations.
---
Related Articles
Photo Credit: http://www.flickr.com/photos/andrewmorrell/54069752/