Tumblr: Why Marketers Don't Get It (& How To Engage)
Does your marketing content act as an attention magnet to attract the largest audience possible? If not, then check out Tumblr, a six-year-old content sharing community with impressive numbers. Tumbler is not on many marketers' radar, even though it's many ways similar to the ubiquitous website or blogging formats.
According to Tumblr founder, David Karp, "The content that does best is the content that surprises you." To that end, let's take a look at the surprising opportunities Tumblr has in store for content marketers.
Tumblr by the numbers.
To better understand what Tumblr can do for brands and marketers, examine the numbers.
168.6 million pageviews per month globally served on Tumblr and 59.8 million pageviews per month in the US according to Quantcast.  Of this, 70% of Tumblr content appears on their dashboard.

Tumblr usage averages 15 minutes per user per session and 30 pageviews per visit (per the company.) Tumblr is second to Facebook in terms of time spent. Further, when done well, visitors are engaged with the content, not their social circles.
Tumblr users are limited to 250 posts per day (per the company.) This is an engaged audience. Think school hours before 7.00am, lunchtime and before dinner.
Tumblr's audience is predominantly 18 to 34 year olds. This is a young, single audience.
How Tumblr differs from other social media sites
While participants can follow Tumblrs, the platform doesn't provide social proof in the form of social shares and comment numbers. Instead 90% of Tumblr content is reblogged by readers to their own feeds encouraging the redistribution of content. When a user reblogs content it becomes part of their identity. Further, participants can also comment on the content they post to their own Tumblr creating accountability for content and commentary and providing more thoughtful feedback.
7 Tips to transform your visual content into eye candy with Tumblr
Tumblr plays to your business' creativity in telling your story, which is at the heart of great content and great marketing. Just remember to check your promotions at the door.
Go where the community passion is. Leverage trending topics on Tumblr. Adapt this concept that drives engagement and shares on other social media platforms to resonate with the Tumblr community. For example, since nostalgia is big on Tumblr, Lincoln told stories about their older vintage models. 

Create sharp imagery that resonates with your target audience. Forget stock images. Challenge yourself to create beautiful photographs and images that tell your business's story. Reimage your business from behind the camera lens.  For example, Disney chose top photographers on Tumblr and invited them to take pictures of their parks. This leveraged the power of these artists and their existing audiences as well.

Use the power of photographs and animated gifs (as well as text and video.) Animated gif images are simple moving pictures. The have the advantage of being animated without needing to load a video player.
Package informative content well. For example, Patagonia asked users to submit stories about their Patagonia clothing from the past and present to create branded stories. These stories require the customer to scan an old photograph and write about their experiences. This is difficult to accomplish since only 1% of readers create content.

Add an another layer to your story.  Consider how you can change the spin on your existing content. For example, the Hunger Games created a fashion magazine about the capital. 

Understand tags are the key to discovery on Tumblr. Add relevant tags from your audience's perspective, not yours. Think macro names and words. Here's how GE's sponsored Tumblr on technologists uses tags with their long form content. Further, this Tumblr is off of the Tumblr site. 

Build Tumblr love by liking the people who follow your blog. In contrast to other social media platforms, the list of people following you isn't broadcast.
Tumblrs provide a home for your visual content, regardless of length. If it's attractive and interesting, readers will discover it.
Do you use Tumblr? If so, what have your results been?
Happy Marketing,
Heidi Cohen
---
---
For those of you in Raleigh, NC, please join me for Internet Summit November 11th through 13th.
Use the code HEIDI50 to save $50 OFF any pass level.
---
Even though Content Marketing World is finished until next September, you can still get all the content from 2014's exciting conference. The CMWorld On Demand package includes: Audio and video from the 2014 keynote sessions, audio and PowerPoint presentations of all the breakout sessions, over 40 audio sessions from the leading B2B and B2C brands, as well as keynote video performances.
---
Free Webcast!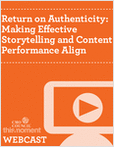 Join the discussion on Wednesday, October 29, 2014 at 10:00 AM PT/ 1:00 PM ET with Nancy Slavin, SVP of Marketing, Macy's Merchandising Group, and Dan Kimball, CMO, Thismoment.
According to research by Nielsen, 70 percent of global consumers trust online consumer reviews and rate reviews as the second most trusted form of advertising. And according to BazaarVoice, when it comes to trust, marketers may as well eliminate their own brand websites as a fountain of customer trust as only 16 percent of US consumers said they trust the content on a brand's website compared to the 51 percent who trust content generated by other users.
Today's digital currency is arguably authenticity, and what attracts customers - especially the digitally dependent, savvy millennial - is not just content. It is the delivery of authentic, unvarnished content from their peers.
Join the CMO Council on Wednesday, October 29, at 10am PST/ 1pm EST for a one-hour webcast that will invite industry experts in content marketing and user-generated content who are effectively leveraging authentic storytelling as part of their content marketing strategies. We will also feature an interactive Q&A session at the conclusion of the speaker presentations.
---
Big thank you to  Toby Daniels of Crowd Centric and Social Media Week.  
Photo Credit: tumblr.com