How To Reuse Your Content Without Breaking the Bank
As content consumption continues to explode, marketers face the dual challenge of feeding the never-ending need for content and supporting these efforts with sufficient resources.
Based on IDC research presented by Mary Meeker, content has increased nine-fold to two zettabytes (a trillion gigabites) over the five years ending in 2011.
One effective way to maximize content reach and to limit resource investment is to create multiple versions out of each piece of content. Todd Wheatland, head of marketing at Kelly Services and author of The Marketer's Guide to Slideshare, recommends reimagining each major piece of content twenty different ways.
When it comes to content marketing, one size content doesn't fit all.  You must rethink the content in different ways and adapt it for specific platforms so that it's contextually relevant and provides more information. Planing ahead will save resources in terms of time, money and stress.
Here are the seven steps to successfully repurpose your content marketing without breaking the bank.
1.

Set measurable goals for each major piece of content

.

Know what you want each piece of content to do. By making each reuse targeted and contextually relevant you can aggregate the various pieces of content to yield better results.  Having goals also helps you select which channels are most important for reuse so that you can cost-effectively provide the multiple views that are required to make an impression on your customers.
2.

Think market segment

.

Know your audience in detail so you can create each piece of information by tailoring it to a specific audience. This means understanding their role in the purchase process, how they consume content, and where they engage on social media. To this end, create a marketing persona and social media persona for each market segment and influencer group.
3.

Plan content creation in advance.

Build your editorial calendar to ensure each major piece of content is associated with major business events and marketing promotions. Further, create all related content at one time to reduce production costs and guarantee it's consistent. It's important to have an employee who's responsible for the editorial planning and organizing of your content since this is a strategic function (while content creation can be outsourced.) This is a key lean content benefit. Here are seven content formats to include.
Break each piece of content into a series of social media shares. Target each social media snippet to specific segments or groups within each social media platform. The goal is to make each piece more relevant to your followers so that it will be shared more broadly.
Convert your articles and/or blog posts into emailings.  Either offer the full article or add an enticing summary.
Create targeted images to encourage sharing. Remember people are visual beings that react to faces and other humans. Even boring content can be reimaged as a visual graphics. Make images shareable on Pinterest with a Pin This button. Also, distribute on Facebook, Twitter and Flickr.
Produce video content. YouTube is the number two social media platform and search engine where people turn for answers. Take a page from Orabrush and Blendtec, your video doesn't have to be pricey. It has to be helpful and entertaining.
Convert your information into visuals and/or infographics. Reimagine your content in a concise visual way. Try out Visual.ly to create your infographics.
Give your content a voice. While only a small proportion of marketers are using podcasts, it's a good way to build another housefile. Also, you can distribute it via iTunes and other podcast platforms.
Think big content such as an ebook, webinar, presentation or research paper. Collect your blog posts into an ebook (or break an ebook into a series of blog posts.) Share your ebook on Slideshare and Amazon.
4.

Ensure each reimaged piece of content supports your brand.

Incorporate your 360° brand into every chunk of content. The objective is to enable your content to act as an extension of your brand by providing a context for your information.
5.

Make each piece of content easy-to-consume.

Understand that your core audience has different ways to use your content and extract its meaning. Be aware that if your information looks too intimidating, there's other faster or preferred content to substitute for yours.

Your information must be findable otherwise it won't support your marketing and help you to achieve your business objectives. Focus each piece around one keyword phrase. Also, add text to non-text content.
7.

Distribute your content across appropriate platforms.  

Use your owned media including your email list, website and blog. Don't underestimate the power of your retail establishment, social media pages and third party sites.

To meet your organization's on-going need for cost effective content, make sure that you repurpose every element of your content. Plan your content reuse in advance to streamline your content creation and keep your costs under control.

What other recommendations do you have for repurposing content?

Happy Marketing,
Heidi Cohen
---
---
Even though Content Marketing World is finished until next September, you can still get all the content from 2014's exciting conference. The CMWorld On Demand package includes: Audio and video from the 2014 keynote sessions, audio and PowerPoint presentations of all the breakout sessions, over 40 audio sessions from the leading B2B and B2C brands, as well as keynote video performances.
Social Media Marketing World — San Diego — March 25-27, 2015.

Register Now and Save $480!   Limited time offer.
Register Now for the Intelligent Content Conference.
An annual gathering of the best and brightest content professionals on the planet. People who know the secrets (and are willing to share them). People who value content as a business asset. People who have made it their life's work to develop repeatable, systematic approaches to producing amazingly effective content.
---
Free Webinar!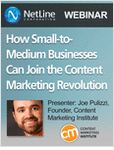 Join the discussion on Tuesday, December 2 - Time: 2 PM (EST) / 11 AM (PST) to learn how small and medium sized businesses don't have to have an entire content marketing organization (or budget) to be successful in content marketing.
Joe Pulizzi, Author and Founder of Content Marketing Institute and Werner Mansfeld, President of NetLine Corp, discuss realistic and actionable methods for your company to get awareness, consideration and sales leads using marketing content – without the budget or resources of an enterprise-level organization.
Date: December 2nd, 2:00 pm EST/12:00pm CST/11:00 am PST
Here are just some of the questions you'll get answered:
What is content marketing and why is it important?
What do I need to have in place to compete effectively using content marketing?
How do I drive sales leads and get a positive ROI using content marketing?
How can my small business (or budget) compete with my larger competitors using content marketing?
What can I start doing today to start seeing results?
Joe Pulizzi and Werner Mansfeld are experts in Content Marketing and Content Syndication. Learn from their combined experience how to take advantage of content marketing for your business, no matter the size.
---
Related Articles
Photo Credit: http://www.flickr.com/photos/guzzphoto/8711728806/