How Marketers Curate Content in 2014 [Research]
Content marketing in 2014 requires a content curation component and related strategy.
Why?
Because despite increased content marketing budgets, content is projected to grow exponentially to 8 zettabytes by 2015 according to Mary Meeker of KPCB.
According to Google's Zero Moment of Truth (ZMOT), buyers check an average of 10.4 sources when they research a purchase. This translates to providing lots of information targeted at answering their specific purchase related questions.
Prospects are 70% of the way through their buying decision before they contact your firm, according to Google.
As a result marketers are under pressure to find more cost and time effective ways to meet the increased demand for content marketing. The way to meet this need effectively is to add content curation into the content marketing mix.
Content curation in the content marketing mix
To create an effective content offering, marketers use a mix of content strategies according to 2014 research by Curata.
65% of content is created. Marketers need original content that sets their brand and products apart.
25% of content is curated. Marketers need to avoid just pushing their own information. This is particularly important on social media where curation is the key to success.
10% of content is syndicated. Marketers supplement their own and curated content with quality information from trusted resources.
Actionable Content Marketing Tip: Aid branding and thought leadership positioning with curated content. Where possible ensure that your content helps attract quality leads and supports your sales process.
Curated content distributed.
When it comes to distributing curated content, marketers focus on 3 key strategies according to Curata's data.
Over 80% share on social media. Content curation also can support you social media marketing. Concurrently, marketers must provide shareable content that boosts their brand presence across social media platforms.Leverage the power of social media tools to schedule content sharing for when your audience is on social media rather than when you are at work. Actionable Content Marketing Tip: Share content created by your customers such as photographs of your product and reviews.
Over 60% share on blogs. Curate and incorporate links to other content in your blog posts. Actionable Content Marketing Tip: Develop blog posts based on curated articles and opinions such as round up posts.
Over 50% share via email newsletters. Some marketers supplement their own content with links to other relevant information. Actionable Content Marketing Tip: Make sure you highlight content you created that's appeared on other platforms such as guest blog posts.
This makes sense since social media by its nature is about sharing information from a variety of sources. Marketers and individuals alike get burned by only promoting their own information. It's not a me, me, me platform.
Curation timing
If content curation is an integral part of your social media strategy, it's important to be present and share regularly across social media platforms. This is particularly important for social signals that influence search results.
While the line between social media and content curation is blurred, this would favor a daily schedule of content curation to ensure that your firm's engagement is timely and effective.
While businesses can use tools to aid selecting and scheduling content across social media, you still need to be present on social media to respond to prospects and customers.
In the area of curation frequency, Curata's results conflict with those of Trapit's research.
Roughly half of Curata's respondents curate content weekly and 16% curate daily.
 58% of Trapit's respondents curate at least 10 pieces per day.
Given this difference, the chances are that these two research audiences may define curation differently.
Actionable Content Marketing Tip: Determine what level of presence you need on various social media platforms and how much content you need to distribute to be competitive.
This requires understanding how and where your audience consumes content as well as how and where your competitors are distributing information on social media and other platforms.
In 2014, you must include content curation in the content marketing mix. This is particularly important to help support your social media marketing strategy and distribution.
How do you use content curation as part of your content marketing mix?
Happy Marketing,
Heidi Cohen
P.S. If you're interested in learning more about content curation, I will be teaching a session on this topic at Content Marketing World 2014. Please join me!
---
---
For those of you in Raleigh, NC, please join me for Internet Summit November 11th through 13th.
Use the code HEIDI50 to save $50 OFF any pass level.
---
Even though Content Marketing World is finished until next September, you can still get all the content from 2014's exciting conference. The CMWorld On Demand package includes: Audio and video from the 2014 keynote sessions, audio and PowerPoint presentations of all the breakout sessions, over 40 audio sessions from the leading B2B and B2C brands, as well as keynote video performances.
---
Free Webcast!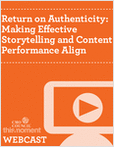 Join the discussion on Wednesday, October 29, 2014 at 10:00 AM PT/ 1:00 PM ET with Nancy Slavin, SVP of Marketing, Macy's Merchandising Group, and Dan Kimball, CMO, Thismoment.
According to research by Nielsen, 70 percent of global consumers trust online consumer reviews and rate reviews as the second most trusted form of advertising. And according to BazaarVoice, when it comes to trust, marketers may as well eliminate their own brand websites as a fountain of customer trust as only 16 percent of US consumers said they trust the content on a brand's website compared to the 51 percent who trust content generated by other users.
Today's digital currency is arguably authenticity, and what attracts customers - especially the digitally dependent, savvy millennial - is not just content. It is the delivery of authentic, unvarnished content from their peers.
Join the CMO Council on Wednesday, October 29, at 10am PST/ 1pm EST for a one-hour webcast that will invite industry experts in content marketing and user-generated content who are effectively leveraging authentic storytelling as part of their content marketing strategies. We will also feature an interactive Q&A session at the conclusion of the speaker presentations.
---
Related Articles
Photo Credit: http://www.flickr.com/photos/14646075@N03/3551802363/