Heidi Cohen interviews Jay Baer
Q: What's your best piece of advice for readers looking to improve their marketing?
Customer service IS the new marketing. Answer EVERY customer, in EVERY channel, EVERY time. Fully one-third of all customer complaints are never answered – mostly online.
Not answering customer complaints robs you of opportunities to turn that customer around, demonstrate your values to the online audience of onloookers, and use negative feedback as a petri dish for improvement.
Q:

What was the inspiration for your book?

80% of companies say they deliver superior customer service. 8% of their customers agree. This is a huge problem, and businesses that embrace the Hug Your Haters recipe will become leaders in their industry. Specifically, my work as a social media and content marketing strategist provided me many opportunities to see companies large and small struggling with the speed and volume of customer interactions.

If you're still thinking of customer service as a "call center" and a "necessary evil" you need to immediately get your head around the digital shift and customer service as revenue driver.
Q:

What is the key concept behind your book?

Haters are not your problem, ignoring them is.

I partnered with Edison Research and conducted a massive study on the science of complaints. We found that answering a customer complaint increases customer advocacy always, and in every channel. It makes a bad situation better. Conversely, not answering a customer complaint decreases customer advocacy always, and in every channel. It makes a bad situation worse. Yet, one-third of complaints are still ignored.

The signature data of the book is The Hatrix, the analysis of the two main types of haters, their expectations, and the advocacy impact of answering (or not answering) their complaints.
Q:

What do you want readers to take away from your book?

Recognize that customer service is the new marketing, commit the necessary resources to be great at customer service (especially online), and answer every customer complaint, in every channel, every time.
Q:

 How do you describe yourself professionally?

I'm the President of Convince & Convert, a New York Times best-selling author of five books, a keynote speaker, startup investor, and tequila fan. With my team of genius consultants, I help the world's most interesting companies gain and keep more customers.
Q:

 What are 1-3 books that inspired your work/career?
I love the book Different by Youngme Moon. Spectacular work on differentiation within competitive categories.
My friend Rory Vaden wrote a book last year called Procrastinate on Purpose that fully changed how I think about priorities and time management. Highly recommended!
Pretty much anything by Bill Bryson has influenced me, as my writing style is a very poor imitation of his.
Q:

 What is the biggest challenge that you've had to overcome?

Most of my challenges have been self-imposed. I tend to leap before I look, whether it's quitting jobs, starting companies, inventing podcasts, writing books, etc. The biggest challenge I have consistently is following through on ideas and projects that I start. I like the ideation more than the execution, and so I'm incredibly fortunate I have an amazing team to help me!
Q:

 What's something unusual or fun that most people don't know about you?

I am a certified BBQ judge, so I can go on long, rambling dissertations about the merits of various types of pork ribs, and other meat-based esoterica.
Q:

 Is there a piece of content, a social media campaign or a marketing campaign that you worked on that you're particularly proud of?

I remain very proud of my previous book, Youtility. It continues to sell well, which is nice, but more importantly it has helped usher in the concept of useful marketing to marketing teams all over the world.
Q:

 Is there anything else that we haven't covered that you'd like to share?

The hard part about writing a book about customer service is that everyone already thinks they are good at it. I guarantee that if you read Hug Your Haters, you'll discover you have a long way to go. I'm also delighted that the book is rooted in real research, not just anecdote. And that research is buttressed by more than 70 interviews I did for the book. It doesn't matter if you're a sole proprietor, a small business, or a giant corporation; if you have customers, you'll learn from Hug Your Haters.
Contact information
Thanks, Jay.
Happy Marketing,
Heidi Cohen
Join Heidi Cohen and fellow marketers at the mega-conference designed to inspire and empower you—Social Media Marketing World 2017, brought to you by Social Media Examiner.
Discover the best and newest ways to market your business on Facebook, Instagram, LinkedIn, YouTube, Twitter, Pinterest and Snapchat.
The event takes place March 22-24, 2017, in San Diego. Actionable Marketing readers get an early registration discount.
Act by Friday – Save $100!
---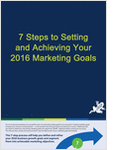 This 7-step process will help you define and refine your 2016 business growth goals and segment them into achievable marketing objectives.
You've set personal resolutions for yourself this year, but what about setting goals for your business? Creating marketing goals increases your chances of achieving them – so do yourself a favor this year and set yourself up for success.