Blogging: The Long Tail of Social Media
Say social media and photographs, status updates, comments and likes come to mind. Yet Facebook comments, LinkedIn updates and tweets only flicker briefly in followers' streams. Not the stuff of which lasting impressions are made.
For marketers seeking to build their brands, drive traffic, and generate leads and sales, this can be a challenge.
Compared to the ephemeral nature of most social media options, blogs provide lasting value. Blog results snowball over time attracting a larger audience and improving search rankings. Don't take my word for it. SEO expert Rand Fishkin shared data from his wife's blog, The Everywhereist, showing how its traffic grew over time. Consistency and longevity were its keys to success. 
Similarly, top-ranked blogger Jay Baer of Convince and Convert  and author of Youtility revealed that his blog didn't yield financial results until its fourth year and by its fifth year it was generating real income.  
Despite this, B2B and B2C marketers underutilize blogging – less than one out of five puts it at the top of their social media options, according to Social Media Examiner's 2013 Social Media Marketing Industry Report. In part this is attributable to the fact that they don't consider blogs social media and/or marketing tools. As a result, they overlook blogs potential to support content marketing, social media and search.
Here are ten tactics to make your blog yield benefits as the long tail of your social media marketing strategy.
1.

Make a commitment to blogging.

Translation: budget and headcount. Someone must be responsible for the creation, publication and distribution of your blog's content.
2.

Build a body of content focused on your niche.

You need at least fifty posts to start to reap search benefits according to Hubspot research. Develop a body of posts covering your brand or business's top keywords or phrases. Focus on the words your prospects and customers use because these may differ from those used within your organization.
3.

Develop pillar content.

Determine what information your target market seeks. Among the top options are: Answer customer questions. This is easy to get from customer service and sales. Provide how-to's. Share recipes and patterns that link to your products.
4.

Publish consistently.

Post at least two to three times per week to get most of the benefit of posting multiple times a day per Hubspot research. Think like a publisher. Otherwise, you'll continually find an excuse for not writing. Create an editorial calendar that helps to focus your content creation efforts.
5.

Brand your blog.

Integrate your brand's attributes into the various elements of your blog design.
6.

Optimize your blog for search.
7.

Create eye-candy content.

Think visually. If your content looks too onerous to consume, readers move on to the next piece of content.
8.

Leverage your blog's social media elements.

Take advantage of your blog's inherent social media strengths.
Incorporate social sharing buttons relevant to your niche. Use a contextually relevant call-to-action to get readers to act.
Engage visitors in the conversation via your comment section. Ask a question to get the conversation going. Also respond to comments to show that you're present on social media.
9.

Distribute blog content widely.

Don't assume that people are waiting with baited breath for your posts.
10.

Track blog results.

Install metrics and plan to assess progress towards your business goals.

Don't get discouraged. Understand that a large part of the variability in your blog traffic is attributable to external factors beyond your control. Unlike other forms of social media, blogs where fresh content is consistently posted, continue to increase in visibility and strength. Blogs truly are the long tail of social media.

Is a blog a critical element of your social media strategy? If so, why and if not, why not?

Happy Marketing,
Heidi Cohen
---
---
For those of you in Raleigh, NC, please join me for Internet Summit November 11th through 13th.
Use the code HEIDI50 to save $50 OFF any pass level.
---
Even though Content Marketing World is finished until next September, you can still get all the content from 2014's exciting conference. The CMWorld On Demand package includes: Audio and video from the 2014 keynote sessions, audio and PowerPoint presentations of all the breakout sessions, over 40 audio sessions from the leading B2B and B2C brands, as well as keynote video performances.
---
Free Webcast!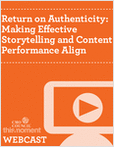 Join the discussion on Wednesday, October 29, 2014 at 10:00 AM PT/ 1:00 PM ET with Nancy Slavin, SVP of Marketing, Macy's Merchandising Group, and Dan Kimball, CMO, Thismoment.
According to research by Nielsen, 70 percent of global consumers trust online consumer reviews and rate reviews as the second most trusted form of advertising. And according to BazaarVoice, when it comes to trust, marketers may as well eliminate their own brand websites as a fountain of customer trust as only 16 percent of US consumers said they trust the content on a brand's website compared to the 51 percent who trust content generated by other users.
Today's digital currency is arguably authenticity, and what attracts customers - especially the digitally dependent, savvy millennial - is not just content. It is the delivery of authentic, unvarnished content from their peers.
Join the CMO Council on Wednesday, October 29, at 10am PST/ 1pm EST for a one-hour webcast that will invite industry experts in content marketing and user-generated content who are effectively leveraging authentic storytelling as part of their content marketing strategies. We will also feature an interactive Q&A session at the conclusion of the speaker presentations.
---
Related Articles
Photo Credit:http://www.flickr.com/photos/granada_turnier/7004554517/
Note: Link to books are affiliates.