23 Actionable Blogging Tactics To Grow Your Audience
Recently bloggers have been buzzing about Google's plan to pull the plug on their Reader. Since Google Reader regularly drives thousands of people to established blogs, this move translates to the loss of a significant portion of these blog audiences.
To combat this potential falloff in loyal readership short term, bloggers are experimenting with a variety of alternatives including expanding their email registrations and the use of other feed readers. Yet the real issue at the heart of blogging is attracting, engaging and retaining your audience to build long-term relationships.
5 Steps to attracting and retaining an audience like a rock star
Follow these five steps to be a blogging rock star to attract, engage and retain your audience long term. 
1.

Reach prospective blog readers

Every blogger faces the challenge of continually attracting new readers. Regardless of the size of your audience, you have a core of established readers and an inflow new readers as well as people who've stopped reading your blog (for one reason or another.) Therefore you must regularly expand your blog readership. At the heart of this suggestion is the assumption that you know the audience you're trying to attract. To this end, it's useful to develop a marketing persona.
Be findable. Optimize your blog for search to enable your audience to find your content on search engines.
Leverage the power of social media. Use a variety of different social media networks based on the focus of your blog to engage prospects and lure them to your content. Share your blog content across relevant social media networks.
Take advantage of the power of other bloggers' audiences. Write guest blog posts to attract readers from other blogs to stop by your blog. Understand that you must write amazing content and can only incorporate one or two links back to your own blog.
Use third party media. Take a broad approach to third party media. To get recognition, it's helpful to use PR.
Test advertising. Place ads on other blogs and social media entities where your target audience already congregates.
Encourage word of mouth. Ask your readers to share your content with their family, friends and colleagues. Incorporate social sharing into your blog.
2.

Entice potential readers to visit your blog (and not bounce away)

Once readers have learned about your blog elsewhere you must continue to lure them into your information so that they don't just bounce off to the next site.
Use attractive visuals. Don't count on the power of your writing by itself to pull readers in further. To this end, photographs, especially those of people are very important.
Format your content for easy-consumption. Understand that if your blog looks like a massive chunk of text, it will scare people away. Therefore don't underestimate the value in making your information snackable with bolding and outlining.
Craft strong blog titles. Bear in mind that only 20% of readers get beyond the headline in their reading. Therefore your title must hook your reader and reel him in.
Brand your blog. Your blog should be an extension of your brand in terms of how it looks and how it's formatted so that readers can recognize it without thinking about it.
3.

Engage prospects to keep them on your blog

Once a potential reader has made it to your blog, entice them to stay longer and/or take further action such as registering for your email.
Present the best content you can. Offer blog posts that contain strong writing that's well edited and has good grammar. To accomplish this, you must understand your audience.
Link to related content on your site. Incorporate links to useful content within your blog posts as well as offering links to related, hand-selected articles at the end of your post.
List the top posts on your site. Build your blog's version of its bestseller posts. This is a great way to entice readers into your site.
Encourage comments (and make it easy for readers!) It can be useful to have a set of blog friends where you all comment on each other's content so that visitors see activity. Also, show that you appreciate your reader's time by responding to comments where appropriate.
Engage with readers on other social media platforms. Promote your content where you're active on other social media entities and invite visitors to join you there.
Participate in events related to your blog both online and offline. This means Twitter chats, conferences and meetups.
4.

Get prospects to commit

Encourage blog visitors to take some form of action beyond just reading your blog posts. Understand that only a small proportion of visitors will take further action whether it's signing up to receive regular content or buying a product from you.
Utilize calls-to-action to prompt readers to act. Don't assume that readers will take the next step in terms of making a commitment without being nudged to do so.
Provide free ebooks and other inducements. Encourage readers to dive deeper into your content by presenting them with more high value content in exchange for their email address. (BTW—We'd be pleased if you'd download our 101 Actionable Blogging Tips.)
Offer information that is part of a larger activity. Create content that supports sales such as recipes, patterns, styling and how-tos. This type of information can link to your product offering without being promotional.
Encourage visitors to sign up for your emailings. You can offer emailings for your regular blog posts or you can offer a weekly emailing.
5.

Transform prospect relationships to generate revenues

Use the power of your blog to drive revenues. While many bloggers focus on creating revenue streams, don't turn your blog into a promotional machine. It's the surest way to kill your readership.
Create targeted products for your readers. These offerings can be your services, content products or events.
Encourage readers to use other products you support through the use of affiliate marketing. Leverage the power of your audience to sell other people's products. (BTW—we appreciate your support of our affiliates!)
Allow third parties to advertise on your blog and other media to reach your audience. This is a traditional way to monetize a media entity.
Regardless of the channels you use, the challenge at the heart of blogging is about attracting and retaining your audience like a rock star to build a long-term relationship.
What tactics have you used to attract and retain your blog audience? Have you tested other initiatives? If so, what did you discover?
Happy Marketing,
Heidi Cohen
---
---
For those of you in Raleigh, NC, please join me for Internet Summit November 11th through 13th.
Use the code HEIDI50 to save $50 OFF any pass level.
---
Even though Content Marketing World is finished until next September, you can still get all the content from 2014's exciting conference. The CMWorld On Demand package includes: Audio and video from the 2014 keynote sessions, audio and PowerPoint presentations of all the breakout sessions, over 40 audio sessions from the leading B2B and B2C brands, as well as keynote video performances.
---
Free Webcast!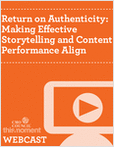 Join the discussion on Wednesday, October 29, 2014 at 10:00 AM PT/ 1:00 PM ET with Nancy Slavin, SVP of Marketing, Macy's Merchandising Group, and Dan Kimball, CMO, Thismoment.
According to research by Nielsen, 70 percent of global consumers trust online consumer reviews and rate reviews as the second most trusted form of advertising. And according to BazaarVoice, when it comes to trust, marketers may as well eliminate their own brand websites as a fountain of customer trust as only 16 percent of US consumers said they trust the content on a brand's website compared to the 51 percent who trust content generated by other users.
Today's digital currency is arguably authenticity, and what attracts customers - especially the digitally dependent, savvy millennial - is not just content. It is the delivery of authentic, unvarnished content from their peers.
Join the CMO Council on Wednesday, October 29, at 10am PST/ 1pm EST for a one-hour webcast that will invite industry experts in content marketing and user-generated content who are effectively leveraging authentic storytelling as part of their content marketing strategies. We will also feature an interactive Q&A session at the conclusion of the speaker presentations.
---
Related Articles
Photo Credit: http://www.flickr.com/photos/billiejoesentourage/3730330633/