5 Blog Longevity Tips
Blogging isn't easy; it requires diverse skills to publish quality content on a regular basis.
The reality is that most bloggers or businesses start with the idea "I'm going to create a blog." Therefore building the blog becomes the end in itself.
Like a more traditional marketing campaign, you build the blog, put some content on it, and you think you're done.
The reality is that your blog isn't a field of dreams where, if you build it, readers will come. More continuous effort is needed to transform your blog into a quality content entity.
One of the biggest reason blogs fail is that the blogger just stops before the blog starts to yield measurable results in the form of branding, thought leadership, lead generation and sales.
Here are blog longevity results from Rand Fishkin on Moz.
Convince and Convert's Jay Baer took 3 years to earn money from his top rated blog. 
#1

Best piece of blogging advice you will ever need

The #1 best piece of blogging advice: Keep blogging. (Need help? Here are 30 blogging tips.) It's that simple. Just keep doing more of what you've been doing.

Why should you bother to continue blogging? 68% of marketers plan to invest in blogging in 2014 according to Social Media Examiner's Social Media Marketing Industry Report. So keeping your current blog going gives you an essential advantage – blog longevity. Here's Lee Odden's first blog post on TopRankBlog. Today, you wouldn't gain much traction with this type of blog opening. 
Odden's Online Marketing Blog is one of the Top 10,000 blogs in the world according to Alexa. Odden has been blogging for over 10 years! 
With the URL TopRankBlog.com, Odden's blog ranks top on organic search for "online marketing blog." Google
Use your existing blog to continue building authority with a set of readers, on Google and on social media (UNLESS you started building on rented land like Blogger or WordPress. In this case consider starting over on your own URL!)
The key to blog longevity: The blog must have overarching goals and meaning that are larger than just creating more content in order to keep you motivated and showing up.
Gawker Media's Nick Denton, one of the early blogging trailblazers, made this point at last November's Business Insider Conference – "To build a company to flip or sell it isn't a good reason. You need to have a higher goal. Gawker's goal is to expose stuff. Money is a by-product of success, not the goal." 
Blog Longevity Tips
Blogging for the long term isn't easy.
So, how can you accomplish blog longevity without giving up or burning out? Follow these 5 blog longevity tips.
1.

Set big hairy audacious goals.

Think big. Go beyond traffic, money and customers.

Actionable Blog Longevity Tip: Answer the following question:
How do you want to change one small piece of the world to make a difference? 
2.

Determine who your audience is.

Not just by delivering important information based on the demographics and psychographics of your buyers, but by anticipating your audience's needs before they voice them.

Actionable Blog Longevity Tip: Answer the following question:
Who do you want to be changed as a result of having read your content?

Who's hot button can you hit and get them to act as soon as they read your information? This means considering not only where your audience is today but also where they'll be tomorrow and how their need for information will evolve.

In light of this goal, what type of content do you need to produce on a regular basis to influence and change your readers? Consider your editorial calendar on a daily, Weekly and/or monthly basis to fulfill your audience's needs when and where they need it.

Look for a mix between evergreen and spontaneous content.
3.

Gather sufficient blog resources to support your blog activity.

Like other forms of marketing, blogs require people and support.

Actionable Blog Longevity Tip: Answer the following question:
How will you ensure that you have sufficient money and/or time to publish content on a consistent basis?

Blog support requires more than just headcount. It needs support in the form of being integrated into people's jobs.

Further, your blog should be integrated into your overall marketing editorial calendar with assigned responsibilities and related resources such as editorial and technology.

Your blog must be lovingly taken care of by your design team and technology department as a part of your on-going marketing and content strategy. Further it must render well on mobile devices.
4.

Deliver your blog content to readers who seek it.

This means blog post distribution. (Here are 64 blog distribution tips inspired by the Beatles.)

Actionable Blog Longevity Tip: Answer the question:
How will you get your content into the hands of the right people?

Based on the focus of each blog post, place it on owned media (including your website, newsletters, catalogs, in-store flyers and other communications).

Be active on social media so that you can support other people's content and they'll return the favor by promoting yours.

Work with third party media entities to place columns and get cross-promoted and guest posts.

Dig deeper than the basic metrics, understand how your blog is performing. It's not just a matter of driving readers to your blog, never to return again.

Actionable Blog Longevity Tip: Answer the question:
Does your blog keep readers coming back for more high quality content?

Know how your blog is contributing to your key business metrics. This may involve smaller steps, but your ultimate goal is to achieve your big hairy audacious goals.

Keeping your blog going is the key to building your blog. To stay on track, monitor your performance regularly.

What other blogging longevity tips do you have?

Happy Marketing,
Heidi Cohen
---
---
For those of you in Raleigh, NC, please join me for Internet Summit November 11th through 13th.
Use the code HEIDI50 to save $50 OFF any pass level.
---
Even though Content Marketing World is finished until next September, you can still get all the content from 2014's exciting conference. The CMWorld On Demand package includes: Audio and video from the 2014 keynote sessions, audio and PowerPoint presentations of all the breakout sessions, over 40 audio sessions from the leading B2B and B2C brands, as well as keynote video performances.
---
Free Webcast!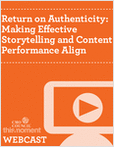 Join the discussion on Wednesday, October 29, 2014 at 10:00 AM PT/ 1:00 PM ET with Nancy Slavin, SVP of Marketing, Macy's Merchandising Group, and Dan Kimball, CMO, Thismoment.
According to research by Nielsen, 70 percent of global consumers trust online consumer reviews and rate reviews as the second most trusted form of advertising. And according to BazaarVoice, when it comes to trust, marketers may as well eliminate their own brand websites as a fountain of customer trust as only 16 percent of US consumers said they trust the content on a brand's website compared to the 51 percent who trust content generated by other users.
Today's digital currency is arguably authenticity, and what attracts customers - especially the digitally dependent, savvy millennial - is not just content. It is the delivery of authentic, unvarnished content from their peers.
Join the CMO Council on Wednesday, October 29, at 10am PST/ 1pm EST for a one-hour webcast that will invite industry experts in content marketing and user-generated content who are effectively leveraging authentic storytelling as part of their content marketing strategies. We will also feature an interactive Q&A session at the conclusion of the speaker presentations.
---
Related Articles
Photo Credit: …