Blog Appeal: 5  Attributes You Need (Tips Too!)
Will your potential visitor stop and read your blog content or won't he?
That's the key question.  Regardless of your goals, if your blog isn't appealing to your target audience, it's not going to attract an audience or achieve your goals.
Your blog has to be like chocolate cake to entice readers. Neal Shaffer, Founder and Editor-In-Chief of Maximize Social Business, gets this.
Schaffer grew and expanded his blog, originally named Windmill Networking, into a top rated community blog with over 20 global contributors. Based on his extensive experience, Schaffer knows how to develop a blog that lures readers in while standing out from the crowd.
In his opinion top blogs contain 5 attributes that create blog appeal. What I like about Schaffer's short list is that it focuses on making your blog enticing to your key audience(s).
This is a point many bloggers overlook. Once you've started your blog and grown your community, it takes on a life of it's own.The reality is that your blog isn't about you; it's about your audience.
Here are Schaffer's 5 points that all top blogs contain combined with my blogging tips.
1.

  Are visually attractive.

As humans, we take in visual information 60,000 times faster than text. Use this to your favor.
Add a photo or image to each blog post to get your reader's attention.
Integrate a number of images and/or screenshots to entice your content and illustrate your points. Social Media Examiner does a great job of this example and include multiple images or screenshots, such as this article on using photos.
Incorporate other visual content such as videos, inforgraphics and presentations.
Recognize that your readers are seeking to get through your content as quickly as possible. Therefore consider the following points.
Use bolding and outlining to guide them through the information quickly. This is particularly important for on-the-go consumption. Also you want to avoid THDR (aka—Too Hard, Didn't Read.) Dense content isn't inviting.
Employ good grammar. A copy editor can be helpful to provide a second set of eyes. Further, Disruptive Communications found that 40% of respondents believed poor spelling and grammar reduced favorable brand impressions.
Incorporate responsive design. Your audience uses a diverse set of devices including PCs, smartphones and tablets to read your content, therefore your content must render on all of these options. Also, don't forget to make your email blog posts and related announcements, mobile and tablet friendly since about 50% of email is opened on a mobile device.
3.

Use eye-catching titles.

David Ogilvy taught us, "Only 1 out of 5 readers gets beyond your headline."
4.

Place content above-the-fold, not advertisements.

Regardless of your blog goals, building your brand, attracting prospects, generating leaders, and/or creating thought leadership, you need to entice your prospects into your content.
Skip the promotion. Disruptive Communications research found that 25% of respondents thought social media updates were "too salesy".
Lead readers deeper into your content. Offer top 10 lists, related articles, Start here lists.
Incorporate a call-to-action. Get visitors to sign up for email and to follow you on social media.
5.

Include author bios for all of the authors.

Readers like to know who's talking to them. This is especially important for company blogs, whether they're B2C or B2B.
Show your author's face. This adds personality to the content and helps your readers to form a connection with the writer.
Speak human and have a personality. It can't be rehashed corporate-speak.
Respond to your readers' comments. Even major blogs have a difficult time getting reader comments. Therefore, make sure that your authors take the time to respond when there are comments.
By focusing on your audience and their needs, you will attract a following that's loyal to you.
How do you feel about making your blog attractive to your audience? What else would you add to this list and why?
Happy Marketing,
Heidi Cohen
---
---
For those of you in Raleigh, NC, please join me for Internet Summit November 11th through 13th.
Use the code HEIDI50 to save $50 OFF any pass level.
---
Even though Content Marketing World is finished until next September, you can still get all the content from 2014's exciting conference. The CMWorld On Demand package includes: Audio and video from the 2014 keynote sessions, audio and PowerPoint presentations of all the breakout sessions, over 40 audio sessions from the leading B2B and B2C brands, as well as keynote video performances.
---
Free Webcast!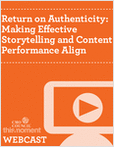 Join the discussion on Wednesday, October 29, 2014 at 10:00 AM PT/ 1:00 PM ET with Nancy Slavin, SVP of Marketing, Macy's Merchandising Group, and Dan Kimball, CMO, Thismoment.
According to research by Nielsen, 70 percent of global consumers trust online consumer reviews and rate reviews as the second most trusted form of advertising. And according to BazaarVoice, when it comes to trust, marketers may as well eliminate their own brand websites as a fountain of customer trust as only 16 percent of US consumers said they trust the content on a brand's website compared to the 51 percent who trust content generated by other users.
Today's digital currency is arguably authenticity, and what attracts customers - especially the digitally dependent, savvy millennial - is not just content. It is the delivery of authentic, unvarnished content from their peers.
Join the CMO Council on Wednesday, October 29, at 10am PST/ 1pm EST for a one-hour webcast that will invite industry experts in content marketing and user-generated content who are effectively leveraging authentic storytelling as part of their content marketing strategies. We will also feature an interactive Q&A session at the conclusion of the speaker presentations.
---
Related Articles
Photo Credit: http://www.flickr.com/photos/avlxyz/2369828523/