Blog Appeal: 5  Attributes You Need (Tips Too!)
Will your potential visitor stop and read your blog content or won't he?
That's the key question.  Regardless of your goals, if your blog isn't appealing to your target audience, it's not going to attract an audience or achieve your goals.
Your blog has to be like chocolate cake to entice readers. Neal Shaffer, Founder and Editor-In-Chief of Maximize Social Business, gets this.
Schaffer grew and expanded his blog, originally named Windmill Networking, into a top rated community blog with over 20 global contributors. Based on his extensive experience, Schaffer knows how to develop a blog that lures readers in while standing out from the crowd.
In his opinion top blogs contain 5 attributes that create blog appeal. What I like about Schaffer's short list is that it focuses on making your blog enticing to your key audience(s).
This is a point many bloggers overlook. Once you've started your blog and grown your community, it takes on a life of it's own.The reality is that your blog isn't about you; it's about your audience.
Here are Schaffer's 5 points that all top blogs contain combined with my blogging tips.
1.

  Are visually attractive.

As humans, we take in visual information 60,000 times faster than text. Use this to your favor.
Add a photo or image to each blog post to get your reader's attention.
Integrate a number of images and/or screenshots to entice your content and illustrate your points. Social Media Examiner does a great job of this example and include multiple images or screenshots, such as this article on using photos.
Incorporate other visual content such as videos, inforgraphics and presentations.
Recognize that your readers are seeking to get through your content as quickly as possible. Therefore consider the following points.
Use bolding and outlining to guide them through the information quickly. This is particularly important for on-the-go consumption. Also you want to avoid THDR (aka—Too Hard, Didn't Read.) Dense content isn't inviting.
Employ good grammar. A copy editor can be helpful to provide a second set of eyes. Further, Disruptive Communications found that 40% of respondents believed poor spelling and grammar reduced favorable brand impressions.
Incorporate responsive design. Your audience uses a diverse set of devices including PCs, smartphones and tablets to read your content, therefore your content must render on all of these options. Also, don't forget to make your email blog posts and related announcements, mobile and tablet friendly since about 50% of email is opened on a mobile device.
3.

Use eye-catching titles.

David Ogilvy taught us, "Only 1 out of 5 readers gets beyond your headline."
4.

Place content above-the-fold, not advertisements.

Regardless of your blog goals, building your brand, attracting prospects, generating leaders, and/or creating thought leadership, you need to entice your prospects into your content.
Skip the promotion. Disruptive Communications research found that 25% of respondents thought social media updates were "too salesy".
Lead readers deeper into your content. Offer top 10 lists, related articles, Start here lists.
Incorporate a call-to-action. Get visitors to sign up for email and to follow you on social media.
5.

Include author bios for all of the authors.

Readers like to know who's talking to them. This is especially important for company blogs, whether they're B2C or B2B.
Show your author's face. This adds personality to the content and helps your readers to form a connection with the writer.
Speak human and have a personality. It can't be rehashed corporate-speak.
Respond to your readers' comments. Even major blogs have a difficult time getting reader comments. Therefore, make sure that your authors take the time to respond when there are comments.
By focusing on your audience and their needs, you will attract a following that's loyal to you.
How do you feel about making your blog attractive to your audience? What else would you add to this list and why?
Happy Marketing,
Heidi Cohen
---
---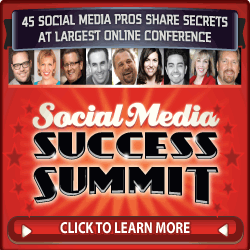 Attend Social Media Success Summit 2014 to get stellar insights from 45 social media experts including Mari Smith, Jay Baer, Lee Odden and Amy Porterfield.
Order your ticket to Social Media Success Summit NOW and SAVE $380 off the regular price (NOTE: ONLY 500 TICKETS are available at this sale price. This offer is good until August 22, 2014 or when the tickets sell out, whichever comes first.
This important virtual conference offers more than 45 sessions this October. Attend as many as you like; download the rest with no travel costs or hassle.
---
---
Free Download!
To compete in the new environment of always connected, highly informed consumers, retailers need to leverage five trends to realize higher conversions and larger transaction sizes.
Find out how you can apply these 5 trends to your business.
Retailers that embrace and facilitate social where customers are discovering, considering, and buying, can increase wallet share.

Millennials are driving the way retailers think about consumers and create shopping experiences.

With mobile, consumers have become an always-on opportunity for retailers to tap.

Retailers with a successful omni-channel strategy will experience less showrooming and achieve greater market share across all channels.

Big data will allow retailers to change the consumer experience, boost conversions, and improve margins.
---
Related Articles
Photo Credit: http://www.flickr.com/photos/avlxyz/2369828523/