The Favorite Blogs of 19 Content Marketing Experts
For content marketers, back-to-school means checking your blog reading to ensure that you're on top of the latest developments.
To get insight on what to read, here are the 23 top content marketing blogs recommended by 19 experts, who are also bloggers and content creators.
Overwhelmingly, Content Marketing Institute was at the top of everyone's list. Its position is attributable to the fact that its founder Joe Pulizzi has been one of the major voices that's helped develop this marketing form. Content Marketing Institute leverages the power of a community that contributes content to its efforts and a professional editor to help keep this blog on course.
23 Top content marketing blogs
(Note: These content marketing blogs are listed in alphabetical order with the exception of Content Marketing Institute which was the overwhelmingly the top choice, although Copyblogger gave it a good run for its money!)
Other content marketing advice
To understand what your content marketing has to accomplish, listen to what some of the experts say about these blogs.  It's not a matter of which blogs they recommend but the value and usefulness the content delivers.
"Each of these blogs has expert writers who truly understand the art and science of content marketing. Each covers a diverse mix of topics ranging from SEO to email marketing in the context of get-the-job-done content marketing. This diversity makes them comprehensive resources for marketers."  Bernie Borges -  Find and Convert and author of Marketing 2.0.
 "Consistently relevant and well written content makes them stand out for me. I know when I got to their website, I'll find useful content." Peg Fitzpatrick.
 "Three of my favorites that mostly focus on content marketing are Content Marketing Institute, Copyblogger, and Copypress. I have them in my RSS feed, and I rarely pass one of their posts without reading them. And considering that I subscribe to over 250 blogs and scan through the headlines from them daily, that goes to show they have some pretty impressive headlines and content."  Kristi Hines.
 "These blogs succeed because they are simple. Simplicity is key on social media and people will turn away if your content is too confusing. These blogs are able to simplify complex subjects and give actionable advice that can be understood and applied by anyone who has an interest in social media." Dave Kerpen.
 "Copyblogger, Moz, and Problogger are 3 great blogs on content marketing. If you combine them all you will learn how to create content, how to drive traffic to your content, and how to convert those visitors into customers." Neil Patel Co-founder of KISSmetrics and Crazy Egg. Blogger at Quick Sprout.
19 Content Marketing Experts Worth Following
Here's the list of the 19 content marketing experts with links to their blogs and books (affiliates):
Jay Baer of Convince and Convert and author of Youtility
Bernie Borges of Find and Convert and author of Marketing 2.0
Michael Brenner of SAP and the B2B Insider blog.
C.C. Chapman author of Author of Amazing Things Will Happen and co-author of  Content Rules
Heidi Cohen of Riverside Marketing Strategies.
Gini Dietrich of Arment Dietrich, SpinSucks and co-author of Marketing in the Round
Ric Dragon of Dragon Search and Author of Social Marketology.
Barry Feldman author of The Plan to Grow Your Business with Effective Online Marketing, a free e-book.
Peg Fitzpatrick is one of the ringleaders at 12Most.
Kristi Hines is creator Blog Post Promotion.
Nick Kellet of Listly
Dave Kerpen of Likeable Media and Author of  Likeable Business and  Likeable Social Media.
Arnie Kuenn of Vertical Measures and author of Accelerate
Neil Patel of Kiss Metrics and Crazy Egg and blogger at QuickSprout.
Joe Pulizzi of Content Marketing Institute and Author of Managing Content Marketing and Get Content Get Customers.
Dayna Rothman of Marketo.
David Meerman Scott, author of Real Time Marketing and PR,
Peter Shankman of Shankman/Honig  and author of Customer Service: New Rules for a Social Media World and Nice Companies Finish First
Nenad Senic of Disput.is
The bottom line is that no matter how good your content marketing is, you can still improve and learn more from other experts.
What other content marketing blogs would you add to this list and why?
BTW—If you haven't registered yet, there's still time to join me and many of these experts at Content Marketing World next week.
Happy Marketing,
Heidi Cohen
Please note that I excluded references to my blog.
---
---
Even though Content Marketing World is finished until next September, you can still get all the content from 2014's exciting conference. The CMWorld On Demand package includes: Audio and video from the 2014 keynote sessions, audio and PowerPoint presentations of all the breakout sessions, over 40 audio sessions from the leading B2B and B2C brands, as well as keynote video performances.
Social Media Marketing World — San Diego — March 25-27, 2015.

Register Now and Save $480!   Limited time offer.
Register Now for the Intelligent Content Conference.
An annual gathering of the best and brightest content professionals on the planet. People who know the secrets (and are willing to share them). People who value content as a business asset. People who have made it their life's work to develop repeatable, systematic approaches to producing amazingly effective content.
---
Free Webinar!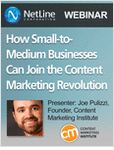 Join the discussion on Tuesday, December 2 - Time: 2 PM (EST) / 11 AM (PST) to learn how small and medium sized businesses don't have to have an entire content marketing organization (or budget) to be successful in content marketing.
Joe Pulizzi, Author and Founder of Content Marketing Institute and Werner Mansfeld, President of NetLine Corp, discuss realistic and actionable methods for your company to get awareness, consideration and sales leads using marketing content – without the budget or resources of an enterprise-level organization.
Date: December 2nd, 2:00 pm EST/12:00pm CST/11:00 am PST
Here are just some of the questions you'll get answered:
What is content marketing and why is it important?
What do I need to have in place to compete effectively using content marketing?
How do I drive sales leads and get a positive ROI using content marketing?
How can my small business (or budget) compete with my larger competitors using content marketing?
What can I start doing today to start seeing results?
Joe Pulizzi and Werner Mansfeld are experts in Content Marketing and Content Syndication. Learn from their combined experience how to take advantage of content marketing for your business, no matter the size.
---
Related article:
Photo Credit: Apple watercolor by Kathleen T. Finnegan (c) 2013 – All rights reserved