8 Actionable B2B Content Marketing Tips [Charts]
Content marketing combined with social media and mobile devices is changing how businesses purchase products and services.
According to Demand Gen Reports, 90% of B2B purchasers are ready to buy by the time they find your firm. As a result, your content marketing in its contribution to your brand reputation and your firm's find-ability is critical to your business success. 
To help develop your organization's content marketing strategy, here are 6 highlights from the 2013 B2B Content Marketing Trends Report compiled by Holger Schulze.
1. The top 3 B2B content marketing goals are:
71% use content marketing to generate leads.
50% use content marketing to establish thought leadership.
45% use content marketing to acquire customers.
Other business objectives include building brand, driving traffic, retaining customers and powering social media. Actionable Marketing Tip: Align content marketing objectives with your business goals. 
2. More than one department may own content strategy. In about 60% of businesses, corporate marketing determines content marketing strategy. While about a third of CEOs or owners and about a fifth of sales organizations set content marketing strategy. Consultants craft content strategy roughly 10% of the time. Actionable Marketing Tip: Develop your content marketing strategy internally to ensure that its aligned with your business objectives and brand. Also, centralize content marketing strategy across your business to increase efficiency and reduce costs.  
3. Corporate marketing is the top content marketing creator. External consultants, CEOs and sales personnel also contribute to the process. Actionable Marketing Tip: Leverage the power of your entire staff to create effective content. Don't limit content creation to a few job titles. Understand that other departments can provide insights into your products and services that help answer prospects' questions and help qualify your firm's strengths in the purchase process.

4. Content marketing, budgets tend to be aligned with marketing strategy. Corporate marketing is responsible for the content marketing budget 56% of the time while CEOs are responsible for the budget 35% of the time.
Most businesses allocate about 20% of their marketing budget to content.
Actionable Marketing Tip: Ensure that the content marketing budget covers all of the related content creation activities. To this end, it's critical to ensure that content marketing is achieving its goals.
5. Marketers use a variety of content creation techniques. (Here's content marketing research by MarketingSherpa with analysis and tips on content formats.)
Over 90% of organizations create unique content.
One third of organizations curate third party content.
30% of organizations use customer-generated content.
Actionable Marketing Tip: Integrate different content creation methods into your editorial calendar.
6. The most effective content marketing elements are:
Audience relevance (71%). This is a no-brainer since if the information is irrelevant your prospect has no reason to spend their time reading it. Actionable Marketing Tip: Create appropriate marketing personas and related social media buyer personas to help your content creators better target your content.
Compelling story (56%). As the Heath brothers preach in Made to Stick, people remember stories not facts since they provide context that enhances their understanding and memorability. Actionable Marketing Tip: Leverage the power of your organization's stories, particularly those related to using your products and services, putting them in context for customers.
Triggers an action (56%). Since the goal of content marketing is to remove objections and persuade prospects to purchase, you're seeking a response. Actionable Marketing Tip: Incorporate a relevant call-to-action to encourage prospects to take the next step in the purchase process.
While content marketing continues to increase in importance for B2B businesses, you must ensure that your content strategy is consistent across your organization and leverages a cross section of resources.
What other B2B content marketing trends do you foresee for 2014 and why?
BTW– There's still time to register for  Content Marketing World to get a deeper understanding of this growing form of marketing.
Happy Marketing,
Heidi Cohen
---
---
For those of you in Raleigh, NC, please join me for Internet Summit November 11th through 13th.
Use the code HEIDI50 to save $50 OFF any pass level.
---
Even though Content Marketing World is finished until next September, you can still get all the content from 2014's exciting conference. The CMWorld On Demand package includes: Audio and video from the 2014 keynote sessions, audio and PowerPoint presentations of all the breakout sessions, over 40 audio sessions from the leading B2B and B2C brands, as well as keynote video performances.
---
Free Webcast!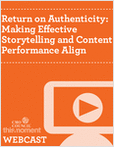 Join the discussion on Wednesday, October 29, 2014 at 10:00 AM PT/ 1:00 PM ET with Nancy Slavin, SVP of Marketing, Macy's Merchandising Group, and Dan Kimball, CMO, Thismoment.
According to research by Nielsen, 70 percent of global consumers trust online consumer reviews and rate reviews as the second most trusted form of advertising. And according to BazaarVoice, when it comes to trust, marketers may as well eliminate their own brand websites as a fountain of customer trust as only 16 percent of US consumers said they trust the content on a brand's website compared to the 51 percent who trust content generated by other users.
Today's digital currency is arguably authenticity, and what attracts customers - especially the digitally dependent, savvy millennial - is not just content. It is the delivery of authentic, unvarnished content from their peers.
Join the CMO Council on Wednesday, October 29, at 10am PST/ 1pm EST for a one-hour webcast that will invite industry experts in content marketing and user-generated content who are effectively leveraging authentic storytelling as part of their content marketing strategies. We will also feature an interactive Q&A session at the conclusion of the speaker presentations.
---
Related Articles
Photo Credit: http://www.flickr.com/photos/llowrain/5523800294/ by  lorraine santana