Instagram Lessons From the Fortune 500 [Research]
25% of Fortune 500 companies have an Instagram account according to TrackMaven. In aggregate, they've posted over 19,009 photographs and 243 videos through September 17, 2013.
These F500 corporations provide social media and branding lessons for other businesses seeking to take advantage of the power of visual content on Instagram.
To put these figures in perspective, Instagram reaches over 150 million monthly active users and it has achieved this in less than 3 years. These users share over 16 billion images each month – an average rate of 55,000 photographs per day. 60% of Instagram's users are located outside of the US. The impact of this visual content is even greater when you take into consideration that 83% of learning is visual according to Annalect.com.
Here are 8 tips from Instagram's Fortune 500 experience that you can use to maximize your brand and social media results.
1. Over 9o% of these 123 Fortune 500 companies have posted at least once and over 15%  have posted (photo and/or video) at least once in the past month. This means there's limited Instagram activity on average since less than one in ten F500 firms have only staked out their account.
Instagram tip: Like other social media platforms, you need to actively use Instagram to gain the benefit of being present there.
Instagram Top 10 of Fortune 500
Take a deeper look at Fortune 500 participation on Instagram to see some interesting trends.
2. Top ranked Nike with 2.3 million Instagram followers and Starbucks with 1.5 million followers outdistance third placed Footlocker's 511,022 followers. Since there's a big dropoff in Instagram follower counts through out the Top 10, there's room for an organization to break into the top tier with a coordinated and consistent program to encourage prospects and customers to share images.
Instagram tip: Understand that others, especially Nike and Starbucks, have a significant head start. An organization would need to coordinate their marketing and content efforts across platforms, social media, owned party and third party media. As Instagram continues to grow this will become more difficult to achieve.
3. Footlocker tops the list of photographs shared with 1,018 images while Nike rounds out the bottom of the Top 10 list with 606 photographs. There's less than 500 images difference between the top and bottom of the list.
Instagram tip: Boosting your Instagram presence is doable with focused effort including a regular schedule of posting and promotion process.
4. Video is an even bigger opportunity than photographs because it's a newer offering that marketers have been slow to adapt. Disney is in the Top 10 with a mere 6 videos.
Instagram tip: Gaining traction in the video category is relatively easy since it's still a very new functionality where there are no true leaders. Brainstorm an interesting way to use short videos to build your offering.
 Instagram interaction
5. On Instagram, there's a high correlations between interactions, both likes and comments, and the number of followers a firm has. This remains true even when Nike and Starbucks, the outliers, are removed from the data.  
Instagram tip: Use Instagram for follower engagement. It's also a great place to get potential customers interested in your offering.
6. As with any other social media platform, it's easier to get users to do a small action than one involving work or creativity. On Instagram, 97% of the interactions are likes which require a mere couple of taps versus composing a comment. 
Instagram tip: Make it easy for followers to act. Provide content they want to share and talk about.
 Best day and time to post on Instagram
7. While companies tend to post during the week during business hours, Instagram posting peaks on Thursday. When standardized, there's very little difference. Further the timing of photograph distribution is normal with a slight exception for midday business hours.  According to TrackMaven, 3-4 PM EST is the most popular time – 1,662 F500 photos were posted then. This makes sense since it's middle of the afternoon on the east coast and lunch time on the west coast.
Instagram tip: No special day of the week or time is better than others. Test posting at times that followers are active.
Instagram hashtags
8. Hashtags have a surprising impact on Instagram interactions. TrackMaven found that using 4 to 5 hashtags maximized Instagram interactions. But more than 5 hashtags depressed engagement.
Instagram tip: Use hashtags carefully and test what works best with your audience.
To leverage the power of visual content, enhance your brand's presence on Instagram by setting a schedule of regular content sharing based on TrackMaven's findings. This will improve your social media engagement.
What other Instagram tips have you found to be successful and why?
Happy Marketing,
Heidi Cohen
---
---
For those of you in Raleigh, NC, please join me for Internet Summit November 11th through 13th.
Use the code HEIDI50 to save $50 OFF any pass level.
---
Even though Content Marketing World is finished until next September, you can still get all the content from 2014's exciting conference. The CMWorld On Demand package includes: Audio and video from the 2014 keynote sessions, audio and PowerPoint presentations of all the breakout sessions, over 40 audio sessions from the leading B2B and B2C brands, as well as keynote video performances.
---
Free Webcast!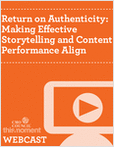 Join the discussion on Wednesday, October 29, 2014 at 10:00 AM PT/ 1:00 PM ET with Nancy Slavin, SVP of Marketing, Macy's Merchandising Group, and Dan Kimball, CMO, Thismoment.
According to research by Nielsen, 70 percent of global consumers trust online consumer reviews and rate reviews as the second most trusted form of advertising. And according to BazaarVoice, when it comes to trust, marketers may as well eliminate their own brand websites as a fountain of customer trust as only 16 percent of US consumers said they trust the content on a brand's website compared to the 51 percent who trust content generated by other users.
Today's digital currency is arguably authenticity, and what attracts customers - especially the digitally dependent, savvy millennial - is not just content. It is the delivery of authentic, unvarnished content from their peers.
Join the CMO Council on Wednesday, October 29, at 10am PST/ 1pm EST for a one-hour webcast that will invite industry experts in content marketing and user-generated content who are effectively leveraging authentic storytelling as part of their content marketing strategies. We will also feature an interactive Q&A session at the conclusion of the speaker presentations.
---
Related Articles
Photo Credit: http://www.flickr.com/photos/schuminweb/9722131088/