Social Media: You Ain't Nothing But A Hound Dog
Social media provides consumers with a variety of multi-directional, easy-to-access platforms to let brands and companies know how they feel. As a result, marketers can no longer hound prospects and customers with their one-way promotional messages. In honor of the anniversary of Elvis Presley's passing, take some time to understand how to do right by your customers on social media.
Before outlining my actionable social media tips, let me highlight why it's important to treat your prospects customers and the public well. Recently, I was at a group dinner where, despite the best efforts of our waiter, delivery of our order was delayed and mixed up due to a large party. The first reaction of one member of the group was to pull out his smartphone to voice his discontent on a review site. While I persuaded him to reconsider the negative review for a day, your business may not be that lucky.
Here are 7 actionable marketing tips to avoid being a hound on social media.
Provide great service in real life (or however you interact with prospects and customers.) Nothing beats amazing service for generating positive word of mouth. Research by Ed Keller shows that most word of mouth happens in person, not online.
Take time to listen. Find out what your prospects' pain points are and what they want from you. It may not be what you have to push today. Also pay attention to what's being said about your competitors' both directly and indirectly since their issues can easily transfer to your firm. (You might want to check out the Godfather's Advice Regarding Social Media.)
Respect your prospects, customers and the public. Polite, calm human interaction goes a long way. Remember that on the other end of social media platforms are people, not just credit card owners. They have feelings and may not speak English as a first language.
Be transparent and sincere in both your social media and real life interactions. With today's always-on society, it's difficult to hide; the truth will come out eventually. So skip the empty corporate-speak and talk human. Unless restricted by law or regulations, be open with your customers and the public in your dealings. To this end, it's useful to have a set of social media guidelines.
Answer customers' questions. Marcus Sheridan, the Sales Lion, calls this the secret sauce. He should know because he turned around his pool company by writing blog responses to every question. Not sure what people want to know? Then ask your customer service and sales teams.
Earn social media popularity. The bottom line is that prospects and customers will know that if your social media followers and likes are fake. More importantly, large counts by themselves don't translate to sales and profits. You must provide useful information and great products that support the sales process and get happy customers talking about you.
Delight your customers. Give your customers, social media followers and the public reasons to engage with you. Make your social media interactions worth participating in. Use social media as a forum for celebrating your customers by giving them a chance in the spotlight.
The bottom line is that people do business with people they like. Use social media to build relationships with your prospects and customers so they continue to purchase from your company.
What other suggestions do you have to do right by customers on social media?
Happy Marketing,
Heidi Cohen
---
---
For those of you in Raleigh, NC, please join me for Internet Summit November 11th through 13th.
Use the code HEIDI50 to save $50 OFF any pass level.
---
Even though Content Marketing World is finished until next September, you can still get all the content from 2014's exciting conference. The CMWorld On Demand package includes: Audio and video from the 2014 keynote sessions, audio and PowerPoint presentations of all the breakout sessions, over 40 audio sessions from the leading B2B and B2C brands, as well as keynote video performances.
---
Free Webcast!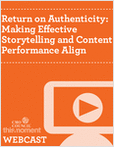 Join the discussion on Wednesday, October 29, 2014 at 10:00 AM PT/ 1:00 PM ET with Nancy Slavin, SVP of Marketing, Macy's Merchandising Group, and Dan Kimball, CMO, Thismoment.
According to research by Nielsen, 70 percent of global consumers trust online consumer reviews and rate reviews as the second most trusted form of advertising. And according to BazaarVoice, when it comes to trust, marketers may as well eliminate their own brand websites as a fountain of customer trust as only 16 percent of US consumers said they trust the content on a brand's website compared to the 51 percent who trust content generated by other users.
Today's digital currency is arguably authenticity, and what attracts customers - especially the digitally dependent, savvy millennial - is not just content. It is the delivery of authentic, unvarnished content from their peers.
Join the CMO Council on Wednesday, October 29, at 10am PST/ 1pm EST for a one-hour webcast that will invite industry experts in content marketing and user-generated content who are effectively leveraging authentic storytelling as part of their content marketing strategies. We will also feature an interactive Q&A session at the conclusion of the speaker presentations.
---
Related Articles
Note: Title was inspired by this list of 40 Free End of Summer Titles.
Photo Credit: Album cover copyright RCA Records, Inc.