Blogging: What to Do About Your Me-Me-Me Blog
Does your company blog suffer from being a me-me-me publishing platform? Is it a repository for blah, boring content that a someone in your organization published so he could check it off his To Do list?
If you feel yourself sliding down on your chair in fear that other readers will realize this epitomizes your blog, don't worry, there are steps you can take to transform your blog into a more effective marketing machine.
Many businesses haven't succeeded making their blogs marketing machines. They've written blog articles in response to a corporate call for content marketing without taking the time to establish the blog as an effective publishing platform.
Lately, I've been receiving a steady stream of requests to ghost write posts for corporate blogs. A simple look at each prospective platform consistently reveals a me-me-me blog.
A me-me-me blog defined
Want to transform your blog into a marketing machine? First check if it has these 5 attributes that define a me-me-me blog.
Has limited low quality articles. The posts are short in length and information quality. More importantly, they're focused on your own products.
Provides no direction. The posts contain information that could easily describe another product or topic if the adjectives were changed.
Doesn't connect with readers. The content is void of any emotion. As a result, there are no comments or social media shares.
Shows no integrated 360 degree branding. This is particularly important since your audience must be able to recognize your brand in the context of the information.
Publishes ad hoc. There's no established publishing schedule. This makes it difficult to grow an audience because people don't know when to expect new content.
At its core, successful content marketing is about providing promotion-free useful information to your target audience, including prospects, customers, influencers, investors, journalists and the public.
To this end, a blog is an extremely useful tool since it's an owned platform straddling both social media and content marketing. As a result, it supports search optimization and feeds social media.
7 Steps to transform your me-me-me blog into a marketing machine
Here are 7 steps to transform your business blog into a marketing machine that will attract an audience of prospects interested in what you have to say. The assumption behind these blogging efforts is to build relationships with your audience over time so they become interested in your content and want to find out more about your products and services.
Focus on your audience's hot buttons. Know your audience. Even better, create a marketing persona to enable you and your editorial team to craft articles that connect emotionally with your readers.
Position your blog to stand out from the sea of other media entities. Select a niche focus that fulfills a unique information need in your marketplace. This means that your blog can't just be an echo chamber for the information published on social media platforms and another blogs in your field.
Determine the major topics your blog will cover. Select categories of interest that meet your audience's information needs. As part of this exercise, create a list of top keywords that can be used as the focus of each post and help them to rank on search engines. Specifically provide the type of information that potential customers seek including product information, how-tos, product styling and customer ratings and reviews.
Outline a series of on-going content columns. Extend the information you're going to cover in terms of categories. Go a step further and think like an old fashioned magazine to create a set of regular features related to the focus on your content marketing strategy. The goal is to publish content on these topics regularly. As part of this exercise create an editorial calendar to ensure that you've go an on-going series of information.
Brand your blog. Integrate the 360° attributes of your company brand into your blog design. Among the elements to include are the look and feel, use of colors, typeface and images. In the process, create an original voice aligned with your blog's brand.
Incorporate a call-to-action.  Use every blog post to support your sales process. To this end, ask your readers, either out right with a specific request or indirectly through links to product pages to take the next step in the purchase process. Remember, customers do a lot of product research before marketers realize that they're in buying mode!
Measure your blog's effectiveness. Track the blog metrics that lead your prospects to ultimately purchase from your firm.
A great blog builds an engaged community by providing useful information on a topic of interest. Blogs are a critical tool for reaching your potential customers and building a trusted relationship with them. Filling your company blog with promotion hurts your efforts to grow your community.
Happy Marketing,
Heidi Cohen
---
---
For those of you in Raleigh, NC, please join me for Internet Summit November 11th through 13th.
Use the code HEIDI50 to save $50 OFF any pass level.
---
Even though Content Marketing World is finished until next September, you can still get all the content from 2014's exciting conference. The CMWorld On Demand package includes: Audio and video from the 2014 keynote sessions, audio and PowerPoint presentations of all the breakout sessions, over 40 audio sessions from the leading B2B and B2C brands, as well as keynote video performances.
---
Free Webcast!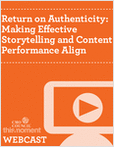 Join the discussion on Wednesday, October 29, 2014 at 10:00 AM PT/ 1:00 PM ET with Nancy Slavin, SVP of Marketing, Macy's Merchandising Group, and Dan Kimball, CMO, Thismoment.
According to research by Nielsen, 70 percent of global consumers trust online consumer reviews and rate reviews as the second most trusted form of advertising. And according to BazaarVoice, when it comes to trust, marketers may as well eliminate their own brand websites as a fountain of customer trust as only 16 percent of US consumers said they trust the content on a brand's website compared to the 51 percent who trust content generated by other users.
Today's digital currency is arguably authenticity, and what attracts customers - especially the digitally dependent, savvy millennial - is not just content. It is the delivery of authentic, unvarnished content from their peers.
Join the CMO Council on Wednesday, October 29, at 10am PST/ 1pm EST for a one-hour webcast that will invite industry experts in content marketing and user-generated content who are effectively leveraging authentic storytelling as part of their content marketing strategies. We will also feature an interactive Q&A session at the conclusion of the speaker presentations.
---
Related Articles
Photo Credit: http://www.flickr.com/photos/carbonnyc/2536480334/