7 Steps to a Measurable Social Media Call-to-Action
Is your social media marketing working? If you're like many marketers, you don't know because you're not doing anything trackable. Instead you use whatever data happens to get captured by your existing systems—usually counts such as likes and shares that don't relate back to your marketing goals.
Yet customer engagement is the top issue that keeps over half of senior marketing executives awake at night, according to Korn/Ferry Marketing Pulse Survey. Specifically, many are concerned with creating sustainable, engaging customer relationships (30%). Marketers cited social media as a marketing channel to achieve these goals.
7 Steps to a measurable social media call-to-action
Fret not. There's one simple key to make your social media measurable. Incorporate a contextually relevant, social media call-to-action with an easy-to track code in your social media and content marketing that rouses visitors out of their apathy and motivates them to take the next step towards engagement and purchase. The promotional code should be able to be matched back to a specific offer so that you know what's working and what's not.
Tell visitors what you'd like them to do next. Don't assume that prospects will know what to do next. Define the options you'd like prospects to take next. Specifically, focus on actions that lead prospects to engaging with your brand and content so that you can build relationships over time. Actionable Marketing Tip: Prioritize your calls-to-action. While it's acceptable to use more than one call-to-action, don't confuse visitors or they'll do nothing at all. Use positioning and design to let readers know which is more important.
Tailor your communications to the platform. When it comes to social media, one size doesn't fit all. Actionable Marketing Tip: Target your communications so that it sounds relevant in context. To this end, it's important to use the optimal words and timing. (Here's some call-to-action related research to help you.)
Remove social media risk. In today's social media environment, risk refers to more than financial transactions. Depending on your offering and your target audience, it can include how they express themselves in terms of communications or how your product is perceived. Actionable Marketing Tip: Provide participants with an option that allows them to continue the process off of social media. (Realize that once participants are on social media, they may not be willing to leave.)
Make them an offer they can't refuse. Give prospects a reason to say yes to you. Offer them something for responding; it helps motivate them. Don't underestimate the fact that recognizing prospects and customers can be a reward depending on your audience. Actionable Marketing Tip: Promote your give-away. For example, this blog offers a free ebook on blogging.
Simplify the process. Don't make visitors have to think about what to do or you'll risk losing them to another shiny object. Focus on getting them to the next step. Where appropriate, include an example to illustrate what they need to do. Actionable Marketing Tip: Eliminate anything that doesn't help convert your prospect to the next action. (Understand that this activity may not be purchase.)
Provide targeted landing pages. Continue the same creative in terms of design and text to give prospects visual clues that they're in the right place. Actionable Marketing Tip: Tailor your landing pages to be as relevant as possible. This is another area where one size doesn't fit all.
Ensure your analytics systems can track your results. Don't assume that customer information will magically travel into your systems. Take the time to ensure that the activity you want to measure can be tracked on your system. Actionable Marketing Tip: Get input from your analytics team. They can be a great resource in terms of helping you think ahead to how the information can be converted into useful data.
Social media supports every step of the purchase process. Incorporate a contextually relevant call-to-action and related tracking to get prospects into your lead generation program with useful data.
What else would you recommend adding to this list and why?
Happy Marketing,
Heidi Cohen
---
---
Even though Content Marketing World is finished until next September, you can still get all the content from 2014's exciting conference. The CMWorld On Demand package includes: Audio and video from the 2014 keynote sessions, audio and PowerPoint presentations of all the breakout sessions, over 40 audio sessions from the leading B2B and B2C brands, as well as keynote video performances.
Social Media Marketing World — San Diego — March 25-27, 2015.

Register Now and Save $480!   Limited time offer.
Register Now for the Intelligent Content Conference.
An annual gathering of the best and brightest content professionals on the planet. People who know the secrets (and are willing to share them). People who value content as a business asset. People who have made it their life's work to develop repeatable, systematic approaches to producing amazingly effective content.
---
Free Webinar!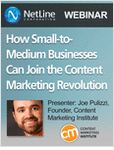 Join the discussion on Tuesday, December 2 - Time: 2 PM (EST) / 11 AM (PST) to learn how small and medium sized businesses don't have to have an entire content marketing organization (or budget) to be successful in content marketing.
Joe Pulizzi, Author and Founder of Content Marketing Institute and Werner Mansfeld, President of NetLine Corp, discuss realistic and actionable methods for your company to get awareness, consideration and sales leads using marketing content – without the budget or resources of an enterprise-level organization.
Date: December 2nd, 2:00 pm EST/12:00pm CST/11:00 am PST
Here are just some of the questions you'll get answered:
What is content marketing and why is it important?
What do I need to have in place to compete effectively using content marketing?
How do I drive sales leads and get a positive ROI using content marketing?
How can my small business (or budget) compete with my larger competitors using content marketing?
What can I start doing today to start seeing results?
Joe Pulizzi and Werner Mansfeld are experts in Content Marketing and Content Syndication. Learn from their combined experience how to take advantage of content marketing for your business, no matter the size.
---
Related Articles
Photo credit:http://www.flickr.com/photos/tambako/3442181194/