Boring Topics: How to Craft Content That Pulls Readers In
Boredom is in the eyes of the beholder. Your blogging doesn't arouse your reader's interest. While you want to believe your tedious topic is the reason for their yawns, the fact is that they're just not that into your dull content.
But fear not, boring content isn't a permanent condition!
Here are seven secrets to help you write content about your boring topic and turn your blog posts into a reader magnet.
1. Discover your audience's hot buttons. Know your audience so that you can tailor your content to fit their information needs.
Build a marketing persona. Understand what makes your readers tick. What are their interests and needs? Who influences them? How does this relate to your business drivers?
Develop a social media persona. Assess where and how your audience engages on social media.
Do your research. Keep up on the latest market reports and studies that provide data on your topic's audience. Use the data in your posts and your readers will respect you for making the effort to know who they are.
2. Concentrate on the subjects in which your audience is interested. Find the way to discuss your boring topic that excites your readers.
Use the traditional 5 Ws of journalism to focus your posts. Answer the who, what, where, when and why for your readers.
Answer the questions your target market is asking. Provide real value in your content or no one will read it.
Use the show and tell method. Give your audience information that educates them about your niche.
Exploit newsjacking and trending topics. Craft posts of interest to your audience that leverage current topics.
3. Focus on your audience. Face it—your readers care about THEIR needs, not yours. No one wants to listen to you drone on about your organization.
Position your content for readership. Craft your blog post to resonate with your audience. Put yourself in your readers' shoes and select the points they consider remarkable, not you.
Skip the sales pitch. Don't stuff your blog and content with promotions.
Give another spin to topics competitors are covering that resonate with your market. This doesn't mean take their content but rather discover themes in which your readers are interested.
4. Find an enticing hook. Pull your readers into your content with an unusual twist to the structure of your post that binds your points into a cohesive whole and adds a layer of meaning.
Write a magnetic headline. Since titles do the heavy lifting in terms of persuading prospective readers to dive into your content, take the time to craft the best headline possible.
Select a featured image. Find an interesting photograph or graphic that introduces the content of your post and sets the emotional tone for the content that follows.
5. Tell a story. Learn from Chip and Dan Heath, the authors of Made to Stick. People relate to and remember stories, not plain facts.
Make your audience care about your topic. Give your topic meaning by associating a memorable story with it.
Enhance your facts with context. A story provides a structure that helps your readers understand what you're trying to convey to them.
6. Write human. Your content must sound something like a real person would say, not something that could have been writing by a machine.
Be passionate. Put yourself into your blog posts. Show your personality. Let your audience feel your excitement for the topic because it can be contagious.
Have a point of view.  This doesn't mean that you should lecture your readers, rather let your readers know your approach to the topic and why you're writing about it.
Eliminate the corporate speak. Get rid of the sanitized, anonymous language.
7. Dress your content for success.  How your content looks has an impact on your audience's desire to consume it. If it looks too difficult to read, they'll skip on to a piece that sparkles.
Use strong images to pull readers in. Skip the ho-hum stock images and photographs. Where possible, use photographs and graphics that add an element of surprise.
Break your content into short paragraphs. Make your information bite size. Use a graphic or typography and color to introduce each section or point in your post.
Incorporate bolding and outlining to simplify content consumption. Guide readers through your information. Bear in mind that readers use a variety of devices and content consumption patterns.

 
Remember there are no boring subjects, just boring content. You need to find the inspiration that makes your blog posts and content remarkable.
What do you do to make your blog posts and content marketing noteworthy?
Happy Marketing,
Heidi Cohen
---
---
For those of you in Raleigh, NC, please join me for Internet Summit November 11th through 13th.
Use the code HEIDI50 to save $50 OFF any pass level.
---
Even though Content Marketing World is finished until next September, you can still get all the content from 2014's exciting conference. The CMWorld On Demand package includes: Audio and video from the 2014 keynote sessions, audio and PowerPoint presentations of all the breakout sessions, over 40 audio sessions from the leading B2B and B2C brands, as well as keynote video performances.
---
Free Webcast!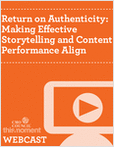 Join the discussion on Wednesday, October 29, 2014 at 10:00 AM PT/ 1:00 PM ET with Nancy Slavin, SVP of Marketing, Macy's Merchandising Group, and Dan Kimball, CMO, Thismoment.
According to research by Nielsen, 70 percent of global consumers trust online consumer reviews and rate reviews as the second most trusted form of advertising. And according to BazaarVoice, when it comes to trust, marketers may as well eliminate their own brand websites as a fountain of customer trust as only 16 percent of US consumers said they trust the content on a brand's website compared to the 51 percent who trust content generated by other users.
Today's digital currency is arguably authenticity, and what attracts customers - especially the digitally dependent, savvy millennial - is not just content. It is the delivery of authentic, unvarnished content from their peers.
Join the CMO Council on Wednesday, October 29, at 10am PST/ 1pm EST for a one-hour webcast that will invite industry experts in content marketing and user-generated content who are effectively leveraging authentic storytelling as part of their content marketing strategies. We will also feature an interactive Q&A session at the conclusion of the speaker presentations.
---
Related Articles
Photo Credit: http://www.flickr.com/photos/tambako/7799738542/