Content Marketing Delivery Via Owned & Social Media Channels
You can create the best content in the world but, until you distribute it, it's not effective. To ensure that your content reaches the maximum potential audience, integrate it with your other marketing and communications. This is a key aspect of your content marketing plan!
Here are 7 owned and social media publishing platforms to consider for content distribution. Where appropriate, modify your content to be contextually relevant for the venue (Hint: Think like a content curator!) Also, take into consideration where your audience is when they seek and/or consume your content.
Post content on your website where it's appropriate based on the topic covered. Don't assume that visitors will seek out this information if it's not in front of them. Therefore, include additional links and calls-to-action on your homepage and relevant product pages. This is particularly useful for how-tos and styling information consumers seek. While you're thinking about your website, also determine if this content should be added to your mobile site and/or mobile app.
Add content to your blog (assuming it's separate from your website.) Remember that blogs can handle a variety of content formats. Given the relative ease of adding content to a blog, this is one platform where you should tailor your information. Also, ensure that your blog is readable on mobile devices. The additional benefit of posting information on your blog is that it's pushed out via feeds and email as well as providing for social sharing and commentary.
Share content on appropriate social media platforms. While it can be time efficient to schedule post and content delivery in advance, it's more effective to craft each social media update separately. Also, assess how to maximize effectiveness by using different content formats. Use the breadth of relevant social media for your target audience and their influencers. This includes Facebook, LinkedIn, Twitter, Google+, Pinterest, Tumblr, Slideshare and Instagram.
Leverage all email to share content. You can either use the entire piece of content, an image or excerpt or just link to it. Don't forget to include some tailored commentary to the communication. Think all email communications. This means newsletters, promotional emailings, purchase confirmation, billing statements, customer service and employee signature files. Bear in mind, employee emailings generally wind up in recipients' main inbox rather than in junk mail.
Use store and related signage in retail establishments and live events. This can take other forms such as signs (digital and print), bags, handouts and video. Get your retail employees to brainstorm and see what they suggest.
Incorporate content to your offline communications. Given printing costs and space constraints, use enticing graphics and/or short text to get customers to check for the full version online.  Include catalogs, billing, letters, packaging and annual reports.
Promote content internally to your employees. While this has less impact for small businesses, it does matter for larger companies and organizations. Consider how to make these communications sound human and worthwhile since many internal communications are ignored.
Leverage the power of your content marketing by distributing it across owned and social media assets. Enhance your content effectiveness by tailoring it to the platform.
Where else would you distribute your content on internal and social media platforms?
Happy Marketing,
Heidi Cohen
---
---
For those of you in Raleigh, NC, please join me for Internet Summit November 11th through 13th.
Use the code HEIDI50 to save $50 OFF any pass level.
---
Even though Content Marketing World is finished until next September, you can still get all the content from 2014's exciting conference. The CMWorld On Demand package includes: Audio and video from the 2014 keynote sessions, audio and PowerPoint presentations of all the breakout sessions, over 40 audio sessions from the leading B2B and B2C brands, as well as keynote video performances.
---
Free Webcast!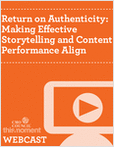 Join the discussion on Wednesday, October 29, 2014 at 10:00 AM PT/ 1:00 PM ET with Nancy Slavin, SVP of Marketing, Macy's Merchandising Group, and Dan Kimball, CMO, Thismoment.
According to research by Nielsen, 70 percent of global consumers trust online consumer reviews and rate reviews as the second most trusted form of advertising. And according to BazaarVoice, when it comes to trust, marketers may as well eliminate their own brand websites as a fountain of customer trust as only 16 percent of US consumers said they trust the content on a brand's website compared to the 51 percent who trust content generated by other users.
Today's digital currency is arguably authenticity, and what attracts customers - especially the digitally dependent, savvy millennial - is not just content. It is the delivery of authentic, unvarnished content from their peers.
Join the CMO Council on Wednesday, October 29, at 10am PST/ 1pm EST for a one-hour webcast that will invite industry experts in content marketing and user-generated content who are effectively leveraging authentic storytelling as part of their content marketing strategies. We will also feature an interactive Q&A session at the conclusion of the speaker presentations.
---
Related Articles
Photo Credit: http://www.flickr.com/photos/stanrandom/121849720/