Individual, Corporate & Media Blogs Compared [Chart]

Blogs provide a home base for content publishing and social media that's highly useful for individuals, corporations (B2C and B2B) and media entities. While these three categories of blogs vary in their content and goals, we can benefit from examining how they're similar and different.
Comparison of individual, corporate and media blogs
Here's how individual, corporate and media blogs compare across a variety of attributes.
Blog Type:

Individual/
Independent

 Corporate

Media Entity

Definition
Provides content and a media platform.
Builds owned media entity &/or executive platform.
Extends & supplements media presented on other channels.
Goals
Build brand,
Attract audience,
Drive sales/leads.

Extend brand,


Attract audience,
Drive sales/leads,
Support sales,
Improve SEO.
Expand presence,
Support brand,
Extend coverage,
Encourage community,
Support SEO.
Revenue models
Sells services.
Affiliates,
Advertising,
Information products,
Donations.
Lead generation,
Product sales.
Advertising,
Special programs.
Content
Offer own insights,
Share knowledge.
Answer customer questions,
Show how to use your products,
Tell stories about your company,
Give industry perspective.
Add information to stories from other platforms,
Offer timely trending pieces,
Provide editorial point of view,
Allow reader input.
Distribution
Email,
RSS Feeds,
Social media.
Email,
RSS Feeds,
Website,
Social media,
Customer, communications,
Events.
Email,
RSS Feeds
Website,
Social media,
Other media channels.
Content creation
Individual.
MarCom, PR, Social media, Executives, Employees, Agency, Freelancers.
Editorial /
News team.
Source: ©2013 HeidiCohen.com
7 Actionable blogging tactics for individuals, businesses and media entities
Based on this comparison, here are seven actionable tactics where these three types of blogs can learn from each other.
Start with specific goals for your blog. Regardless of whether you're an individual, a company or a media entity, focus your blog efforts to support your long-term goals or your blog won't be very effective. Go beyond saying "I need 1,000 visitors per day to my blog." What do you want these visitors to do and how will this help you towards your objectives. Actionable Blogging Tip: Determine how you'll measure your blog's progress towards your goals. Make sure that you have a way to track these metrics. (Here's a list of sixty-five blog metrics.)
Extend your brand onto your blog. Understand that blogs reveal different attributes of a brand than other presentations. And, while corporations and media entities have already built established brands, individuals need to decide how they want to build and enhance their brands through blog design and content formats. Actionable Blogging Tip: Leverage the power of every aspect of your blog to build and reinforce your brand. Think in terms of your blog theme, design elements, language and content presentation.
Publish content worth your audience's time. Take a page from traditional media companies when creating blog posts for your readers. Assess which topics are most relevant or necessary to cover for your audience. To this end an editorial calendar is useful. Actionable Blogging Tip: Manage the content creation process to create the best content you can and present the information in an easy-to-consume manner. This includes writing strong headlines to pull readers into the blog posts.
Speak human. Individuals innately incorporate their personal voice into their writing as do individual reporters and columnists. By contrast, corporate entities need to strip away the sanitized language that often pervades corporate communications. Businesses must talk to their audiences, not at them. Actionable Blogging Tip: Proactively decide on how to develop your blog's voice. Consider the type of language (such as colloquialisms and slang) that you want to present. Outline a set of guidelines for content creators as well as providing copyediting support where necessary.
Maximize the power of trending topics. Professional blogs like Gawker and Huffington Post are masters at this. Recognize that this activity doesn't work for all types of blogs. Further, you can't just write about the latest craze because it's trending on Twitter. Your content must consistently be aligned with your key topics or you'll attract traffic that leaves your blog in less than ten seconds and doesn't help build a strong following for the long term. Actionable Blogging Tip: Track the latest trends and find a way to leverage these topics to find a different angle for engaging your target audience.
Leverage the power of your other owned channels and platforms. Individual bloggers should take a lesson from businesses and media companies who can cross promote their blog content. Assess how can you do this in other aspects of your life and your business. Actionable Blogging Tip: Create a list of your various communications tools from email signature files and business cards to other media channels. Then decide how you can use each one to promote your blog content.
Participate on non-blogging social media platforms. Social media is a critical element of every strategic blog plan. It's important for distributing content, building a community and engaging with readers via the comment section. Actionable Blogging Tip: Create a presence for your blog on relevant social media platforms. Understand that this social media presence should be used to extend the conversation from your blog. It's not another megaphone for shouting your business promotions. Use these outposts to curate relevant content for your audience, both your information and other people's.
The bottom line is that no matter what type of blog you have, whether it's an independent blog, a company blog or a media entity's blog, you can improve it by observing what others are doing on their blogs.
What have you learned from other types of blogs? How has this improved your blog and its results?
Happy Marketing,
Heidi Cohen
---
---
Even though Content Marketing World is finished until next September, you can still get all the content from 2014's exciting conference. The CMWorld On Demand package includes: Audio and video from the 2014 keynote sessions, audio and PowerPoint presentations of all the breakout sessions, over 40 audio sessions from the leading B2B and B2C brands, as well as keynote video performances.
Social Media Marketing World — San Diego — March 25-27, 2015.

Register Now and Save $480!   Limited time offer.
Register Now for the Intelligent Content Conference.
An annual gathering of the best and brightest content professionals on the planet. People who know the secrets (and are willing to share them). People who value content as a business asset. People who have made it their life's work to develop repeatable, systematic approaches to producing amazingly effective content.
---
Free Webinar!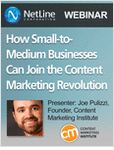 Join the discussion on Tuesday, December 2 - Time: 2 PM (EST) / 11 AM (PST) to learn how small and medium sized businesses don't have to have an entire content marketing organization (or budget) to be successful in content marketing.
Joe Pulizzi, Author and Founder of Content Marketing Institute and Werner Mansfeld, President of NetLine Corp, discuss realistic and actionable methods for your company to get awareness, consideration and sales leads using marketing content – without the budget or resources of an enterprise-level organization.
Date: December 2nd, 2:00 pm EST/12:00pm CST/11:00 am PST
Here are just some of the questions you'll get answered:
What is content marketing and why is it important?
What do I need to have in place to compete effectively using content marketing?
How do I drive sales leads and get a positive ROI using content marketing?
How can my small business (or budget) compete with my larger competitors using content marketing?
What can I start doing today to start seeing results?
Joe Pulizzi and Werner Mansfeld are experts in Content Marketing and Content Syndication. Learn from their combined experience how to take advantage of content marketing for your business, no matter the size.
---
Related Articles
Photo Credit:Seven by Heidi Cohen (Permission to use if you link to this post.)