Why Facebook Is Lame
Teen behavior is significantly different from the rest of the marketplace. While this isn't new, how today's high school students—who've grown up digital—use their devices and technology, is new.
At Business Insider's Ignition 2013, Smarty Pants's Stephanie Retblatt asked 9 New York City teens aged 14 to 17 about their digital lives and habits.
Here are the 5 key teen take-aways that have marketing implications.
1. Teens love to communicate with their BFFs constantly. While the communication among teens is constant, it's not necessarily voice. One student created videos and sent them to her friend because you don't always have WiFi. They also use SnapChat for one-to-one communication. None of the students mentioned using their smartphones to make phone calls to talk to their friends in real time.
Actionable Marketing Implications:
Make it easy for teens to contact you when they're ready to purchase or use your product or service.
Support communications teens favor. Help them to share photos of your products with their friends.
Supply WiFi to remove communications barriers in your place of business.
2. My smartphone is always there for me. With one exception, the students used either an iPhone or an Android smartphone. It was their personal device that they couldn't live without. (Here are 67 Mobile Facts to provide context.)
In addition to being a video-gaming device, about half of the students used their smartphones to do homework, especially since they could do it on the subway on the way to school. Two of the options for writing a school paper on a smartphone were dictate it to Siri and send via email to the teacher or get an app called MS Word.
Actionable Marketing Implications:
Offer utilities teens find useful whether it's connecting with friends, writing a paper or playing a game.
3. Who needs cable? Not teens. In the words of one student, "I think cable is a complete waste of money." The students tended to watch OnDemand or NetFlix. A few used a DVR to record shows and view them the next day.
They confided that commercials are a complete waste of time and they didn't have enough time to sit through them. But they have time to binge watch special shows such as "Breaking Bad."
Additionally, the teens spent time on YouTube and Vine as television alternatives. They talked about sitting down to view a couple of videos and spending a couple of hours, often starting from the recommendation page.
Actionable Marketing Implications:
Rethink the ad as a push message, regardless of platform. This means finding another way to integrate your message without interrupting or keeping viewers from the information they want.
Provide quality content. The students mentioned shows with a strong story arc, good acting and quality production. Related to this, Steele Smith of VICE Media made the point that teens are interested in the news but just not the way cable news is delivered.
4. It's my social media—Adults keep out. Facebook faces challenges maintaining engagement with younger demographics. Further, the students only use Facebook on a PC, even though their smartphone is their favorite device.
While it was cool to gain access to Facebook when they were younger, it's not now, especially when your mom friends you and she has twice as many friends as you do. Also, Facebook is just a habit now. (For more, see Is Facebook Still Cool and Why Marketers Should Care.)
Even worse for one particular student, her mother posted a photo of her when she was small with a no longer appropriate nickname resulting in ridicule at school the next day.
The students felt that while looking at people's streams is boring and full of stupid things, Facebook can be good for group emails to their school teams and other features.
The students preferred other social media platforms that their parents didn't know about such as Instagram, Vine and Snapchat. No surprise, these platforms are visual and mobile based.
Teens are looking for the new new thing. Particularly if their parents don't know that they're spending time there. For teens social media tends to be a communication tool where they can express themselves, often one-to-one.
Actionable Marketing Implications:
Leverage the power of social media to observe what teens are doing and thinking by engaging with them. Don't use social media as a way to promote to teens.
5. The future of Christmas: Today's letter to Santa.
One student announced that she created her Christmas list for her mother, complete with images and store details. This means mom, you have no excuse for getting me the wrong stuff this year.
Students also used store functionality to alert their parents that they wanted a specific product. One student mentioned FreshDirect. Another student was her family's go-to person to find products they wanted via her Amazon and eBay apps.
Actionable Marketing Implications:
Make it easy for teen shoppers to get their parents the necessary details for the products they want. Offer email options and shopping/wish lists.
While teens may do the things that teens have always done, they're using connected devices and finding new ways to use them.
What other insights have you discovered about teens and what implications does it have for your marketing?
Happy Marketing,
Heidi Cohen
---
Join Heidi Cohen and fellow marketers at the mega-conference designed to inspire and empower you—Social Media Marketing World 2017, brought to you by Social Media Examiner.
Discover the best and newest ways to market your business on Facebook, Instagram, LinkedIn, YouTube, Twitter, Pinterest and Snapchat.
The event takes place March 22-24, 2017, in San Diego. Actionable Marketing readers get an early registration discount.
Act by Friday – Save $200!
---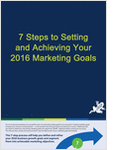 This 7-step process will help you define and refine your 2016 business growth goals and segment them into achievable marketing objectives.
You've set personal resolutions for yourself this year, but what about setting goals for your business? Creating marketing goals increases your chances of achieving them – so do yourself a favor this year and set yourself up for success.
Related Articles
Photo Credit: http://www.flickr.com/photos/yourdon/3563940039/