Instagram Is For Brand Lovers [Research / Charts]
If you think selfies and food when someone says Instagram, it's time to think again. Instagram is for brand lovers.
Instagram is the tenth largest mobile app reaching one out of four smartphone owners, both iOS and Android, in the US according to comScore. Instagram has 150 million monthly active users who share 55 million photos per day!
Here are 5 Instagram marketing tips to help you gain better brand awareness.

1. Over 70% of top brands are active on Instagram according to Simply Measured research of Interbrand 2013 Top 100 Brands, collected 3Q2013. Brand usage is similar to that of Pinterest and Google+.
2/3 of brands have an active Instagram account with photos posted.
1/3 of brands have passed the 20,000 follower mark on Instagram.
Actionable Instagram Marketing Tip: Stake your turf on Instagram. Like any other social media platform, it's critical to be able to use your brand name. At last week's Inside Social Marketing Conference, U-Haul's Social Media Director mentioned that her firm had difficulty claiming their name on Instagram.
Also, take the time to determine marketing goals for Instagram. In other words, what do you hope to achieve by engaging on Instagram. For most firms, this means increased branding.
2. Under 5% of top brands post 50 times per month or more on Instagram. Roughly one out of five brands posts once a day. From a content creation perspective, this means you should be able to gain traction by posting one or two photos per day to be in the top quarter of active Instagram brands.
Actionable Instagram Marketing Tip: Integrate Instagram posting into your editorial calendar for visual content. Determine the type and/or subject of branded content that resonates with your Instagram audience. Don't assume that one size fits all.
Follow memorable photography effectiveness best practices while providing a mix of different types of images to keep your audience interested. Just like food, people like variety.
3. Brand engagement in the form of likes and comments has grown an astronomical 350% in the past year. Understand that this type of growth happens when platforms are new and the amount of growth is calculated on a small initial base. 
Only 22% of top brands in the automotive, media and luxury categories provide 59% of total brand posts and garner 83% of total engagement. By contrast, brands with less visually attractive products have lower posting and engagement.  
Actionable Instagram Marketing Tip: Find other ways to present your product and company in photographs to make them more appealing to your target audience. Take a lesson from companies like GE that show the beauty in their B2B products many people may not realize are created by GE. 
Of course, it's difficult to compete with the engagement of well-loved consumer brands like Nike. Understand that this magnitude of activity mirrors Facebook where General Electric has 1,008,606 likes and Nike has 15,991,201 likes. 
BTW–Another important lesson from these photos is to integrate your logo and/or name where possible. 
4. Over 80% of Instagram posts by top brands include at least 1 hashtag.
Actionable Instagram Marketing Tip: Use hashtags for content discovery but don't overdo it. Like other platforms, use 1 to 3 hashtags to expand content discovery that's relevant.
BTW–Take a page from GE's Instagram playbook and use exciting, relevant events, like the Dubai Airshow, to spotlight and share images of your product.
5. 94% of content on Instagram is photographs. This makes sense since it's still early days for Instagram video and it's competing with more established video platforms like YouTube.
Actionable Instagram Marketing Tip: Test some Instagram videos to see how they perform.
BTW–Here's other research with 8 Instagram Marketing Tips.
Instagram has  reached a point where marketers should consider incorporating it into their social media marketing plans. This is particularly important if you've got a visual content marketing strategy in place.
How have you used Instagram and what were your results?
Happy Marketing,
Heidi Cohen
---
---
Even though Content Marketing World is finished until next September, you can still get all the content from 2014's exciting conference. The CMWorld On Demand package includes: Audio and video from the 2014 keynote sessions, audio and PowerPoint presentations of all the breakout sessions, over 40 audio sessions from the leading B2B and B2C brands, as well as keynote video performances.
Social Media Marketing World — San Diego — March 25-27, 2015.

Register Now and Save $480!   Limited time offer.
Register Now for the Intelligent Content Conference.
An annual gathering of the best and brightest content professionals on the planet. People who know the secrets (and are willing to share them). People who value content as a business asset. People who have made it their life's work to develop repeatable, systematic approaches to producing amazingly effective content.
---
Free Webinar!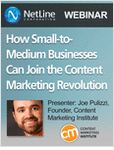 Join the discussion on Tuesday, December 2 - Time: 2 PM (EST) / 11 AM (PST) to learn how small and medium sized businesses don't have to have an entire content marketing organization (or budget) to be successful in content marketing.
Joe Pulizzi, Author and Founder of Content Marketing Institute and Werner Mansfeld, President of NetLine Corp, discuss realistic and actionable methods for your company to get awareness, consideration and sales leads using marketing content – without the budget or resources of an enterprise-level organization.
Date: December 2nd, 2:00 pm EST/12:00pm CST/11:00 am PST
Here are just some of the questions you'll get answered:
What is content marketing and why is it important?
What do I need to have in place to compete effectively using content marketing?
How do I drive sales leads and get a positive ROI using content marketing?
How can my small business (or budget) compete with my larger competitors using content marketing?
What can I start doing today to start seeing results?
Joe Pulizzi and Werner Mansfeld are experts in Content Marketing and Content Syndication. Learn from their combined experience how to take advantage of content marketing for your business, no matter the size.
---
Related Articles
Photo Credit: http://www.flickr.com/photos/baileysjunk/3006801925/