How to Extend Your Content Creation Resources
Face it—it's tough to fill the ever-ending need for content and that's before you consider your social media plans.
What's a marketer with limited budget and resources to do to ensure that there's always a sufficient supply of fresh, effective content to satisfy your marketing needs?
The answer is to employ a mix of the following five content marketing strategies. These strategies will enable you to extend your content marketing budget while filling your editorial calendar. The key is to create a mix of content and to integrate other people's work in your content marketing to expand your offering.
Create evergreen content. This is the core of your content marketing offering. It's content that's timeless and can be used anytime. Alternatively, it may be holiday content used year after year at a specific time of year. The goal is to create resources that others continually seek and link to. Problogger's Darren Rowse calls this pillar content. He defines it as topics that are central to your overall subject that contain solid advice you'll link to again and again.
Leverage "Just-In-Time" content. This is content crafted to take advantage of trending topics. They show that your organization is nimble and on top of things. David Meerman Scott dubbed this "newsjacking" where you benefit from interest in a popular story. To this end, leverage Google and Twitter trends. Don't write about a topic just because it's hot; you need an angle relevant to your business. Before you publish, consider how your prospects, customers, business associates and the public will perceive your piece. This approach works best with entertainment news but you don't want to be seen as taking advantage of a horrible event or disaster to promote your business.
Repurpose content. This content is information that you've used elsewhere and are refining for other platforms and needs. Ann Handley author of Content Rules calls this re-imagined content because you're not just changing a few words. Instead, you're using the core concept and giving it new life that's tailored to the needs of your audience and/or platform. Use Todd Wheatland's twenty-to-one ratio to help you brainstorm new pieces of content out of one major story idea. Ideally, you plan your content reuse in advance so it's less expensive. It's a good idea to include the potential for derivative content in your contracts to ensure that you can use the talent and information elsewhere without extra fees. (Need some ideas? Here are fifty-six ways to reuse content.)
Curate content. This content is developed by third parties outside of your organization. At its core, curated information extends your content offering by selecting the best content on your niche that's available, organizing it into a structured format for easy consumption, and explaining why it's important for your target audience. You should provide at least as much commentary as the amount of content you use, give proper attribution to the author(s) and link to the original article. The goal is to position your organization as a thought leader in your field and build a branded platform for your business.
Co-create content. This content is developed with input from your community through the help of influencers and customers. The key benefit of this information is that it's social by nature and lends itself to social sharing. Ask for customer stories, case studies, and images since they're especially helpful for showing prospects how to use your products. Don't forget to include customer comments and reviews since research shows that prospects check these out before purchase, whether on your website, social media or your competitors' sites.
By using a combination of these five content marketing strategies, you'll be able to maximize your content creation budget in a way that provides variety for your target audience and fills your editorial calendar with engaging information.
Are you using any of these five content marketing strategies? What works best for you and why?
Happy Marketing,
Heidi Cohen
---
---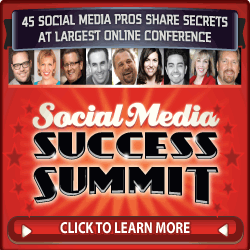 Attend Social Media Success Summit 2014 to get stellar insights from 45 social media experts including Mari Smith, Jay Baer, Lee Odden and Amy Porterfield.
Order your ticket to Social Media Success Summit NOW and SAVE $380 off the regular price (NOTE: ONLY 500 TICKETS are available at this sale price. This offer is good until August 22, 2014 or when the tickets sell out, whichever comes first.
This important virtual conference offers more than 45 sessions this October. Attend as many as you like; download the rest with no travel costs or hassle.
---
---
Free Download!
To compete in the new environment of always connected, highly informed consumers, retailers need to leverage five trends to realize higher conversions and larger transaction sizes.
Find out how you can apply these 5 trends to your business.
Retailers that embrace and facilitate social where customers are discovering, considering, and buying, can increase wallet share.

Millennials are driving the way retailers think about consumers and create shopping experiences.

With mobile, consumers have become an always-on opportunity for retailers to tap.

Retailers with a successful omni-channel strategy will experience less showrooming and achieve greater market share across all channels.

Big data will allow retailers to change the consumer experience, boost conversions, and improve margins.
---
Related Articles
Photo Credit: http://www.flickr.com/photos/87913776@N00/460375914/