Take Time Off From Blogging Without Losing Readers
Sometimes it's tough to keep your blog going with fresh content. Whether it's the holidays, vacation, illness, work or other personal issue that requires your time, energy and focus, there never seems to be enough left to write your best posts.
Fortunately for most bloggers, we can often predict when we'll need additional blog content in advance, specifically for the major holidays, planned vacations and heavy work cycles. We can plan ahead.
But other times we need to take a break without much if any notice. This element of surprise leaves bloggers fewer content options.
Here are 5 blog tips to help you take a blog break without losing readers or momentum.
1.

Create blog content in advance.

This is the best option because you maintain control over your blog content. It works when you know in advance that you're planning a vacation or need time off. Developing content in advance means that you must plan your topics and time to have a sufficient number of posts done before your deadline. It requires knowing your marketing persona and having an editorial calendar. Actionable Blog Tip: Have a number of more general blog posts across your categories ready to schedule in case of emergency. Here are 12 blog ideas to help you create posts easily. Understand that for many bloggers, this is difficult to accomplish since there's always something else competing for your time.
2.

Ask blog colleagues to write guest posts.

Most established blogs continually get requests for guest posts. One way around having to select less well-known blog talent is to ask people you know and respect to write for you. The benefit of this approach is that you're selecting bloggers based on their past content. (Please note that this blog does NOT accept guest posts.) Further, this approach can be used with shorter timeframes depending on your connections. Actionable Blog Tip: Create a set of blogging guidelines to ensure that the posts you receive fit in with your blog's existing content. Also, make your editing approach clear. You'll probably want to be able to change wording and links. At a minimum, include the blogger's name, photo and one link to a page of their choice. In return, you may request that they engage with your audience for 48 hours. If you ask them for a favor, they may ask you for a post in the future.
3.

Allow readers to contribute articles.

Depending on your subject matter, this may yield powerful results. (Here's an example where we asked for reader input.) If you're seeking a lot of content, say 2 to 4 weeks, this approach by itself won't be sufficient because blog readers like other social media platforms tend to participate in a 90% do nothing, 9% do something minor and 1% will create content. Actionable Blog Tip: Expect these posts will require more copyediting than your own posts and those of experienced bloggers. The same set of guest post guidelines mentioned above hold for this content.

Shine the light on strong information in your niche and enhance it with additional content to tailor it to your audience's needs. This doesn't mean copying other people's content. Actionable Blog Tip: Provide useful context for the information. Don't just put together a list of post titles without any context. Also, make sure you include appropriate links and attribution.
5.

Make it's visual.

Think beyond text articles. Instead, aggregate photographs, videos, presentations and other forms of content. This is a great way to show examples of the points that you're trying to make. Since images are faster and easier to consume, these posts can attract more attention. Further, it's easier to outsource the research and gathering of these images without having an impact on your blog's voice. Actionable Blog Tip: Explain each piece of visual content to give it appropriate context. As with curation, provide appropriate attribution and link to the original source.

Realize that there are some holidays like Christmas where no matter how great your content is your audience just isn't paying attention. So your blog won't really suffer if you don't post every day.

There are times when leaving your blog without fresh content may be your only option due to an emergency or other circumstances beyond your control. While you may loose traffic, your blog will survive and come back to life when you start blogging again. For example, I had this challenge after Hurricane Sandy hit last year and I didn't have Internet connectivity for several days.

As protection against unforeseen circumstances, keep a few evergreen blog posts ready to publish at any time. Of course, this is easier said than done.

What else would you add to this list of blog tricks to take time off from blogging?

Happy Marketing,
Heidi Cohen
---
---
Even though Content Marketing World is finished until next September, you can still get all the content from 2014's exciting conference. The CMWorld On Demand package includes: Audio and video from the 2014 keynote sessions, audio and PowerPoint presentations of all the breakout sessions, over 40 audio sessions from the leading B2B and B2C brands, as well as keynote video performances.
Social Media Marketing World — San Diego — March 25-27, 2015.

Register Now and Save $480!   Limited time offer.
Register Now for the Intelligent Content Conference.
An annual gathering of the best and brightest content professionals on the planet. People who know the secrets (and are willing to share them). People who value content as a business asset. People who have made it their life's work to develop repeatable, systematic approaches to producing amazingly effective content.
---
Free Webinar!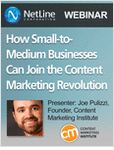 Join the discussion on Tuesday, December 2 - Time: 2 PM (EST) / 11 AM (PST) to learn how small and medium sized businesses don't have to have an entire content marketing organization (or budget) to be successful in content marketing.
Joe Pulizzi, Author and Founder of Content Marketing Institute and Werner Mansfeld, President of NetLine Corp, discuss realistic and actionable methods for your company to get awareness, consideration and sales leads using marketing content – without the budget or resources of an enterprise-level organization.
Date: December 2nd, 2:00 pm EST/12:00pm CST/11:00 am PST
Here are just some of the questions you'll get answered:
What is content marketing and why is it important?
What do I need to have in place to compete effectively using content marketing?
How do I drive sales leads and get a positive ROI using content marketing?
How can my small business (or budget) compete with my larger competitors using content marketing?
What can I start doing today to start seeing results?
Joe Pulizzi and Werner Mansfeld are experts in Content Marketing and Content Syndication. Learn from their combined experience how to take advantage of content marketing for your business, no matter the size.
---
Related Articles
Photo Credit: http://www.flickr.com/photos/centralasian/5534814670/