Content Marketing: Are You Providing The Right Information
You need to give prospects, customers and the public a regular diet of information.
This content is like the 5 basic food groups you learned about in grade school.
I may not be the best authority on food groups.  For me, the main food groups include chocolate, ice cream, pasta and coffee; all of which need to be eaten on a daily basis.
Yet back in elementary school, I learned that the 5 key food groups are dairy, meat, grains, fruit and vegetables. Here's how the USDA represents these foods graphically. 
Content marketing is a lot like food. You need to provide your target audience with the 5 basic content types that are needed to facilitate content consumption. They are product information, customer FAQs, how-to's, styling and customer ratings/reviews.
5 Basic content types your prospects and customers need
Here are the 5 basic content types. They are central to providing content quality and making your business blog sizzle.
1.

Product information

Give shoppers and their influencers enough information to make an informed decision to purchase from your firm. If you don't, they're going to look elsewhere including Amazon to get the skinny on products they want. (This may be the reason that Forrester research revealed an increase in the number of people who start their product search with Amazon rather than Google.) This includes the detailed product specifics, model numbers, sizes, weights and other necessary information.

Actionable Marketing Tip: Supply photographs and videos to give buyers a 360° view of the product where appropriate. This can be a great place to integrate customer photos from Instagram to show your products in action. Consider using short form Instagram Videos.
2.

Customer FAQs

Answer all of your customers' questions. Until you do this, they're not buying. To this end, list every question that your sales and customer service teams get and answer each one. To help your search-ability, make each answer a separate blog post. Marcus Sheridan, aka The Sales Lion, calls this the "secret sauce."

Here's Marcus Sheridan's $2 million page from his River Pools and Spa. It answers the major question: "How much will a pool cost me?"
Actionable Marketing Tip: Don't wimp out and skip the pricing. Take a page from Marcus Sheridan and answer the tough stuff. He did and earned $2million in sales from his post. Realize that if you don't answer the important questions, someone else will. And you may not like what they say or how they frame the response since this sets up price negotiation.
3.

How-to's

This is just another way of saying product-related education. While there's no exam, your prospects and customers must be able to use your products or they're worthless. This easy-to-follow information is particularly important if your product differs significantly from the competition. Think beyond plain tiny instructions that are hard to read. Use images and graphics to illustrate your points. This can be a great way to make your content even more shareable. Also don't underestimate the value of a video or audio guide.

Here's an example from online ezine, Knitty that provides free knitting patterns.
Actionable Marketing Tip: Include patterns and recipes where appropriate to get prospects more involved in your product offering. since they're ready-made to incorporate shopping lists.
4.

Styling

Like how-tos, styling information applies mainly to clothing and home décor. But don't be limited by my suggestions. Think beyond your product. Change your thinking from selling a dress to selling an entire experience. This is even more important for major occasions like proms and weddings.

Not sure how to show your customers how to style your products. Then take a look at Pinterest.

Here's how Michelle Phan, the go-to girl for cosmetics know-how shows her readers what to  do. (BTW–Into The Gloss is a Tumblr-magazine that's also a good reference.) 
Actionable Marketing Tip: Make sure that your product information is shareable. Remember that customers like getting input when making critical decisions. Don't overlook the ability to share your photos via email, text message and print.
5.

Ratings and reviews

Many retailers wince when pushed to supply this type of content. "Oh no, not that!" they think. But the bottom line is that your potential customer is going to check for how others viewed your service and care. Of course, this is most powerful when it's P2P content.

While online reviews are notorious for fake information, the reality is that customers trust it in aggregate more than they trust your marketing.  Without any reviews, they'll go on social media and give a shout out to get this information. It's no different than the old days were people called their mom or a friend for a recommendation. Depending on your offering they'll check Zagats or TripAdvisor. BTW—Bazaarvoice found that ratings and reviews helped sell mediocre products since they put the products into context. Also cost and purchase frequency are part of the purchase decision.

Actionable Marketing Tip: Consider the potential for adding ratings and reviews from a third party supplier like Bazaarvoice or Power reviews or other site.

While every prospect may not sample every one of these 5 content marketing types, most of them will examine a variety of them. To ensure that your product is in the decision marketing process and stays there, you need to offer your customers all 5 types of information.

Don't forget to include photos and videos in each of these 5 content types since that would be 1 of the 10 plagues of visual content marketing.

The bottom line is that customers aren't purchasing until they get the information they want and need. So make it easy for them to find and consume.

What is your most popular piece of information that customers seek from your firm?

Happy Marketing,
Heidi Cohen
---
---
For those of you in Raleigh, NC, please join me for Internet Summit November 11th through 13th.
Use the code HEIDI50 to save $50 OFF any pass level.
---
Even though Content Marketing World is finished until next September, you can still get all the content from 2014's exciting conference. The CMWorld On Demand package includes: Audio and video from the 2014 keynote sessions, audio and PowerPoint presentations of all the breakout sessions, over 40 audio sessions from the leading B2B and B2C brands, as well as keynote video performances.
---
Free Webcast!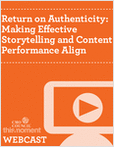 Join the discussion on Wednesday, October 29, 2014 at 10:00 AM PT/ 1:00 PM ET with Nancy Slavin, SVP of Marketing, Macy's Merchandising Group, and Dan Kimball, CMO, Thismoment.
According to research by Nielsen, 70 percent of global consumers trust online consumer reviews and rate reviews as the second most trusted form of advertising. And according to BazaarVoice, when it comes to trust, marketers may as well eliminate their own brand websites as a fountain of customer trust as only 16 percent of US consumers said they trust the content on a brand's website compared to the 51 percent who trust content generated by other users.
Today's digital currency is arguably authenticity, and what attracts customers - especially the digitally dependent, savvy millennial - is not just content. It is the delivery of authentic, unvarnished content from their peers.
Join the CMO Council on Wednesday, October 29, at 10am PST/ 1pm EST for a one-hour webcast that will invite industry experts in content marketing and user-generated content who are effectively leveraging authentic storytelling as part of their content marketing strategies. We will also feature an interactive Q&A session at the conclusion of the speaker presentations.
---
Related Articles
Photo Credit: http://www.flickr.com/photos/44603071@N00/10513680423/