How To Overcome Lack of Content Budget & Resources
Is content marketing part of your strategy to build your brand, drive lead generation and increase sales, but it always seems too daunting because you never seem to have enough time, budget or personnel to create it?
Don't worry if this sounds like you because you've got lots of company, especially small businesses. Recently IMN research found that roughly half of marketers allocate less than 10% of their budget to content.
To overcome these challenges, think micro content. 
Micro content marketing defined
To better understand how micro content helps achieve your business objectives and makes content creation less daunting, here are 9 attributes of micro content. Bear in mind that micro content can be used to communicate with your internal team as well as with prospects, customers, fans and the public.
Focus on useful, concise information your target audience wants and/or needs. The goal is to make your micro content part of your audience's daily routine. Think horoscopes and sports scores.
Actionable Content Marketing Tip: Brainstorm short pieces of content your readers want on a daily basis such as useful tips, quotes or  cartoons (who doesn't want some fun when they start their day).
Streamline text composition. This is key to reduce content creation time and costs. Micro content should be composed in batches. Actionable Content Marketing Tip: Create a week or a month's worth of content at one time. Leverage content reuse where appropriate.
Develop bite-size chunks of information. This content should be quick-to-consume for content snacking between other activities. This means that the content must be delivered and read on any type of device, especially a smartphone. Actionable Content Marketing Tip: Create short tweet length text (140 characters) and/or photographs.
Use consistent presentation format. One reason micro content is relatively low cost is that, while each piece requires new information, it doesn't require new creative each time. Actionable Content Marketing Tip: Test your micro content presentation to find the optimal format for your information and audience. (Here's how to maximize content presentation effectiveness.)
Apply standardized branding. Ensure  your bite-size content supports your branding efforts by integrating appropriate elements into your content and presentation. Actionable Content Marketing Tip: Go beyond just slapping your logo on the content. Include your brand voice and graphics. (Here's more help with branding.)
Allow readers to share your content. As with any content, give it legs. Add social sharing options where appropriate. Actionable Content Marketing Tip: Encourage sharing within your micro content. Let readers share content whenever they want regardless of where they are.
Use multiple channels to deliver content. Sprinkle your content widely to achieve maximum reach. Actionable Content Marketing Tip: Leverage a variety of distribution methods to get your micro content out. Include owned and social media options.
Make content easy-to-subscribe. Your goal is to build a list and/or following of people who look forward to receiving your content. Actionable Content Marketing Tip: Incorporate a contextually relevant call-to-action to encourage subscription for the micro content.
Distribute content on a standardized schedule. Consistency counts. As with building an audience for your content, publish or send out your content on a regular schedule so readers expect and look forward to receiving it. Actionable Content Marketing Tip: Schedule content on a basis that makes sense in terms of how your readers use your information and that you can maintain. It's worse to commit to providing daily tips only to send them out once a month.
What micro content is not: Blatant promotions.
The one exception is a deal of the day.
4 Micro content ideas you can steal
The key to making bite-size information powerful is to go beyond plain vanilla facts. In other words add value. Here are 4 types of content that you can use to convey your micro content.
Use micro content marketing to keep your name and information in front of your prospects, leads, customers and others, thereby building credibility. Don't forget to include a call-to-action in every piece of micro content.
What other types of micro content would you add to this list and why?
Happy Marketing,
Heidi Cohen
---
---
For those of you in Raleigh, NC, please join me for Internet Summit November 11th through 13th.
Use the code HEIDI50 to save $50 OFF any pass level.
---
Even though Content Marketing World is finished until next September, you can still get all the content from 2014's exciting conference. The CMWorld On Demand package includes: Audio and video from the 2014 keynote sessions, audio and PowerPoint presentations of all the breakout sessions, over 40 audio sessions from the leading B2B and B2C brands, as well as keynote video performances.
---
Free Webcast!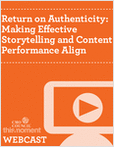 Join the discussion on Wednesday, October 29, 2014 at 10:00 AM PT/ 1:00 PM ET with Nancy Slavin, SVP of Marketing, Macy's Merchandising Group, and Dan Kimball, CMO, Thismoment.
According to research by Nielsen, 70 percent of global consumers trust online consumer reviews and rate reviews as the second most trusted form of advertising. And according to BazaarVoice, when it comes to trust, marketers may as well eliminate their own brand websites as a fountain of customer trust as only 16 percent of US consumers said they trust the content on a brand's website compared to the 51 percent who trust content generated by other users.
Today's digital currency is arguably authenticity, and what attracts customers - especially the digitally dependent, savvy millennial - is not just content. It is the delivery of authentic, unvarnished content from their peers.
Join the CMO Council on Wednesday, October 29, at 10am PST/ 1pm EST for a one-hour webcast that will invite industry experts in content marketing and user-generated content who are effectively leveraging authentic storytelling as part of their content marketing strategies. We will also feature an interactive Q&A session at the conclusion of the speaker presentations.
---
Related Articles
Photo Credit: http://www.flickr.com/photos/thisisgeometry/4169253402/