What Is Your Brand's Facebook Engagement? 
On Facebook, like other online media entities, it's important to track your performance to understand whether your social media marketing is achieving its objectives. Here are 3 Facebook metrics to maximize and 1 Facebook metric to minimize.
3 Facebook metrics to maximize
1.

Reach

As with any media entity, reach is an important indicator of your potential audience. On Facebook, it's referred to as fan reach. Reach doesn't mean that each individual fan has read your content. Rather it shows the relative size of your possible reader base.

Facebook allows you to track fan reach on a per post basis. This reveals how appealing your content is to your readers. Alternatively, you can measure a post's organic reach which includes both fans and non-fans but it's not as precise a metric as fan reach.
2.

Engagement

Engagement shows how many people have taken some type of action. It's an important indicator of your Facebook content's ability to connect with its potential audience and motivate them to doing something. Specifically, this translates to liking, commenting (positive or negative), sharing, viewing videos, and/or clicking on your links, photos and comments.

Like many other online marketing media metrics, you must look beyond the specific number of engagements because they're not comparable between posts. For example, how do you know if 1,000 people talking about your post on raw kale recipes is good? The answer is depends on the size of your audience (aka reach). To make your engagement results comparable, you must put them in context of your reach and convert this ratio to a percentage. Use this formula: Engagement rate = Engaged users/reach * 100
3.

Action

For marketers, engaging with prospects is an important step towards purchase but it's actions that matter. The same is true on Facebook.

Facebook highlights specific actions: liking, commenting or sharing your content since they may yield amplification. These forms of engagement are a subset of all Facebook engagement. They're referred to as People talking about this (aka PTAT) or storytellers.

A Facebook post's click-through rate (aka CTR) is an important metric. This is the number of people who click through on your content to consume it. Click-through rate = Number of people who click through on content / Number of people who are engaged. 
The
one

Facebook metric to minimize

Since participants can take either positive or negative actions towards your content on Facebook, the goal is to minimize negative feedback in the form of a reader hiding a specific post, hiding all future posts from your page, unliking your page or reporting it as spam. This is a raw number that needs to be put in context of the number of people reached so that it can be compared to other posts. Use this formula: Negative Feedback Rate = Negative feedback/reach * 100. According to Agora Pulse, the average negative feedback is 0.1% although some pages have negative feedback rates as high as 0.7%.
How does your business compares in terms of Facebook engagement?
Based on Agora Pulse's  averages compiled from over 4,871 Facebook pages in 168 industries, performance rates are higher for smaller pages. Specifically pages with less than 10,000 fans reach 21.2% of their audience, engage with 6.1% of their fans and 2.0% of their engagement is storytellers. By contrast, pages with over 100,000 fans reach 10.2% of their audience, engage with 4.9% of their fans and 2.4% of their engagement is storytellers.
This performance makes sense since a lower number of fans translates to a higher ability to interact with someone directly and have a personal connection. But don't mistake this to mean that pages with over 100,000 have lower numbers of fans reached, engaged or people talking about this.
3 Other Facebook considerations
As with the use of any other media entity, here are 3 other factors you must consider as a marketer when planning your Facebook strategy:
Target market counts. While Facebook has a large potential user base, what matters is whether your specific audience is active there. To this end, it's useful to create a marketing persona and a social media buyer persona.
Variety of media is needed. Prospects must see your message multiple times before they start to believe it. This isn't new. To this end, it's important to use a variety of different media entities and content formats.
Sales do matter. While getting people to engage with your firm and talk about it on Facebook are important for building your brand and prospect relationships, you still need to close the deal. For most marketers, this means converting prospects on your website, with a sales rep or in a retail establishment.
As a marketer,you must track your performance on Facebook to understand how it helps you to achieve your business objectives. While you can compare your results to overall averages, this only shows how you rate relative to your peer set; this can be useful if there are environmental factors that cause a significant change in results. It's more important to measure your improvement against your past performance to show your organization's progress.
What has your experience been tracking your Facebook results?
Happy Marketing,
Heidi Cohen
---
---
Even though Content Marketing World is finished until next September, you can still get all the content from 2014's exciting conference. The CMWorld On Demand package includes: Audio and video from the 2014 keynote sessions, audio and PowerPoint presentations of all the breakout sessions, over 40 audio sessions from the leading B2B and B2C brands, as well as keynote video performances.
Social Media Marketing World — San Diego — March 25-27, 2015.

Register Now and Save $500!   Limited time offer.
Register Now for the Intelligent Content Conference.
An annual gathering of the best and brightest content professionals on the planet. People who know the secrets (and are willing to share them). People who value content as a business asset. People who have made it their life's work to develop repeatable, systematic approaches to producing amazingly effective content.
---
Free Webinar!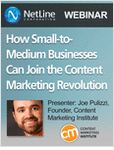 Join the discussion on Tuesday, December 2 - Time: 2 PM (EST) / 11 AM (PST) to learn how small and medium sized businesses don't have to have an entire content marketing organization (or budget) to be successful in content marketing.
Joe Pulizzi, Author and Founder of Content Marketing Institute and Werner Mansfeld, President of NetLine Corp, discuss realistic and actionable methods for your company to get awareness, consideration and sales leads using marketing content – without the budget or resources of an enterprise-level organization.
Date: December 2nd, 2:00 pm EST/12:00pm CST/11:00 am PST
Here are just some of the questions you'll get answered:
What is content marketing and why is it important?
What do I need to have in place to compete effectively using content marketing?
How do I drive sales leads and get a positive ROI using content marketing?
How can my small business (or budget) compete with my larger competitors using content marketing?
What can I start doing today to start seeing results?
Joe Pulizzi and Werner Mansfeld are experts in Content Marketing and Content Syndication. Learn from their combined experience how to take advantage of content marketing for your business, no matter the size.
---
Related Articles
Photo Credit: http://www.flickr.com/photos/gabby-girl/5345084731/