How to Fill Out Your Content Marketing Offering
July is ice cream month. Ice cream was an important food group in my family. In fact, my mother slightly modified our last name so she could write our first names inside of a picture of a scoop of ice cream on our lunch bags.
Both of my siblings had summer jobs selling ice cream. My sister worked at a Carvel and my brother drove a Good Humor truck. My father helped my brother by counting the (quite literally) cold cash.
In honor of July being Ice Cream Month, here are thirty-one flavors of content marketing.
Annual reports. Often the premium form of content a firm has. Think high quality. Leverage this content for other purposes.
Articles. Can be created for your owned media as well as third party entities. It's often a good way to get links back to your blog or website to support your search optimization.
Blogs. Are content management systems that enables self-publishing. A blog can be incorporated into your website or be a stand alone entity.  It can contain a range of content formats such as text, images, video, audio, and PDFs. They are considered a form of social media.
Books. Offer in-depth content on a specific topic edited by a third party. Books provide credibility for the author(s).
Case studies. Show how other customers or companies have used your offering. They're especially popular for expensive products, generally B2B.
Cartoons (Including comic books or graphic novels). Use humor to convey their message. Often in a concise image-heavy way.
Catalogs. (Including magalogs) Provide an inventory of your products. To engage prospects, use customer stories and add useful information.
Charts. Convey information graphically. They are useful for dense numeric content.
Conferences. Offer the opportunity to reach a mass audience. A conference can be live or virtual. You can leverage a conference to deliver presentations, create content or engage prospects (via a trade exhibit).
Email newsletters. Are a targeted way to deliver information on a regular schedule. They must be opt-in.
Ebooks. (These include soft versions of print books.) Allow individuals and companies to create longer content offerings. They tend to be more visually attractive than traditional print books. (BTW—we'd be thrilled if you checked our ebook out!)
Exhibits. Think museum. They present information and products in a contextual setting.  They are great for showing your company history.
Infographics. Show data visually with the use of graphics.
In-person events. Are useful for deepening customer relationships. You can present your organization's information or have a speaker.
Magazines (Including custom publishing and e-zines). Offer targeted content from a variety of points of view. They often include lots of visuals.
Microsites. Are smaller, targeted content offering. It often is used in conjunction with a promotion.
Mobile apps. Tend to provide useful on-the-go information for users. It's usually not the same content provided on a website. To attract downloads and use, it must provide some form of utility.
Mobile website. Is a light-weight version of your website design for specific uses on a smartphone or tablet. It must load quickly.
Newsletter (print version). Offers information to subscribers or customers on a regular schedule. It's delivered via the post office. To maximize utility, provide different content than other channels.
One-sheet. Is condensed information about your product. They contain one page of information that's often used by salespeople.
Packaging. Gives customers additional information and/or instructions about using your product.
Patterns (Including recipes). Can be part of another form of content. They are great since they offer value to your audience. You can link them to your products to make a ready-to-buy order.
Photographs. Are eye candy for your target market. This is one form of content that's great to source from your community. They're great to share on Facebook and Pinterest.
Podcasts (Including other forms of spoken word recordings). Provide one-to-one communications in a human voice. It's useful for building an audience and building a following.
Presentations (including Slideshow and Slideshares). Allow you to share your ideas with a broader audience in a mainly visual way.
Research papers. (Including white papers). Offer information, either for free or for a fee.
Social media shares. Are short fleeting pieces of content that curate information, give status updates and other communications based on platforms such as Facebook, LinkedIn, Twitter and Google+. (Here are seventy-seven ways to share the social media love.)
User manuals. Give owners step-by-step instructions. Traditionally, they're print information but now include help files and other online documentation.
Videos (Including Vines and Instagram videos). Are a growing content format. At a minimum, have a presence on YouTube since it's the second largest search engine after Google.
Websites. Are your online presence. A website should be your online address and provide easy-access to any information your potential customers want. (Here's some website help for small businesses.)
Webcasts/webinars. Offer information to a virtual audience, often with coordinated slides. They're a staple of B2B content marketing but use them to provide other forms of information such as short training.
As a content marketer, it's important to use a variety of different content formats as well as weights. When planning your content offering, consider reuse and re-imagining in advance to reduce creation costs.
What other forms of content marketing would you add to this list? What's your favorite form of content to create and why?
Please note that this title is from this list in case you're looking for content inspiration.
Happy Marketing,
Heidi Cohen
---
---
For those of you in Raleigh, NC, please join me for Internet Summit November 11th through 13th.
Use the code HEIDI50 to save $50 OFF any pass level.
---
Even though Content Marketing World is finished until next September, you can still get all the content from 2014's exciting conference. The CMWorld On Demand package includes: Audio and video from the 2014 keynote sessions, audio and PowerPoint presentations of all the breakout sessions, over 40 audio sessions from the leading B2B and B2C brands, as well as keynote video performances.
---
Free Webcast!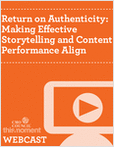 Join the discussion on Wednesday, October 29, 2014 at 10:00 AM PT/ 1:00 PM ET with Nancy Slavin, SVP of Marketing, Macy's Merchandising Group, and Dan Kimball, CMO, Thismoment.
According to research by Nielsen, 70 percent of global consumers trust online consumer reviews and rate reviews as the second most trusted form of advertising. And according to BazaarVoice, when it comes to trust, marketers may as well eliminate their own brand websites as a fountain of customer trust as only 16 percent of US consumers said they trust the content on a brand's website compared to the 51 percent who trust content generated by other users.
Today's digital currency is arguably authenticity, and what attracts customers - especially the digitally dependent, savvy millennial - is not just content. It is the delivery of authentic, unvarnished content from their peers.
Join the CMO Council on Wednesday, October 29, at 10am PST/ 1pm EST for a one-hour webcast that will invite industry experts in content marketing and user-generated content who are effectively leveraging authentic storytelling as part of their content marketing strategies. We will also feature an interactive Q&A session at the conclusion of the speaker presentations.
---
Related Articles
Photo Credit: http://www.flickr.com/photos/preppybyday/5076899310/