How To Get Your Blog In the Halloween Spirit
No matter how good a blogger you are or how long you've been blogging, you can always improve your blog.
In honor of Halloween here are 31 blogging tricks to help you get into the mood and celebrate.
Get into the holiday spirit. Like trick or treaters you need inspiration to keep going. Fill your email inbox or feed reader with strong inspiration. Check out Barry Feldman's list as a starting point for bloggers and content creators.
Put your costume together. Select a blog design that will attract attention and tell the world what you stand for.
Carve your pumpkin. Make sure that you brand your blog. Think beyond the design elements to include your voice, etc.
Decorate your blog. Don't underestimate the value of trimming your blog for the holiday.
Don't wait for a full moon to blog. Create an editorial calendar to ensure that you're on track to create enough content.
Expose your neck for Dracula. Be yourself on blog. Like other social media, it's critical to be transparent.
Invite your friends to join your party. In terms of blogging this means encouraging visitors to sign up for your emailings.
Make your tombstone reflect your profile. Include an About page that provides insights into your blog.
Don't get lost in the graveyard. Include a site map and other navigation for your blog.
Offer Halloween treats. Don't send visitors away empty handed. Provide useful content.
Don't rely on magical powers to create engaging posts. Instead develop blogging habits to help you keep your writing going.
Keep a wooden stake available for unfriendly vampires. Use the right tools. In terms of blogging this translates to plug-ins.
Avoid poison apples. In blogging terms, this means don't create content just to drive search (aka black hat tricks).
Don't create a Frankenstein monster. Your blog isn't a repository for your content scraps. Make sure that your blog is focused on its topic and goals. Don't just use whatever content is around.
Remember you can't just fly in on your broomstick when the spirit moves you. Blogging requires commitment. You must show up on a regular basis.
Don't let your blog look haunted. Make sure your content is current and relevant to your audience.
Skip the rotten eggs. Don't use your blog to criticize and call out other people. Remember that there are real people with real human feelings behind blogs and other social media handles. You may hurt them without realizing it.
Don't be a zombie. In terms of blogging this means don't steal other people's ideas and/or content. Give credit where credit is due and observe creative commons license.
Let trick or treaters in. Let guest bloggers in, not ghost bloggers. (Note: This blog doesn't accept guest posts!)
Get in contact with the appropriate spirits. On your blog, this means networking and supporting other bloggers. One way to do this is to get a blogging buddy.
Take photographs (but skip the vampires!) Photographs enhance your blog's ability to attract visitors since people are programmed to look for other people.
Dress up for Halloween. Pimp up your posts to attract attention in terms of formatting your content for easy consumption.
Exorcise the ghosts out of your blog. Optimize your blog for search and social media.
Make your home inviting. This means add social sharing icons so that it's easy for visitors to share your content.
Have fun. While blogging is a serious activity, this doesn't mean that you shouldn't enjoy yourself.
Be responsible. While Halloween is a fun holiday, it's important to still act responsibility and not do harm until others. On your blog, this means that social media has a social responsibility.
Howl at the moon. Don't be a werewolf and wait for the full moon. Socialize on other blogs by leaving comments and sharing their content.
Attend Halloween parties. Get out and engage with people in real life.
Join the Halloween parade. Share your content and other bloggers' content on social media.
Clean up after the pranksters. For bloggers, this means don't feed the trolls. Also, monitor your comments to ensure that people aren't spamming your blog.
Count your Halloween loot. Don't let your little brother steal the best candy. (When I was a kid, it was usually my dad who always took the best candy.) This means measure your blog metrics.
The bottom line is that every blogger can continually improve their blog.
Want a Halloween treat? Stop by Amazon and download Dave Kerpen's new book, Likeable Leadership for FREE – Today only!
BTW—Dave Kerpen, like Joe Pulizzi wears Halloween orange.  
What other blog tricks would you add to this list and why?
Happy Marketing,
Heidi Cohen
---
---
For those of you in Raleigh, NC, please join me for Internet Summit November 11th through 13th.
Use the code HEIDI50 to save $50 OFF any pass level.
---
Even though Content Marketing World is finished until next September, you can still get all the content from 2014's exciting conference. The CMWorld On Demand package includes: Audio and video from the 2014 keynote sessions, audio and PowerPoint presentations of all the breakout sessions, over 40 audio sessions from the leading B2B and B2C brands, as well as keynote video performances.
---
Free Webcast!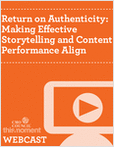 Join the discussion on Wednesday, October 29, 2014 at 10:00 AM PT/ 1:00 PM ET with Nancy Slavin, SVP of Marketing, Macy's Merchandising Group, and Dan Kimball, CMO, Thismoment.
According to research by Nielsen, 70 percent of global consumers trust online consumer reviews and rate reviews as the second most trusted form of advertising. And according to BazaarVoice, when it comes to trust, marketers may as well eliminate their own brand websites as a fountain of customer trust as only 16 percent of US consumers said they trust the content on a brand's website compared to the 51 percent who trust content generated by other users.
Today's digital currency is arguably authenticity, and what attracts customers - especially the digitally dependent, savvy millennial - is not just content. It is the delivery of authentic, unvarnished content from their peers.
Join the CMO Council on Wednesday, October 29, at 10am PST/ 1pm EST for a one-hour webcast that will invite industry experts in content marketing and user-generated content who are effectively leveraging authentic storytelling as part of their content marketing strategies. We will also feature an interactive Q&A session at the conclusion of the speaker presentations.
---
Related Articles
Photo Credit: (c) 2013 Heidi Cohen – All rights reserved. Permission granted to use this photo if you link to this article.