How To Measure Social Media ROI
92% of marketers believe social media is important to their business.  
Social media is expected to grow to 18% of total marketing budget in the next 5 years from 7% today, reports Duke's Fuqua School of Business CMO Survey.
Marketers are following their prospects who spend an average of 1 hour 7 minutes per day social media based on eMarketer's projections. Slightly more than half of that interaction occurs on a mobile device.
This makes business sense until you realize 49% of CMOs have NO proof social media improves performance. 16% of CMOs could show quantitatively that social media helped business.
88% of marketers want to know how to measure their return on investment for social media activities according to 2014 Social Media Marketing Industry Report.
3 Steps to social media ROI
Here are the 3 key steps to measuring social media ROI.
1.

Be present on social media.

While it seems logical, it's important to state that to reap financial benefits from social media, your business MUST first be active and establish a professional, branded presence. This requires more than a Facebook page your teenager created.

Social media isn't a one-way publishing platform like traditional media where you can set it and go.

Social media requires on-going interaction when your prospects and customers are active, not just during your business hours. This often means evenings and weekends. Further, social media is multi-directional, so you must be prepared for customer responses.
Time spent on social media is a rough indicator of investment and commitment.
61% of marketers use social media for 10 hours or less. That averages less than 2 hours per weekday. Yet most participants are active at night and over the weekend.
19% of marketers spend over 20 hours each week on social media. At roughly half a day per business day, you can achieve more than curating content and answering basic questions.
Time spent on social media tends to increase with experience. So while marketers get more adept, their needs continue to grow.

Integrate your social media activity with your traditional marketing.
83% of marketers have integrated their social media and traditional marketing activities. While this results in more effective marketing overall, it makes attributing and tracking specific results to social media more difficult.
In a very small survey, Netbase found that the top 3 challenges in measuring social media ROI identified by marketers were staff, funding and resources, linking measurements to objectives, and defining meaningful metrics. While the resource challenge makes sense, an inability to link metrics to meaningful metrics and classifying them shouldn't be.
Key Social Media ROI Implication:
Approach your marketing holistically. Integrate your social media and more traditional marketing to maximize results.
Understand your target audience. To this end, create appropriate marketing persona including social media persona.
Determine where your target buyers spend their time on social media and what type of information they want and need to make purchase decisions.
2.

Track social media activities.

Once you've committed resources to social media, it's critical to monitor how much budget (and other resources like people's time) you're spending and whether it's producing results.
Invest small versus large amounts of time in social media
Employee time is a proxy for budget on social media.
Marketers investing 40+ hours per week with social media are more focused on Instagram (46% more), Google+ (41% more), YouTube (38% more), Pinterest (37% more) and blogging (26% more) than those investing 6 or fewer hours a week. More active marketers go beyond communicating and curating information to creating social media related content. 
Key Social Media ROI Implication:
Create, place and engage the content on the appropriate social media platforms. Ensure that your content is tailored to the social media platform where it appears. Modify your content if necessary.
Select metrics to track social media activity that leads to sales. Even if you can't measure the ideal activity, start to collect data that leads you in the right direction. Go beyond vanity metrics like shares and comments. Look at time spent on your website or social media and early stage lead generation activity such as email address collection.
3.

Evaluate social media investment.

Social media ROI has been a challenge since marketers first jumped on the bandwagon. (For more information, here are 12 mind-blowing social media metrics facts including charts.)
Social Media Marketing ROI = (Revenues – Costs) / (Investment)
You need the following:
Revenues. Sales and related steps that ultimately drive sales.
On-going costs. These are the costs required to keep a program going.
Initial investment. This is the initial funding that gets your homepage and social media presence going.
Of these ROI elements, revenues are the most difficult to track. Often social media contributes to revenues, but the sale may be attributed to another media form that's last touched or better tracked.
As you get more sophisticated, start to develop customer lifetime value models.
Key Social Media ROI Implication:
Incorporate a call-to-action, tracking codes and tailored landing pages to your social media to measure contribution directly to your social media efforts. Tracking revenues is easier with elements like links to a product in your blog or sales on your Facebook page.
While it makes sense to invest in social media marketing because it's where your audience spends their time, it can be challenging to show your management team well defined results.
The use of a call-to-action, tracking codes and landing pages is a BIG step forward.
Although it's not what your executive team wants to hear, it's a solid move in the right direction.
What has your experience been using social media metrics and your ability to track them?
Happy Marketing,
Heidi Cohen
---
---
Even though Content Marketing World is finished until next September, you can still get all the content from 2014's exciting conference. The CMWorld On Demand package includes: Audio and video from the 2014 keynote sessions, audio and PowerPoint presentations of all the breakout sessions, over 40 audio sessions from the leading B2B and B2C brands, as well as keynote video performances.
Social Media Marketing World — San Diego — March 25-27, 2015.

Register Now and Save $480!   Limited time offer.
Register Now for the Intelligent Content Conference.
An annual gathering of the best and brightest content professionals on the planet. People who know the secrets (and are willing to share them). People who value content as a business asset. People who have made it their life's work to develop repeatable, systematic approaches to producing amazingly effective content.
---
Free Webinar!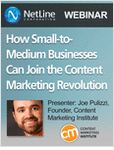 Join the discussion on Tuesday, December 2 - Time: 2 PM (EST) / 11 AM (PST) to learn how small and medium sized businesses don't have to have an entire content marketing organization (or budget) to be successful in content marketing.
Joe Pulizzi, Author and Founder of Content Marketing Institute and Werner Mansfeld, President of NetLine Corp, discuss realistic and actionable methods for your company to get awareness, consideration and sales leads using marketing content – without the budget or resources of an enterprise-level organization.
Date: December 2nd, 2:00 pm EST/12:00pm CST/11:00 am PST
Here are just some of the questions you'll get answered:
What is content marketing and why is it important?
What do I need to have in place to compete effectively using content marketing?
How do I drive sales leads and get a positive ROI using content marketing?
How can my small business (or budget) compete with my larger competitors using content marketing?
What can I start doing today to start seeing results?
Joe Pulizzi and Werner Mansfeld are experts in Content Marketing and Content Syndication. Learn from their combined experience how to take advantage of content marketing for your business, no matter the size.
---
Related Articles
Photo Credit: http://designinstruct.com/free-resources/icons/vintage-social-media-stamps-icon-pack/