7 Content Marketing Forecasts For 2014
As 2013 proved, content marketing is the strong engine behind today's business marketing.
Without overt promotion, content marketing provides the information prospects and customers seek in a way that they trust.
Here are the seven 2014 content marketing predictions with tips on how to incorporate their impact into your business plans. The underlying message is that content marketing requires a plan with actionable strategies to achieve your business goals.

1.

Content marketing diversifies in terms of type, format and size.

Content creation should be part of an integrated content marketing strategy that offers small, medium and large content to meet your target audience's needs. Create content in a variety of different formats because people take in information differently and need to see your message multiple times before it sticks.

Provide useful content consumers want at every step of the purchase process. This means product information, answers to customer questions, how-to's, styling, ratings and reviews.
2.

Content marketing extends to all corporate communications.

Content marketing spreads across the organization and is integrated into other communications. In 2014, it's no longer limited to marketing.

Corporate-speak dies in 2014. (While it's unlikely, we can hope!)

Plan your content marketing so that all of your business information is useful content written by and for humans. This includes your internal communications, manuals and other instructions, human resources documentation and investor relations material.
3.

Content marketing is branded to be identifiable without a logo.

Your brand becomes an integral part of your content marketing so that readers know that it's yours without a logo. To this end, consider your 360° brand and how it shines through every piece of content.

In 2014, with the expansion of content marketing, companies must track and maintain their content marketing assets as part of their corporate worth.

This means auditing your existing content assets and determining what needs to be brought up to date, what needs to be recreated and what needs to be eliminated.
5.

Content marketing resource use increases significantly.

Content marketing doesn't happen by itself. While some of your planned content marketing can be created by reassigning existing resources and budget, chances are that your plans require more people including employees, agencies (or contractors) and/or customers, as well as financial budget. Here are 14 content creation resources every marketer can leverage.

Think holistically when developing your content marketing plan and related budget. Integrate resources from across your organization and make sure that your content creation is part of their job description and goals. (Hint: Get help from your human resources department.)

Also, make sure that you have the ability to use content created by talent, employees and consumers across platforms. This means you need to support from your legal department to ensure that this is part of your contracts and releases.
6.

Content marketing distribution gets more advertising support.

Content marketing distribution extends beyond owned and social media platforms.

While effective PR use can broaden your reach, content marketing requires paid distribution support in the form of advertising to reach your maximum potential audience. Here's where native advertising can be cost effective.
7.

Content marketing results get tracked to sales.

Marketers move beyond vanity metrics to measure results that generate leads and sales. Start this effort by incorporating a tailored all-to-action to nudge readers to act. Need help? Here are 53 content marketing metrics to help you.

By planning around these 2014 content marketing predictions, you'll ensure that your marketing plans achieve your business goals. 2014 will be a year where content marketing expands and becomes integrated into every facet of your business. To ensure that you achieve your business goals and utilize your resources effectively, you need to have a content marketing plan and related tactics.

What other 2014 content marketing predictions would you add to this list and why?

Happy Marketing,
Heidi Cohen
---
---
For those of you in Raleigh, NC, please join me for Internet Summit November 11th through 13th.
Use the code HEIDI50 to save $50 OFF any pass level.
---
Even though Content Marketing World is finished until next September, you can still get all the content from 2014's exciting conference. The CMWorld On Demand package includes: Audio and video from the 2014 keynote sessions, audio and PowerPoint presentations of all the breakout sessions, over 40 audio sessions from the leading B2B and B2C brands, as well as keynote video performances.
---
Free Webcast!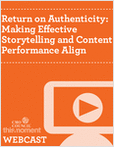 Join the discussion on Wednesday, October 29, 2014 at 10:00 AM PT/ 1:00 PM ET with Nancy Slavin, SVP of Marketing, Macy's Merchandising Group, and Dan Kimball, CMO, Thismoment.
According to research by Nielsen, 70 percent of global consumers trust online consumer reviews and rate reviews as the second most trusted form of advertising. And according to BazaarVoice, when it comes to trust, marketers may as well eliminate their own brand websites as a fountain of customer trust as only 16 percent of US consumers said they trust the content on a brand's website compared to the 51 percent who trust content generated by other users.
Today's digital currency is arguably authenticity, and what attracts customers - especially the digitally dependent, savvy millennial - is not just content. It is the delivery of authentic, unvarnished content from their peers.
Join the CMO Council on Wednesday, October 29, at 10am PST/ 1pm EST for a one-hour webcast that will invite industry experts in content marketing and user-generated content who are effectively leveraging authentic storytelling as part of their content marketing strategies. We will also feature an interactive Q&A session at the conclusion of the speaker presentations.
---
Related Articles
Photo Credit: http://www.flickr.com/photos/jfolsom/5132713097/