19 Blog Tips To Expand Your Reach
Blogs provide a great social media home base to paraphrase Chris Brogan. Blogging on a consistent basis helps establish you as an expert in your field. More than that, you can turn your blog into a networking powerhouse.
To build up your network, here are 19 blog tips to leverage the power of your blog to expand your reach.
Blog content tips to expand your reach
Link to other blogs in your posts. The objective is to enhance your content by providing authoritative references for your readers. Actionable Blog Tip: Link the pertinent keywords (aka anchor text) rather than the words "click here".
Interview influencers in your category. Everyone likes to be in the spotlight. Actionable Blog Tip: Consider non-text formats like Ian Cleary does. Give the influencer a good reason to connect with you. Make it easy for them to say yes but don't be a pest.
Review new books on your topic. Newly published authors need press and this is a great opportunity to get their attention. Actionable Blog Tip: Ping authors and publishers of upcoming books. Ask for a "review" copy.
Gather input for a group blog post. This is a short version of an interview. Ask people one question to get a variety of different views on a topic. Actionable Blog Tip: Make it easy on your contributors by putting a word limit, such as 200 words, on their answers. Also link to their blog, website and book.
Curate other people's content. Provide a round up post once a week to showcase the best of the new information. This makes a good Friday or Saturday post. Of course, you need to add at least a paragraph of original content. Actionable Blog Tip: Let featured bloggers know that you've highlighted their post.
Write posts that respond to another blogger's post. This doesn't mean copy their ideas. Nor does it mean to criticize the blogger. It means to augment or challenge the ideas presented in the post. Actionable Blog Tip: Make it clear to your readers and search engines that your post is a response. You should link to them in the opening paragraph.
Continue the conversation from a live event. Expand on the topic discussed at a live forum and add your point of view. Actionable Blog Tip: Reference the event and link to an online description of the event or organization. Even better, include some photographs.
Live blog events. You can do this for your own blog or for other media entities. This tip has the advantage that you don't need to know the influencer directly. Actionable Blog Tip: Include one or two off-mike comments and a photo if possible.
Guest blogging tips to expand your reach
Offer original guest blog posts. Don't shop around a post that's been published elsewhere! Give away your best stuff. Jon Morrow and Neil Patel do an amazing job of this. Don't take my word for it—read Jon Morrow's post, How to Quit Your Job, Move to Paradise and Get Paid to Change the World, on Problogger. (Please note that this blog doesn't accept guest posts.) Actionable Blog Tip: Personalize your request with the blogger's name and references to the blog. Show that you've read it especially if you're a PR professional.
Give other blogs and/or media sites seconds rights to republish your blog posts. Blogs like PRDaily and Business2Community use second rights to republish other bloggers' content. Actionable Blog Tip: Share these posts on other social media platforms. Understand that you may not have control over this type of networking.
Contribute quality content to a group blog. This is a great way to develop a relationship with others. A great example of this is 12Most.com. Understand that you must read their guidelines and submit high value content. Actionable Blog Tip: Share your column and respond in a timely manner to comments. Some blogs expect you to comment for up to 3 days.
Ask bloggers you admire to contribute to your blog. Understand that the more high profile bloggers expect compensation for their work. Actionable Blog Tip: Do research before you ask. Show that you're an involved reader of their content who shares their posts and comments on their blog.
Blog engagement tips to expand your reach
Comment on other people's blog posts. The goal with this approach is to get the blogger to notice you by showing up and adding value to the conversation. Just saying "great post" doesn't cut it. (Note: In the early days of blogging this was an effective way of getting links back to your site. Most blogs, like this one, will edit out URLs if they aren't relevant to the conversation.) Actionable Blog Tip: Be consistent. For this to work, you must comment on a regular basis.
Encourage a lively discussion in the comment section of your blog. To network, you need to respond to comments on your blog to keep the dialog going. Actionable Blog Tip: Ask a related question at the end of your post to get the conversation rolling.
Add a forum to your blog. This can be a big step in terms of building a community and expanding your network. For WordPress blogs you can use either bbPress, a light-weight version or BuddyPress, a fully functional forum addon (both are by Automattic, the creator of WordPress.) Actionable Blog Tip: Ask some blogging buddies to help you get started since no one wants to be the first at a social media party.
Off-blog engagement tips to expand your reach
Distribute your blog posts on other social media platforms. Distribute your content across relevant social media sites to get higher visibility. Actionable Blog Tip: Drip your content out over time on other sites.
Share posts by influencers in your category. Position yourself as a blogger who's got their finger on the pulse of your category by distributing other people's posts. Actionable Blog Tip: Include the blogger's name or social media handle in your social media share.
Get involved in a blog conversation on another platform. Extend the conversation on your blog to other forums. For example, 12Most has an active conversation on Facebook and, of course, there's #BlogChat (Sunday nights at 8.00pm Central Time on Twitter) Actionable Blog Tip: Show up and participate on a regular basis.
Transform a blog post into a presentation or other live event. Leverage the power of a specific topic to reach an offline forum. (BTW—I've gotten speaking engagements because people have read posts of mine.) Actionable Blog Tip: Add something new and special when you re-imagine your content.
To use your blog as a networking tool, think broadly about extending the conversation from your blog to other blogs and forums. Bear in mind that networking takes work beyond writing and publishing your regular posts.
What other ways would you suggest to extend your network using your blog?
Happy Marketing,
Heidi Cohen
Hat tip to Mack Collier and #BlogChat who will be discussing this topic on Sunday night.
---
Hi. I'm back from San Diego where I presented a workshop session on Blogging at Social Media Marketing World 2016.
If you couldn't attend this exciting conference, consider getting a Virtual Pass. You'll get all of the sessions and can watch them on your schedule!
---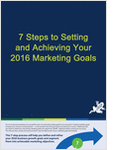 This 7-step process will help you define and refine your 2016 business growth goals and segment them into achievable marketing objectives.
You've set personal resolutions for yourself this year, but what about setting goals for your business? Creating marketing goals increases your chances of achieving them – so do yourself a favor this year and set yourself up for success.
Related Articles
Photo Credit: http://www.toolstop.co.uk/toolstop-tsb26-heavy-duty-toolbag-large-unbranded-p10706