Blogging Success: 17 Ways To Change Your Luck
While blogs may not be as sexy as they were, it's easy to be lured in by the blarney surrounding them.
You don't need the luck of the Irish to be a successful blogger but blogging takes more than charm to accomplish your goals. (I'm sure that my Irish friend Ian Cleary of RazorSocial will agree with this!)
17 Pieces of blogging blarney and how you can  fix them
In honor of St. Patrick's Day, here are 17  pieces of blogging blarney.
Don't be fooled by them.
Your blog doesn't attract readers and achieve your business goals by itself.
1.

Write only when the spirit moves you.

The reality: You must publish fresh content on a regular basis so that readers know when to expect it.

Actionable Blogging Tactic:
Create an editorial calendar. Incorporate your blog post ideas into a formal structure. Tools include Google Calendar, WP Editorial, and Co-Schedule.
2.

Blog about whatever strikes you at the moment.

This may work for a journal but even your mother doesn't want to know everything that pops into your mind.

Actionable Blogging Tactic:
Keep an on-going list of post ideas. Include topics, headlines and related links and images. Brainstorm alone and vet ideas as a group. (Here's help on continuously feeding your writing.)
3.

Don't pay attention to your audience.

The opposite is true. Your readers want to know that you care about them and the issues they're facing. This means listening.  Also, it's tough to write effective content without understanding your target audience.

Actionable Blogging Tactic:
Create a reader persona for your blog. Include knowledge about their other reading habits.
Gather feedback from your readers. One great way to do this is to ask what their big painpoints are in your email responder.
4.

Forget about branding your blog.

Understand that branding gives your blog personality and sets it apart from the rest of the competition. If you don't spend time thinking about it, you'll present a confused perspective to your audience.

Check out Gini Dietrich's Spin Sucks. It's well branded. Gini even brands her columns like Gin and Tonic and Spin Inquisition. Notice how she's placed her logo in the right hand corner of her Gin and Tonic logo?

Actionable Blogging Tactic:
Integrate your brand into your blog. Even without a big budget, every element of your blog reflects on your brand. (Here are fixes for 31 blog design issues.)
Pay attention to your blog voice. How you write and speak to your reader reflects on your brand.
5.

Can use other people's content if it's on the Internet.

Just as the content you create is your intellectual property that you let others read and share, other online information belongs to their creators and the media entities that published it.

For clarity on content curation, check out how Gini links to the videos in her Gin & Tonic column and adds her own commentary. (I love this video spoof.)

Actionable Blogging Tactic:
Extend your content creation efforts and resources. Invite guest bloggers, use curation, and repost content.  (BTW—we don't accept guest posts on this blog!) Here's the skinny on how to curate good content.
6.

Only use your blog for marketing promotions.

Like any other form of social media, your blog needs non-promotional content. This doesn't mean that you can't use your blog to persuade prospects and customers to purchase from you.

Actionable Blogging Tactic:
Craft customer focused content. Answer customers' questions, offer patterns and recipes, and show them how to use your products. Give them the information they need to buy from you. Kay Gardiner and Ann Shayne of Mason Dixon Knitting  bring their readers into their posts.
7.

Focus only on the text in your blog posts.

While your blog needs amazing content, it requires more than plain prose to attract reader attention. Visual attract 94% more total views on average than text.

Actionable Blogging Tactic:
Incorporate other forms of content. Include images, video, audio and presentation. At a minimum, use an image in every post to pull visitors in. ( BTW: Don't forget to optimize the image for search!)
8.

Don't worry about how your content looks.

Visitors decide whether to read your blog based on looks. This means that if the content looks too difficult to read, they skip it. It's called TH;DR (Too Hard; Didn't Read.).

In fact, most readers don't read more than 60% of the text.
Actionable Blogging Tactic:
9.

Skip non-blog post content.

This refers to About pages and other static information. This content provides proof that there's a real person (or people) behind your blog. Further, this information is where you can convert readers into buyers of your products and services.

Actionable Blogging Tactic:
Use your static blog pages to extend reader relationships. Give readers a reason to stay on your site. Include a friendly About page and a New-To-This-Site section to spotlight useful content with readers.
10.

Don't worry about having good spelling or grammar.

Blogging has evolved from a quick publishing platform and so have readers' expectations. Research shows that readers want good grammar. Don't make it easy for them to bypass your blog!

Actionable Blogging Tactic:
Let your draft rest. Once you've got The First Ugly Draft (or TFUD as Ann Handley calls it,) walk away and let the ideas simmer in your brain's back burner.
Give your blog post clarity. Use a  copyeditor or a blog buddy. Alternatively try products like Hemingway or Grammarly.
11.

Helps your search optimization automatically.

It's true that the underlying blog technology helps search. You have to optimize your blog content for readers, social media followers, search engines, influencers and your business.

Actionable Blogging Tactic:
Optimize each post for a keyword phrase. Include that word in your title and URL. To improve your search optimization, install Yoast's WP SEO plug-in. Also, link to reliable resources and your foundational content. (Here are more blog search recommendations.)
Include images and other content to attract social media and readers. Remember you've got competition. Check how Gini enhances each video in her Gin and Topics with preformated tweets.
12.

Magically spreads your post across social media after you publish it.

While the content of well established bloggers seems to spread by itself, the reality is that it takes preparation and planning.

Actionable Blogging Tactic:
Have a system in place that distributes your content across different social media platforms. Include sharing options in new post notifications that you email to subscribers. Break out the different components of each article before you hit publish and batch your content creation.
Include social sharing within your blog posts. Use Click-To-Tweet and PinThis.
13.

Push your own blog posts without participating in the social media conversation.

Social media is a multi-directional conversation. Your followers seek information from a variety of sources. They don't want to be sold to. Your engagement is expected.

Take another cue from Gini, she doesn't just curate other people's fun content. She gives a shout out to everyone who helped her find it.

Actionable Blogging Tactic:
Share other bloggers' content in a ratio of roughly 1 piece of your content to 10 pieces of other people's content. Use hashtags and mentions to broaden your reach.
Comment on other people's blogs. This shows that you're part of the conversation.
14.

Leave your blog URL in the comment section of other blogs to drive readers to your blog.

While it's good practice to engage in the conversation on other blogs and social media formats, you shouldn't just spam the comment section with your URL. Understand that many bloggers moderate comments with URLs to ensure that they add to the conversation.

Actionable Blogging Tactic:
Add value in your comments to intrigue the bloggers to check you out. Say more than "Great Post."
15.

Don't need to respond to comments left on your blog.

While it's true that answering comments isn't required, responding shows that there's a person behind your blog and that you care about your audience. (Some blogs require guest bloggers to be available the day that their post is published.)

Boost Blog Traffic gets a ton of comments. Jon Morrow weighed in on his post where appropriate. This is an amazing blog post on its own but the conversation helped it to garner 18k+ social shares!
Actionable Blogging Tactic:
Respond to meaty comments to encourage others to join the conversation on your blog. Add value and extend the conversation by clarifying or giving examples.
16.

Track blog comments to measure effectiveness.

Many bloggers and executives believe comments are the most important sign of a successful blog. Yet the reality is comments don't necessarily help you to achieve your blog's goals.

Actionable Marketing Tactic:
Define measurable goals aligned with your business objectives. Content Marketing Institute's Joe Pulizzi tracks email registrations as his top priority. (Here are 65 blog metrics to help you.)
Always use a call-to-action aligned with your post topic and content. Don't assume your readers will naturally take action. Don't overlook email registrations and social shares.
17.

Don't need any resources because blogging is free.

While it's true that you can publish your blog on a free option such as Blogger or WordPress.com, it won't build your brand or support search optimization.

Don't  underestimate the need for content creation, creative, marketing and technology resources. While you can get members of your team to answer questions and create content, the chances are that you'll need copy editing, creative and technology help as well as promotion.

Actionable Blogging Tactic:
Plan for blogging resources. Otherwise, your blog may languish since it's either not on anyone's to do list or it isn't professional enough.
While there's still a lot of blogging blarney around. Don't let it fool you.
Blogging requires work and resources to yield measurable results.
Follow this list of blogging tactics to improve your blogging luck and transform your blog into a green machine.
What's your favorite piece of blogging blarney and why?
Here are 3 related blogging articles.
BTW–I'm teaching a workshop at SMMW16 called How To Create Quality Blog Posts Quickly and Consistently. Please join me on Sunday, April 17th in San Diego!
Happy Marketing,
Heidi Cohen
Editor's note: This post was originally published on March 17, 2013. It has been updated
Join Heidi Cohen and fellow marketers at the mega-conference designed to inspire and empower you—Social Media Marketing World 2017, brought to you by Social Media Examiner.
Discover the best and newest ways to market your business on Facebook, Instagram, LinkedIn, YouTube, Twitter, Pinterest and Snapchat.
The event takes place March 22-24, 2017, in San Diego. Actionable Marketing readers get an early registration discount.
Act by Friday – Save $100!
---
Free Guide
If you fail to make a change in your behavior, you are taking the long path to success.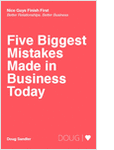 Why is it that some people in business succeed while others have challenges on a daily basis that they can't seem to figure out? Maybe, the success stories have done enough things wrong, enough times, to figure out what it is that they are doing right.
Learning the 5 biggest mistakes and putting a stop to them will help you:
Build better relationships
Avoid costly errors
Increase productivity and efficiency
Expand your sales
To put yourself on the short track to success in business and in life, make these changes quickly, without hesitation and continue to review your progress daily.
Photo Credit: http://www.flickr.com/photos/cygnus921/2678359760/
Infographic by Heidi Cohen – you are free to use it if you link back to this post.