Is Your Blog An Easter Egg Hunt?
Is your blog an Easter egg hunt? Specifically, do you make your target audience work hard to find your blog content?
Without your realizing it, the best parts of your content can be hidden and difficult to find. It's like an Easter egg that's buried too far from sight and your guests have to hunt forever to find it.
11 Actionable blogging tips involving difficult-to-find information
Overlooking or minimizing certain blogging features and activities can hinder your prospects and customers ability to find the information that will lead them to take the actions you desire.
Lacks effective formatting. You can have the best content in the world but readers view it as a yawn.  Understand that over 90% of readers will leave your blog without reading one word! Actionable Blogging Tip:  Break your blog content into bite size chunks and ensure that it's easy-to-scan through the use of outlining and other techniques. (Here's thirteen ways to format your content for success.)
Doesn't incorporate any branding. If your blog looks like it could appear on any business website, you've got a problem. Actionable Blogging Tip: You must integrate your branding into your blog including the voice.
Doesn't offer a mobile version. In today's always-on media landscape, your website must be available on any device whenever your audience is ready to use it. (Not convinced? Check out these sixty-nine mobile facts.) Actionable Blogging Tip: Ensure that your blog content can be read on a mobile device. You can use a mobile website, mobile app or responsive design to overcome this hurdle.
Isn't optimized for search. Blogs support search optimization but this doesn't happen magically. Actionable Blogging Tip: Create each post around a keyword phrase. Use magnetic titles and images to attract readers. Also, incorporate keywords into your title and post links. (For more information on using a blog for search optimization, here's what fifteen experts recommend.)
Doesn't socialize. A blog should be at the center of your social media offering. Chris Brogan refers to a blog as your social media homebase. Actionable Blogging Tip: Socializing your blog involves sharing your blog content across relevant social media platforms where your target audience participates. Additionally, it refers to including social sharing icons to facilitate distribution by your visitors.
Contains only generic information that exists elsewhere. To attract and retain an audience, you need to provide useful content on a regular basis. Further it's critical to avoid duplicate content or it can hurt your blog's ranking on search engines. Actionable Blogging Tip: Use an editorial calendar to help you plan your content for a month at a time. Additionally, ensure that your content is unique and useful for your readers. If you're not sure what to offer them, then ask either at the end of a blog post or within it.
Buries your best content near the end of the column. Bear in mind that many content consumers are just content grazers. They're looking for an easy way to gather and snack on information. Actionable Blogging Tip: You need to put your best content front and center because you can't hope that a reader will keep slogging through until they get to your point. Make it easy for prospects to get their questions answered.
Doesn't include an About page. Readers and visitors want to see who's behind the content. Actionable Blogging Tip: Make your About page easy-to-find and include images so that readers know that there are people behind your blog.
Has no way to contact you. You'd think that this point would be a slam dunk but the reality is that many bloggers put so much work into the other aspects of their blog they omit the contact page. Actionable Blogging Tip: Provide visitors with a way to contact you. It's even better if you offer more than one option such as phone number, chat, email and social media.
Doesn't link to appropriate product on your website. You can't hope that your audience will leave your blog and head straight to the appropriate page of your product. Actionable Blogging Tip: Make sure that you link to the specific page on your website especially where your content references a specific product. Additionally, make the product page link back to the blog post.
Lacks links to related content. Your blog posts should link to relevant information both on your blog or website and third party sites where applicable. Actionable Blogging Tip: Include at least one or two links to your own content as well as to third party content.
Regardless of the time of year, make sure that you're not creating an Easter egg hunt on your blog where important information is obfuscated.
Is your blog content obscured without your realizing it?
Happy Marketing,
Heidi Cohen
---
---
Free Guide
With 2.5 quintillion bytes of data created every day, it's getting harder to separate the signals from the noise and discern the insights from the hindsight.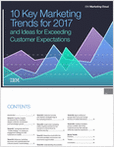 Discover 10 key trends that will shape marketing in 2017 and get ideas for deepening customer connections, growing brand value and fueling strategic growth. Offered Free by: IBM Marketing Cloud

Related Articles
Photo Credit: http://praktycznyprzewodnik.blogspot.com/2012/04/targi-wielkanocne-w-krakowie-2012.html