10 Tips To Spiff Up Your Blog
As we head into fall, do you feel that your blog needs new spark? Like any long-term relationship, your blog also needs a little TLC.
Living with your blog day in and day out, you may not see where it's lost its luster. As we head into the busy fall season, now is a good time to take a step back and reassess your blog offering as a whole.
Here are 10 blog tips to get spiffed up for fall.
Change your look and feel. Think of it like changing around your furniture or putting up your winter curtains. This doesn't mean rebrand your blog. Rather make some subtle changes that make your blog feel different to visitors. Add new color accents or seasonal decorations.
Examine your navigation. To this end, consider what you want visitors to do when they get to your blog. Do you provide first time visitors with help? If not, check out what Pat Flynn of Smart Passive Income does with his blog. Bear in mind, if you don't steer readers in the right direction, they may just leave. Go beyond just looking at the buttons. Click on each button and check the information underneath it. Does it still make sense? 

Check your sidebar. Over time sidebars have a nasty habit of becoming a cluttered catchall. Are the events and/or ads still current? Is there a logical order that makes sense to your visitors? Reassess what you're promoting on your sidebar. Is this the most profitable use of your space?
Evaluate your keywords. Before diving into other aspects of your blog, look at the words you're seeking to rank for. What type of information do your readers turn to you to get? Has the vocabulary of your niche evolved? This shouldn't be done in a vacuum. You need to check your analytics! (I've changed my plugin to WP SEO by Yoast.)
Reassess your categories. Take a look at your blog's categories. Do you write about all of them? Are there topics that are no longer relevant to your topic? Has what do you find most interesting to write about changed or has your business evolved? Similarly are there new categories that should be added and need to be covered?
Revisit your regular columns. Brainstorm some new ideas for your old columns. Think in terms of what's currently working and what's not for your audience as well as your content creators. Consider some fun ways to get others involved. Examples include: Spotlight a product or employee of the week, feature one of your customers, review popular books in your niche, or regularly offer a patterns or recipes related to your products. 
Change up your content types. Get out of the rut of only providing text. Add photo essays, videos and/or audio.  This is a great way to extend your audience and force you to re-envision your content. Need inspiration? Check out Jon Loomer or Mike Stelzner's podcasts. Look at The Satorialist or Cake Wrecks for how to use photographs.
Format your content for easier consumption. Another way of changing up your content is to present it in a different way. Give it new life by chunking your content into smaller paragraphs and using bolding.
Polish your titles. Headlines are what pulls people in. Are you spending enough time crafting yours? Remember you've got to think fun, but not obscure. It can take time to get good at writing a headline. I find that I need to have something at the top of the page before I start tapping away, even if it's not my final version. Also, bear in mind, that the best headline walks a fine line between pulling the most people in and telling the truth about the core of the topic. A great title that doesn't deliver what readers expect can put readers off.
 Show me. Regardless of the type of content you're serving, include photographs. They're people magnets, especially ones with people in them. If you're currently using photographs, think about adding other visuals that encourage your readers to share your posts on other platforms such as Facebook and Pinterest. Also, explore new ways to gather images to use.  (Personally, I'm a fan of Flickr since it's clear which images you are free to use. Of course, you must give photographers credit for their work!)
As a blogger, you spend a lot of time with your blog, up close and personal. Therefore it can be difficult to see what needs to be spiffed up. It's a good idea to evaluate your blog on a regular basis to ensure that it's aligned with your overall blog goals and your niche.
What other fall makeover ideas would you suggest and why?

Happy Marketing,
Heidi Cohen
---
---
For those of you in Raleigh, NC, please join me for Internet Summit November 11th through 13th.
Use the code HEIDI50 to save $50 OFF any pass level.
---
Even though Content Marketing World is finished until next September, you can still get all the content from 2014's exciting conference. The CMWorld On Demand package includes: Audio and video from the 2014 keynote sessions, audio and PowerPoint presentations of all the breakout sessions, over 40 audio sessions from the leading B2B and B2C brands, as well as keynote video performances.
---
Free Webcast!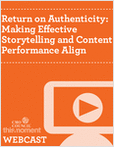 Join the discussion on Wednesday, October 29, 2014 at 10:00 AM PT/ 1:00 PM ET with Nancy Slavin, SVP of Marketing, Macy's Merchandising Group, and Dan Kimball, CMO, Thismoment.
According to research by Nielsen, 70 percent of global consumers trust online consumer reviews and rate reviews as the second most trusted form of advertising. And according to BazaarVoice, when it comes to trust, marketers may as well eliminate their own brand websites as a fountain of customer trust as only 16 percent of US consumers said they trust the content on a brand's website compared to the 51 percent who trust content generated by other users.
Today's digital currency is arguably authenticity, and what attracts customers - especially the digitally dependent, savvy millennial - is not just content. It is the delivery of authentic, unvarnished content from their peers.
Join the CMO Council on Wednesday, October 29, at 10am PST/ 1pm EST for a one-hour webcast that will invite industry experts in content marketing and user-generated content who are effectively leveraging authentic storytelling as part of their content marketing strategies. We will also feature an interactive Q&A session at the conclusion of the speaker presentations.
---
Related Articles
Photo Credit: http://www.flickr.com/photos/85546319@N04/8443941180/