Visual Content: How To Attract The Attention You Deserve
Now that it's ridiculously cheap and easy for anyone to take photographs and videos, marketers may overlook the fundamental power of quality visual content.
With over 350 million photos uploaded to Facebook on an average day (250 billion images uploaded to-date) it's easy for your visual content to get lost in the social media content stream.
Therefore you must plan ahead to ensure that you avoid the 10 plagues of visual content marketing.
10 Plagues of visual content marketing
1.

Plague of not having any visual content.

Don't assume your audience will be satisfied with text and numbers. Show people endless columns of text and their eyes quickly glaze over as they move onto the next more attractive piece of information. People process images 60,000 times faster than text.
Actionable Visual Content Marketing Tip: Add at least one visual element to attract attention. This applies to all forms of text content including blogs.
2.

Plague of not telling a story with your content.

People have told stories with pictures since the cavemen. Your images must do the same thing. Your stories put your product and/or brand into context and make them memorable.
Actionable Visual Content Marketing Tip: Provide an emotional connection through the use of visual content that your company, brand or product may not evoke.
3.

Plague of not incorporating your brand into your visual content.

To maximize your visual information's impact, integrate your brand into it. Go beyond just slapping your logo in the corner.
Actionable Visual Content Marketing Tip: Include one or more of the following 360° brand elements:

Brand colors: If your brand is associated with a specific color use it in your images or frame your photos with them. For example, Content Marketing Institute's Joe Pulizzi always wears orange as does Likeable Media's Dave Kerpen.
Brand products. Show your offering visually. GE does a great job of this on their Instagram account.
Brand mascot, spokespeople, or employees. Associate your brand with images that people remember such as the Disney characters.
Brand clothing. Get your employees to wear your uniforms or t-shorts containing your logo. UPS delivery people wear brown uniforms and Staples employees wear red golf shirts with the store logo.
Brand hashtags. This works when your brand is associated with an event. For example #CMWorld for Content Marketing World and #SMMW for Social Media Marketing World.
4.

Plague of not providing the visual content your prospects actively seek.

This means only giving your potential readers more me, me, me information where you make your products, brands and company look good.
Actionable Visual Content Marketing Tip: Offer the following 5 basic content types: product information, styling, how-to's, reader recommendations and answering customer questions. Bear in mind customers like to see 360° views of your product before buying. Also use visual content to add humor through memes and other forms of fun content like cartoons.
5.

Plague of only using visual content to sell.

Your visual content, like other forms of content marketing, needs to provide useful information and resources that your target market actively seeks. Your audience will skip blatant sales copy. The only exception to this rule is when they're checking prices. This means your products will be associated with price, which doesn't build customer relationships or profitability.
Actionable Visual Content Marketing Tip: Tell don't sell. Give your prospects information related to your products that persuades them to purchase. You don't want to sound like a pushy salesman.
6.

Plague of not showing your human side.

There are two parts to this plague. First, people are programmed to look for other humans. Therefore, they react to images of other people. Secondly, the use of social media has taught us that companies need to display their humanity in terms of how they treat people and in terms of showing the people behind their organization.
Actionable Visual Content Marketing Tip: Show people, especially employees and customers, in your visual content. Where possible get images of them using your products. Don't limit your visual content to fancy text and designs.
7.

Plague of not using visual UGC (aka user generated content).

Prospects and customers like to get input and feedback on their purchases. The use of photographs and videos shared on a variety of social media platforms as well as via text messages provides this opportunity. The explosive growth of Instagram (as well as Pinterest and YouTube) underscores this point.
Actionable Visual Content Marketing Tip: Ask your customers to share their photos and videos including selfies using your products. Of course, it's critical to make sure that you get their permission to use their images on your owned media and social media platforms.
8.

Plague of not optimizing visual content for search and social media.

Just posting visual images or videos alone doesn't entice prospects. You need to ensure that it gets found and shared as well as links back to your product pages to close the deal. Add appropriate text to your visual content to make it search-friendly. Also add social sharing buttons to encourage sharing. Go one step further and include your URL or watermark in your visual offering so that people can find the original.
Actionable Visual Content Marketing Tip: Craft your visual content to be contextually relevant for the platform where it appears. Use appropriate image sizes and related text.
9.

Plague of not distributing visual content.

To maximize your visual information's reach, you need to place it where your key audience will find it. Use an array of owned and social media platforms. This includes your website, email newsletter, on-going correspondence, blog,  Facebook, Google+, LinkedIn, Twitter, Pinterest, Instagram and Slideshare.
Actionable Visual Content Marketing Tip: Support your visual content distribution with advertising where appropriate. This is particularly true for social media advertising.
10.

Plague of not including a contextually relevant call-to-action.

After you've gone to the trouble of creating amazing information, guide people to keep engaged with you. Without asking prospects to take the next step in the sales process, you're missing a major opportunity.
Actionable Visual Content Marketing Tip: Associate your call-to-action with a trackable code to facilitate assessment of your content success.
To ensure that your image based content is effective and drives measurable results, you must avoid committing any of these 10 plagues of visual content marketing.
What other visual content marketing plagues would you add to this list?
Happy Marketing,
Heidi Cohen
P.S. This column is dedicated to my mother who created a Pin-The-Plague-On-The-Pharaoh game to teach my nephew about Passover and the 10 plagues of ancient Egypt.
---
---
For those of you in Raleigh, NC, please join me for Internet Summit November 11th through 13th.
Use the code HEIDI50 to save $50 OFF any pass level.
---
Even though Content Marketing World is finished until next September, you can still get all the content from 2014's exciting conference. The CMWorld On Demand package includes: Audio and video from the 2014 keynote sessions, audio and PowerPoint presentations of all the breakout sessions, over 40 audio sessions from the leading B2B and B2C brands, as well as keynote video performances.
---
Free Webcast!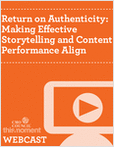 Join the discussion on Wednesday, October 29, 2014 at 10:00 AM PT/ 1:00 PM ET with Nancy Slavin, SVP of Marketing, Macy's Merchandising Group, and Dan Kimball, CMO, Thismoment.
According to research by Nielsen, 70 percent of global consumers trust online consumer reviews and rate reviews as the second most trusted form of advertising. And according to BazaarVoice, when it comes to trust, marketers may as well eliminate their own brand websites as a fountain of customer trust as only 16 percent of US consumers said they trust the content on a brand's website compared to the 51 percent who trust content generated by other users.
Today's digital currency is arguably authenticity, and what attracts customers - especially the digitally dependent, savvy millennial - is not just content. It is the delivery of authentic, unvarnished content from their peers.
Join the CMO Council on Wednesday, October 29, at 10am PST/ 1pm EST for a one-hour webcast that will invite industry experts in content marketing and user-generated content who are effectively leveraging authentic storytelling as part of their content marketing strategies. We will also feature an interactive Q&A session at the conclusion of the speaker presentations.
---
Related Articles
Photo Credit: https://www.flickr.com/photos/matalyn/318923736